U.S. Economy: Goods Orders, Pending Home Sales Rise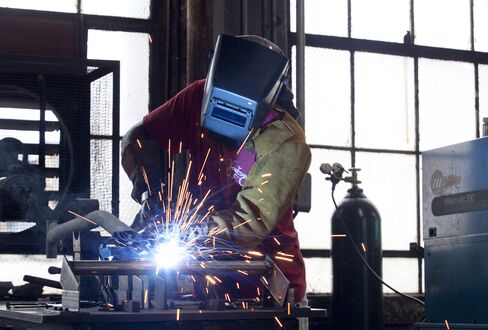 Orders for U.S. capital goods rebounded in August and pending sales of existing homes climbed for a second month, showing the recovery is stabilizing after a second-quarter slowdown.
Bookings for non-military capital goods excluding planes increased 5.1 percent, the biggest gain since March, the Commerce Department said today in Washington. The number of contracts to buy previously owned houses rose 4.3 percent, topping the median forecast of economists surveyed by Bloomberg News, data from the National Association of Realtors showed.
Home sales are steadying after plunging in the months following the expiration of a housing tax credit, while the need to update equipment and growing demand from overseas will help manufacturing hold up. At the same time, a lack of jobs is restraining consumer spending, the biggest part of the economy, indicating growth will be slow to strengthen.
The economy is "not heading into contraction," said Carl Riccadonna, a senior economist at Deutsche Bank Securities Inc. in New York. Nonetheless, "we're not going to be witnessing a roaring recovery unless the labor market turns in a meaningful way."
Stocks dropped after analysts cut ratings companies, including Microsoft Corp. and Alcoa Inc. The Standard & Poor's 500 Index fell 0.8 percent to 1,137.03 at the 4 p.m. close in New York. Treasury securities rose, sending the yield on the benchmark 10-year note down to 2.48 percent from 2.51 percent late on Oct. 1.
Initial Estimate
The increase in capital goods orders excluding defense and aircraft exceeded the 4.1 percent gain the Commerce Department estimated in last month's durable goods report.
Today's figures showed total orders to factories dropped 0.5 percent, depressed by a pullback in demand for aircraft, which is often volatile. The median forecast of economists surveyed by Bloomberg projected a 0.4 percent decrease. The government revised July figures to show a 0.5 percent increase in orders, up from a previous estimate of 0.1 percent.
Orders for machinery, computers and communications gear all improved in August, the report showed.
"The trend in business investment is still quite solid," said James O'Sullivan, global chief economist at MF Global Ltd. in New York. "Business investment is still one of the stronger parts of the economy."
Automakers, including Ford Motor Co., are among manufacturers that see sales picking up even as they remain below pre-recession levels.
Confidence Needed
"The auto business is pretty steady and coming back up a little bit," Ford Chief Executive Officer Alan Mulally told reporters in Ann Arbor, Michigan, on Sept. 17. "The pent-up demand is tremendous," he said, "we just need a little bit more consumer confidence to know we're growing the economy."
The increase in pending homes sales followed a 4.5 percent gain in July, the NAR reported today. Compared with the same month a year ago, pending sales were down 18.4 percent.
Housing is "bouncing along the bottom, unable to gain any traction, but with little reason to believe it's going to go any lower," said Eric Green, chief market economist at TD Securities Inc. in New York. "All of the froth has been eliminated from the bubble and all we need now is for confidence to turn higher and job growth to accelerate."
Economists forecast pending home sales would increase 2.5 percent, according to the median of 39 projections in a Bloomberg survey. Estimates ranged from a drop of 2 percent to an increase of 5.6 percent.
Broad-based Gain
Contract signings rose in three of four regions in August, led by a 6.7 percent increase in the South. Pending sales were up 6.4 percent in the West and 2.1 percent in the Midwest. They dropped 2.9 percent in the Northeast.
The jobless rate probably rose to 9.7 percent in September from 9.6 percent the previous month as the economy couldn't create enough jobs to keep up with a growing labor force, economists project a report from the Labor Department will show Oct. 8.
After averaging 9.3 percent in 2009, the unemployment rate will average 9.6 percent this year and 9.2 percent in 2011, according to the median forecast of economists surveyed by Bloomberg last month. The last time unemployment exceeded 9 percent for three consecutive years was 1939 to 1941.
Higher rates of joblessness limit home sales and increases the likelihood foreclosures will keep rising. Home seizures reached a record in August for the third time in five months, RealtyTrac Inc. said Sept. 16.
Fed Action
The labor market is also a reason why Federal Reserve policy makers may respond with more stimulus. The outlook for job growth and inflation is "unacceptable" and more monetary easing is probably needed to spur growth and avert deflation, Fed Bank of New York President William Dudley said in a speech Oct. 1.
Gross domestic product grew at a 1.7 percent annual pace in the second quarter after expanding 3.7 percent in the first three months of the year and 5 percent at the end of 2009.
The economy is a top issue for voters in the November congressional elections, and polls show the public is increasingly skeptical of President Barack Obama's performance.
Last week, Obama signed legislation that will cut taxes and provide credit help for small businesses, calling it an essential step for job growth in a slow economy.