Giants End Bears' Unbeaten Run With 10 Sacks in Win: NFL Week 4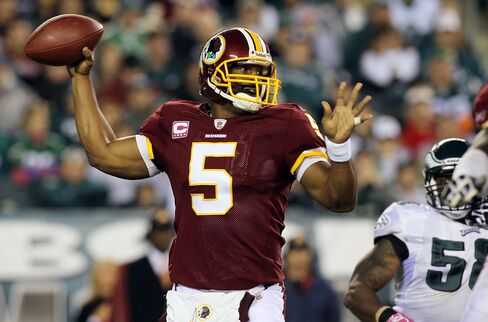 The New York Giants totaled 10 quarterback sacks in a 17-3 win over the Chicago Bears that leaves one undefeated team in the National Football League.
Ahmad Bradshaw rushed for 131 yards and a touchdown for the Giants, who knocked Bears quarterback Jay Cutler out of the game with nine first-half sacks last night at New Meadowlands Stadium in East Rutherford, New Jersey.
"We have outstanding pass-rushers and the ability to get to the quarterback on every play," said defensive end Osi Umenyiora, who had a team-high three sacks. "As soon as we limited their running attack, we knew we were going to get after (Cutler) and I think we did a pretty good job of that."
Chicago, which was among three unbeaten teams entering Week 4 of the NFL season, fell to 3-1. The Pittsburgh Steelers were also denied a 4-0 start, losing at home 17-14 to the Baltimore Ravens on an 18-yard touchdown by T.J. Houshmandzadeh with 32 seconds left. The 3-0 Kansas City Chiefs, who were off this week, are now the NFL's lone unbeaten team.
The Giants improved to 2-2 with last night's win and move into a tie atop NFC East Division with the Washington Redskins, who defeated the Eagles 17-12 yesterday in Donovan McNabb's return to Philadelphia. McNabb, who played his first 11 NFL seasons with the Eagles, got a standing ovation during pre-game introductions at Lincoln Financial Field.
Washington ended its two-game losing skid, while the Eagles lost for the first time in three starts after quarterback Michael Vick left the game with a rib injury.
Jets' Rout
The New York Jets pushed their winning streak to three games by beating the Buffalo Bills 38-14 behind two touchdowns apiece by Dustin Keller and LaDainian Tomlinson.
The Super Bowl-champion New Orleans Saints beat the winless Carolina Panthers 16-14 behind 46-year-old kicker John Carney, while Josh Scobee booted a 59-yard field goal as time expired to earn the Jacksonville Jaguars a 31-28 defeat of the Indianapolis Colts.
At New Meadowlands Stadium, the Giants limited the Bears to 22 yards of offense during the first half and Cutler didn't return after halftime because of a concussion. Six Giants defenders had sacks during the first two quarters.
Cutler's replacement, Todd Collins, left the game after a hard hit in the fourth quarter. New York's sack total was two short of the NFL record.
The Giants were nursing a 3-0 lead until Bradshaw scored on a three-yard run with 2:58 remaining in the third quarter. Brandon Jacobs added a two-yard touchdown run with 4:38 left in the fourth quarter after the Bears pulled within 10-3.
McNabb's Reception
McNabb, 33, said he hoped to hear some cheers upon his return to Philadelphia and was greeted with an ovation when he was introduced before the game.
He had a 92-49-1 record and took the Eagles to the conference championship five times, yet was often criticized by the city's fans for failing to win a Super Bowl title.
The Philadelphia crowd booed McNabb when he threw a 31-yard touchdown pass to Chris Cooley to give the Redskins a 14-0 first-quarter lead.
Vick left the game after getting injured on a quarterback run on the next-to-last play of the opening quarter. Vick had led the Eagles to consecutive wins after replacing the injured Kevin Kolb during a Week 1 loss. Kolb completed 22 of 35 passes for 201 yards, one touchdown and an interception.
After Kolb's pass into the Redskins' end zone was intercepted on the game's final play, Eagles coach Andy Reid hugged McNabb at midfield.
"I was kind of overwhelmed," McNabb said about the reception in Philadelphia. "When you come back to a place where you played so long and gave so much for, to get received like that, it says a lot."
Tomlinson's Game
In Orchard Park, New York, Tomlinson topped 100 yards rushing for the first time since 2007 as the Jets sent the Bills to their first 0-4 start in six years.
Tomlinson ran for 133 yards while Shonn Greene added 117 rushing yards for the Jets, who have won three in a row since an opening-week loss to the Ravens.
"They knew we were coming in to run the football and we still ran for 273 yards," Jets coach Rex Ryan said during a news conference.
Elsewhere in Week 4, it was Atlanta 16, San Francisco 14; Cleveland 23, Cincinnati 20; St. Louis 20, Seattle 3; Denver 26, Tennessee 20; San Diego 41, Arizona 10; Houston 31, Oakland 24; and Green Bay 28, Detroit 26.
The New England Patriots visit the Miami Dolphins tonight. Kansas City, Dallas, Minnesota and Tampa Bay were off this week.
Before it's here, it's on the Bloomberg Terminal.
LEARN MORE