State Loans Give Lula Successor More Inflation: Brazil Credit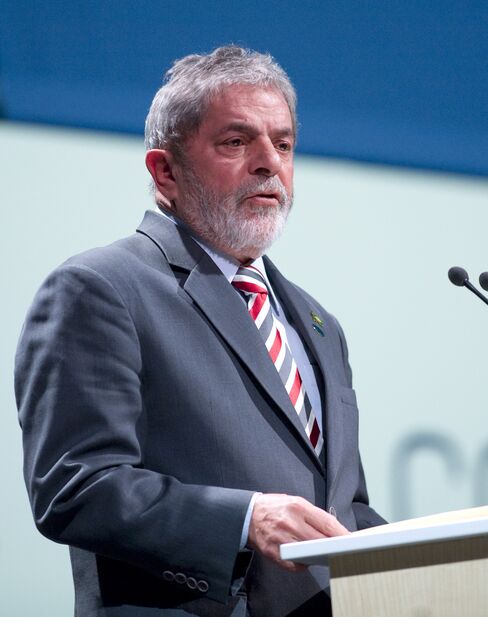 Brazil's state development bank is charging the least relative to the country's benchmark interest rate in 18 months, a sign President Luiz Inacio Lula da Silva's successor may struggle to keep inflation in check.
The difference between the central bank's 10.75 percent overnight Selic and the government lender's long-term rate that monetary authorities agreed last week to keep at 6 percent grew to 475 basis points from 275 in March, as policy makers boosted borrowing costs to contain price increases. The gap is the largest since March 2009 when it was at 500 basis points.
Brazil's benchmark lending rate, the second-highest among the Group of 20 countries after Argentina's, may climb 150 basis points next year as the government-run bank known as BNDES provides record subsidized credit, according to data compiled by Bloomberg. Yields on the interbank rate futures contract due in January 2012, the most traded in Sao Paulo, rose 23 basis points last month to 11.50 percent, implying an increase in the Selic to at least 12.25 percent by the end of 2011, the data show.
"BNDES reduces the effectiveness of the monetary policy, not only due to this differential, but also to the volume of this lending," said Zeina Latif, a senior economist for Latin America at RBS Securities Inc. in Sao Paulo. "We have the central bank tightening and on the other hand an expansionary policy by BNDES. The challenge for the new administration in terms of the economic policy is to decelerate bank lending by the BNDES and reduce spending."
Second Round
Brazilian voters pushed the election for president into a second round yesterday, after no candidate won more than 50 percent in the initial ballot. Lula's former cabinet chief, Dilma Rousseff, will face former Sao Paulo Governor Jose Serra in a runoff later this month, electoral authorities said.
In their campaigns, both Rousseff, 62, and Serra, 68, vowed to keep inflation under control.
Annual inflation as measured by Brazil's benchmark IPCA-15 price index quickened to 4.57 percent in the 12 months through mid-September from 4.44 percent in mid-August.
Brazil's local-currency 10-year bonds due in 2021 yield 11.9 percent compared with 7.9 percent on comparable securities in India, 7.4 percent in Russia and about 3.3 percent in China.
Lending Grows
BNDES, based in Rio de Janeiro, more than doubled lending to Brazilian companies to 137.4 billion reais ($82 billion) last year -- exceeding the $72.2 billion lent globally by the World Bank in the fiscal year ended in June. The bank granted 135 billion reais in loans in the 12 months through July, 12 percent more than a year earlier. As of July, BNDES had also approved future loans for projects worth 182 billion reais.
The lending is helping fuel the expansion in Latin America's largest economy. Gross domestic product will grow more than 7 percent this year for the first time since 1986, according to central bank estimates.
The central bank, led by President Henrique Meirelles, lifted the overnight rate three times this year from a record low 8.75 percent before holding it unchanged on Sept. 1. The National Monetary Council, which sets the BNDES lending rate and is headed by Finance Minister Guido Mantega, has kept it unchanged at 6 percent since July 2009.
Alexandre Schwartsman, the chief economist at Banco Santander in Sao Paulo, estimates every percentage-point gap between the long term rate of BNDES, known as the TJLP, and the Selic costs the government about 4 billion reais.
Alternative Sources
The increase in BNDES loans and the level of subsidies reduce the incentive for companies to seek alternative sources of funding, hurting the development of the country's capital markets, according to Schwartsman.
"You distribute free lollipops and then you say the national lollipop industry is unable to supply the demand," Schwartsman said in a phone interview. "And then you increase the supply of free lollipops. This is a curious way of stimulating the market."
Rousseff said in May the government doesn't have the resources to fund all long-term investments and that Brazil will need to rely more on the capital markets for investments, according to a transcript of an interview on her website.
Mantega said in a July 23 interview that the government was considering tax breaks to stimulate long-term lending in a bid to reduce the burden on BNDES.
"BNDES needs to rely more on the market and less on the government" he said.
Yields on Brazil's interbank rate futures contract due in January 2012 fell two basis points to 11.42 percent today at 5:10 p.m. New York time.
Yields Fall
The extra yield investors demand to own Brazilian dollar bonds instead of U.S. Treasuries rose one basis point to 204, according to JPMorgan Chase & Co. indexes.
The cost of protecting Brazilian bonds against default for five years using credit-default swaps was unchanged at 113 basis points, according to data provider CMA. The contracts pay the buyer face value in exchange for the underlying securities or the cash equivalent should a government or company fail to adhere to its debt agreements.
The real fell 0.5 percent to 1.6979 per dollar today.
Dollar Purchases
Brazil's central bank has purchased dollars every day since May 7, 2009, to slow the currency's advance. The real may strengthen ahead of the presidential runoff, Tony Volpon, a Latin America strategist at Nomura Securities International Inc. in New York, said in a telephone interview yesterday. The election results probably will discourage the Finance Ministry from taking measures to stem the appreciation before the next round of voting, he said.
"Given the fact we're going to have a second round, the fact that Dilma's poll numbers have steadily gotten worse, from a policy perspective I would expect them not to do anything that could be seen as controversial or headline-grabbing," Volpon said.
Policy makers cut their 2011 inflation forecast last week to 4.6 percent from 5 percent in June. Inflation will converge to the central bank's 4.5 percent target as the economy expands at a level more "consistent" with its long-term equilibrium, the central bank said in a Sept. 30 report.
Brazil's Treasury lent 205 billion reais to BNDES by transferring to the bank public bonds since 2008, helping spark an increase in the country's gross debt to 59.4 percent in August from 56.4 percent in December 2006, when the central bank series starts. The government approved on Sept. 27 an additional loan of as much as 30 billion reais that will be used by BNDES to pay for shares in state-owned oil company Petroleo Brasileiro SA.
'Dangerous'
The Finance Ministry declined to comment in an e-mailed statement and referred to Lula´s decision on Sept. 27 to inject up to 30 billion reais into the BNDES to support Petrobras's share sale without hurting the bank´s lending ability.
Total outstanding loans by BNDES will jump to 10.9 percent of gross domestic product next year from 6.3 percent when Lula first took office in 2003, according to estimates by Alexandre Andrade, an economist at Sao Paulo-based research company Tendencias Consultoria Integrada. The rate was at 9.8 percent in August.
"To use the BNDES to increase even more the government's development project instead of stimulating private investments is dangerous," Felipe Salto, an analyst at Tendencias Consultoria, said in a phone interview. "Brazil needs a development bank because it is necessary to fuel infrastructure investments, but there is a limit. To issue 200 billion reais in debt, increasing the fiscal risk, to grant loans to half a dozen companies doesn't make sense from the economic point of view."
Before it's here, it's on the Bloomberg Terminal.
LEARN MORE