Brazil's Real Drops as Global Growth Concerns Reduce Demand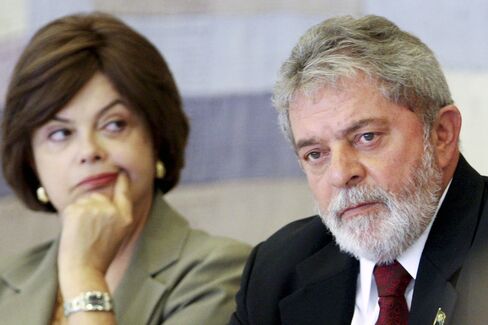 Brazil's real fell as concern the global recovery is slowing overshadowed speculation the government may postpone measures to curb the currency's gain over the past three months after yesterday's presidential election failed to produce a winner.
The real fell 0.1 to 1.6914 per U.S. dollar at 2:40 p.m. New York time, from 1.6897 on Oct. 1. It is up 4.7 percent in the past three months.
Manufacturing orders in the U.S. declined a more-than-estimated 0.5 percent in August, overshadowing a second monthly increase in contracts to purchase previously owned homes and spurring investors to sell emerging-market assets, said Francisco Carvalho, head of currency trading at BGC Liquidez DTVM in Sao Paulo.
"We see this as the external outlook strengthening the dollar," said Carvalho.
Former cabinet chief Dilma Rousseff finished first in Brazil's presidential election and will face her main rival, Jose Serra, in a runoff on Oct. 31 after failing to capture a majority of votes.
The real may gain this month as the runoff discourages the government from following through on a threat to take measures to stem the rally, according to Nomura Securities International Inc.
"Now with another month to go, I think that these measures are not going to be announced and therefore, you know, we could see the currency appreciate a little bit actually," Tony Volpon, a Latin America strategist at Nomura Securities in New York, said in an interview on Bloomberg Television.
Real Rally
The real's appreciation accelerated last month as state-run oil company Petroleo Brasileiro SA's $70 billion share offering lured foreign investment. It is up 37 percent since the end of 2008, the second-biggest advance in the world after the Australian dollar.
Brazil's central bank bought $9.4 billion dollars in 24 business days in September, outpacing the $6.7 billion it bought in October 2009 when it imposed taxes on overseas purchases of stocks and bonds to stem the real's rally.
Finance Minister Guido Mantega warned on Sept. 27 of a global "currency war" as the government weighs a higher tax on capital inflows.
Rousseff, President Luiz Inacio Lula da Silva's handpicked successor, won 46.9 percent, while former Sao Paulo Governor Serra had 32.6 percent with more than 99 percent of the ballots counted. Green Party candidate Marina Silva, who came in third with 19.3 percent, didn't declare her support for either of her rivals in the second round.
Brazilian policy makers will "shy away from any heavy-handed measures to stem the appreciation until after the election is complete," said Nick Chamie, head of emerging- markets research at RBC Capital Markets in Toronto.
The yield on Brazil's interest-rate futures contract due in January 2012 fell two basis points, or 0.02 percentage point, to 11.42 percent. The Bovespa stock index was little changed.