Bernanke Says Additional Purchases Can Help Economy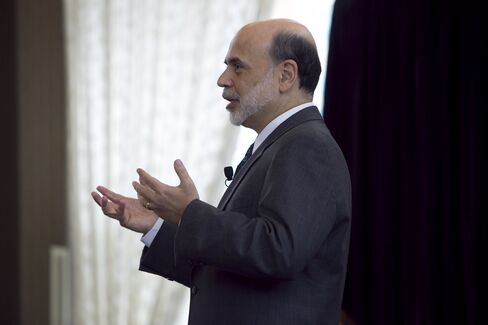 Federal Reserve Chairman Ben S. Bernanke said the central bank's first round of large-scale asset purchases improved the economy and that further buying is likely to help more.
"I do think that the additional purchases -- although we don't have precise numbers for how big the effects are -- I do think they have the ability to ease financial conditions," Bernanke said in response to questions in Providence, Rhode Island, at a forum with college students. He said the first wave that ended in March was an "effective program."
Bernanke and other Fed officials have signaled during the past two weeks that the central bank may announce the purchase of more Treasuries as soon as their next policy meeting Nov. 2-3 in an effort to boost economic growth and reduce an unemployment rate persisting at 9.5 percent or higher for the past year.
Separately, Brian Sack, the New York Fed official in charge of carrying out FOMC decisions, said a further expansion of the central bank's $2.3 trillion balance sheet would help stimulate a recovery that is forecast to be "relatively tepid." Smaller steps of purchases may be warranted in contrast to the last round, Sack said in Newport Beach, California.
Richard Berner, co-head of global economics at Morgan Stanley in New York, said a second round of large-scale asset purchases, also known as quantitative easing, is a certainty.
"We're skeptical that you get a lot of bang for the buck because there are a lot of blockages in the transmission channel for monetary policy," Berner said during a radio interview on "Bloomberg Surveillance" with Tom Keene. "Nonetheless, with gridlock persisting elsewhere in the policy environment, it just seems to us like QE2 is inevitable."
'Tough Time'
Bernanke said that it's a "very tough time" for the U.S. job market. The Labor Department on Oct. 8 will report on September changes to payrolls and the unemployment rate. The jobless rate may have climbed to 9.7 percent, according to the median estimate of 80 analysts surveyed by Bloomberg News. None expects a decline from August's 9.6 percent. The rate reached a 26-year high of 10.1 percent in October 2009.
Treasuries rose, pushing two-year yields to a record low, as reports showing orders for capital goods rose and pending home sales climbed failed to damp speculation the Fed will increase asset purchases.
The two-year yield fell to a record 0.3987 percent before trading at 0.4066 percent, according to Bloomberg generic data. The three-year yield touched 0.5892 percent.
Capital Goods
Bookings for non-military capital goods excluding planes increased 5.1 percent, the biggest gain since March, the Commerce Department said today in Washington. The number of contracts to buy previously owned houses rose 4.3 percent, topping the median forecast of economists surveyed by Bloomberg News, data from the National Association of Realtors showed.
New York Fed President William Dudley said last week that the outlook for job growth and inflation is "unacceptable" and that the Fed will probably need to take action.
"The economy remains vulnerable to downside surprises that could take both output and inflation further away from the FOMC's objectives," Sack said.
"If we were talking about good old-fashioned monetary policy" there's "a lot of disagreement about that," Sack said in response to audience questions. "Here, we're talking about using an instrument that we don't have a lot of experience with, so it's natural that there are differing opinions."
Plosser Comments
Philadelphia Fed President Charles Plosser said last week that the central bank risks its credibility by taking actions, such as additional asset purchases, that may fail to help the labor market.
In contrast, Dudley said last week that buying about $500 billion of securities would add as much stimulus as reducing the Fed's benchmark rate 0.5 percentage point to 0.75 percentage point, depending on how long investors expect the Fed to hold the assets. The Fed has kept the rate near zero since December 2008.
A second round of bond purchases may merit a different strategy than the central bank's earlier program at the height of the financial crisis, when the Fed used "infrequent but large increments" to expand its balance sheet, Sack said.
"That might have been appropriate in circumstances when substantial and front-loaded policy surprises had benefits, but different approaches may be warranted in other circumstances," Sack said. "Indeed, it contrasts with the manner in which the FOMC has historically adjusted the federal funds rate, which has typically involved incremental changes to the policy instrument."
Costs, Benefits
As the central bank would also be "learning about the costs and benefits of its balance-sheet changes as it implemented a new program," that "might call for some flexibility to be incorporated into the program, providing some discretion to change course as market conditions evolve," Sack said.
While buying securities would increase the interest-rate sensitivity of the central bank's portfolio, the Fed's goal would be to stimulate the economy, not generate profits, Sack said.
"These decisions are being made to produce economic outcomes" not "to produce a certain return on the portfolio."
If the central bank were to suffer losses "it has no operational consequences on our ability to conduct monetary policy," he said.
Sack dismissed concern that restarting bond purchases would impair the central bank's ability to exit the unprecedented stimulus. Dudley said last week that a "credible plan" to withdraw liquidity would counter the risk that inflation expectations rise.
"I am confident that our ability to exit will not be compromised by any further expansion of the balance sheet," Sack said. "In all potential circumstances, the Federal Reserve should be able to tighten financial conditions to a sufficient degree when appropriate."