Londoners Face Tough Return Home as Tube Strike Hits Services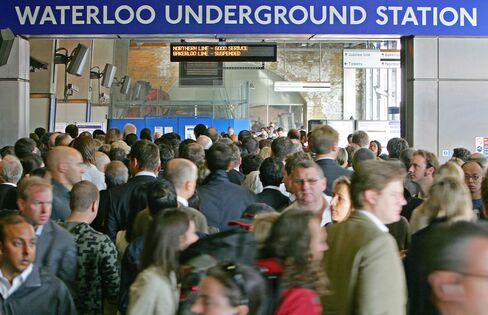 Oct. 4 (Bloomberg) -- London commuters will suffer more misery getting home this evening with London Underground unlikely to return to a normal service until tomorrow morning.
The travel plans of 3.5 million subway riders were disrupted this morning after a 24-hour walkout by workers over safety and staffing levels began at 6:29 p.m. yesterday. The industrial action is one of four scheduled by the Rail, Maritime and Transport Union and Transport Salaried Staffs' Association in protest against 800 planned job cuts.
"There's likely to be some disruption this evening and through to close today," Transport for London spokesman Matt Brown said in a phone interview. "We hope that it's back up and running absolutely 100 percent tomorrow morning."
Buses and trains were packed and people waited in lines at taxi ranks as London Underground struggled to provide a service. The Circle line is the only Tube line fully suspended, with all other lines, except the Waterloo and City and DLR, operating a special or part suspended service, according to TfL's website.
"I don't even want to attempt to go back home because it is going to take me ages," Elysia Parkin, a chef from Chingford, Essex, said today in an interview.
About 40 percent of services are operating across the network, TfL said in an e-mailed statement, with all "key" stations open, including Liverpool Street, London Bridge, Victoria, Waterloo and Kings Cross. TfL recommends checking its website before traveling.
'Ghost Trains'
"What TfL means by a special service is shuttle ghost trains running through closed station after closed station in contravention of the post-Kings Cross fire safety regulations," Bob Crow, RMT General Secretary, said in an e-mailed statement today, referring to the fatal underground fire in November 1987 that killed 31 people.
Today's stoppage, the fifth to shut the Tube since 2002, involves around 10,000 employees. More than 100 additional buses, capacity for more than 10,000 extra river crossings and controlled taxi centers have been organized.
"I'm pretty fed up. There's no taxis, there's no buses and I've missed a doctor's appointment," Hannah Crossley, a nurse from Mile End said in an interview. "They provide a service like nurses and we're not allowed to strike, so why are they?"
Mayor of London Boris Johnson has condemned the strike, describing it as "nakedly and blatantly political" to delegates at the Conservative Party's annual conference in Birmingham today. "It is time to come to the negotiating table and sort this thing out," Johnson said.
Boats, Bikes, Taxis
During the first 24-hour strike on Sept. 6, Londoners took to boats, bikes and taxis to get to work. A one-day strike may cost businesses 48 million pounds ($76 million), according to the London Chamber of Commerce and Industry.
"It's really bad at all the stations," Simon Hurry, a London black cab driver, said in a line of taxis waiting motionless on Liverpool Street. "There's loads of cabs queuing up to get passengers, which can't get into the stations very well because the roads are so busy. Why do they always have to go on strike? It drives me crazy."
Negotiations between London Underground and the RMT and the TSSA to resolve the dispute broke down on Sept. 22.
Further walkouts are planned for Nov. 2 and Nov. 28. In a separate dispute over pay and conditions, almost 200 RMT rail workers in the Tube's Jubilee and Northern depots will strike for 24 hours starting at 7 p.m. today.
Boris Bikes
Another option for commuters will be the City's public cycle-hire program, which was unveiled by Johnson in August. During the previous strike FIPLAB Ltd. saw user sessions of its London Cycle iPhone application, which helps users locate the public-hire bicycles, more than double to over 30,000 per day, director Rishi Modha said in an e-mailed response to questions yesterday.
"The Boris Bikes may well turn out to be the fastest and least stressful form of public transport within Central London," Modha said. "For those that need to attend important meetings, you may well see them braving the weather and opting to use the Boris Bikes to get to where they need to be."
London Bus, designed by Malcolm Barclay, 35, for planning a bus journey around London, jumped more than 20 places in the travel section of Apple Inc.'s App store after a two to three-fold increase in sales yesterday.
"I can't deny it's a small boon for business," the New-Zealander, who moved to London in 2007, said in a telephone interview yesterday. "During the last strike it jumped to number one, which has never happened before."
To contact the reporters on this story: Chris Spillane in London at cspillane3@bloomberg.net;
To contact the editor responsible for this story: Colin Keatinge in London at ckeatinge@bloomberg.net