VimpelCom, Sawiris Said to Be Closer on Merger Accord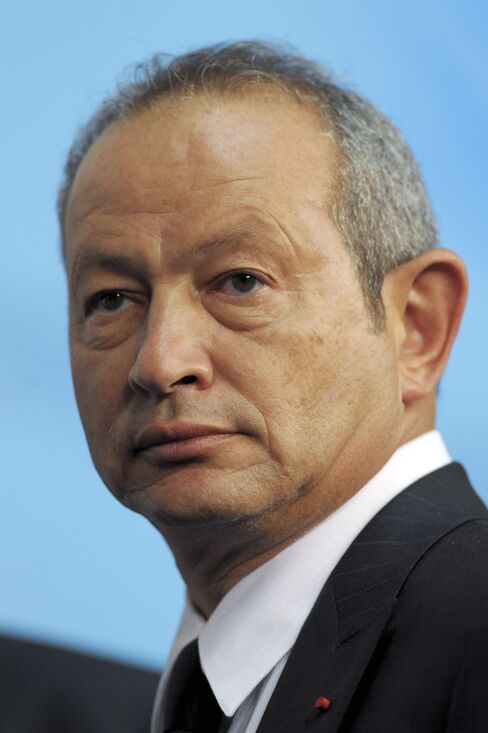 VimpelCom Ltd., Russia's second-largest mobile-phone operator, and Egyptian billionaire Naguib Sawiris may say as early as today that they are closer to agreement on merging their phone assets, two people familiar with the matter said.
The two sides have for weeks discussed the transaction to create a company valued at more than $25 billion. High-ranking Russian leaders are set to convene in Algeria -- where Sawiris's unit is entangled in a tax dispute -- from Oct. 6, which may be a catalyst for an agreement on a deal, said the people who declined to comment because the talks are private.
Sawiris would become a significant minority investor in the new company, which will include his Weather Investments SpA's 51 percent stake in Egypt's Orascom Telecom Holding SAE and Italian mobile operator Wind Telecomunicazioni SpA. The deal would create an entity with a combined mobile subscriber base of more than 200 million customers and give VimpelCom access to markets in Africa and the Middle East.
An announcement may come this week, although there remains a chance no agreement may be completed, one of the people said.
Yelena Prokhorova, a spokeswoman for VimpelCom in Moscow, declined to comment as did Manal Abdel-Hamid, a spokeswoman for Orascom.
Orascom shares were suspended in Egypt pending an announcement. They closed 3 percent higher to 5.19 Egyptian pounds on Oct. 3. The company's global depository receipts rose as much as 7.3 percent to $4.7 at 10:07 a.m. in London.
Algerian Operations
Russian President Dmitry Medvedev may raise Orascom Telecom's tax problems during his visit to Algeria this week, the publication Kommersant said on Oct. 1. The newspaper said VimpelCom is sending executives with Medvedev to participate in a business forum in Algeria.
It is Sawiris's second attempt this year to sell Orascom assets, after talks with South Africa's MTN Group Ltd. failed in June. The Algerian government blocked the sale of Orascom's local unit, saying it would make an offer for the operations.
Orascom Telecom in September said that its Algerian unit, Djezzy, received an initial tax reassessment for $230 million for 2008 and 2009, and it will take legal steps to dispute the figure.
Wind Italy had net debt of 8.29 billion euros ($11.4 billion) as of June 30 and Orascom Telecom had debt of $4.61 billion at that date.
VimpelCom, with headquarters in Amsterdam and listed in New York, was formed by Russian billionaire Mikhail Fridman's Alfa Group and Norway's Telenor ASA to consolidate holdings in Russian and Ukrainian mobile-phone operators. VimpelCom is 39.6 percent-owned by Telenor while Alfa's Altimo unit controls 39.2 percent and minority shareholders own 21.2 percent.
Sawiris on Sept. 24 said he's also talking to other potential buyers of stakes in his telecommunications assets.
Before it's here, it's on the Bloomberg Terminal.
LEARN MORE