Zaha Hadid Wins Stirling Prize With $207 Million Rome Museum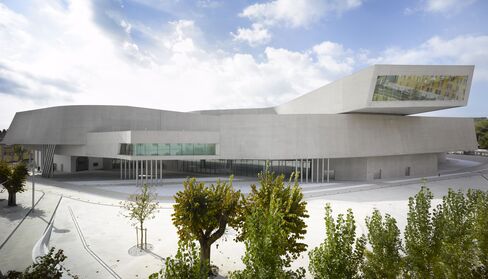 Oct. 3 (Bloomberg) -- Zaha Hadid, the Iraqi-born architect who has lived for some four decades in the U.K., finally won recognition from her country of adoption as she clinched the U.K.'s RIBA Stirling Prize for her MAXXI Museum in Rome.
British acclaim had so far evaded Hadid, 59, who in 2004 became the first woman to win the Pritzker Prize for Architecture, her profession's highest distinction. She had been nominated three other times for the Stirling, the U.K.'s top architecture award, and lost every time.
Hadid collected her prize at a gala dinner inside the Roundhouse arts center in Camden, London. Her five competitors included David Chipperfield for his Neues Museum in Berlin, and Rick Mather Architects for the Ashmolean Museum in Oxford.
"It's really very exciting for me to receive a British prize, for a change," said Hadid, who wore a trapezoidal yellow tunic and black gloves, and was flanked by colleagues Patrik Schumacher and Gianluca Racana.
MAXXI, built on the site of a former army barracks, took 10 years and 150 million euros ($207 million) to complete. It was designed in 1999: Rome wanted its own contemporary-art museum at a time when London's Tate Modern and the Guggenheim in Bilbao, Spain, were opening.
In her acceptance speech, Hadid said that working in Rome was "very difficult." She regretted the absence at the ceremony of the museum's Italian director, because of a passport loss. "It's a confirmation of the Italian-ness of this project," she said.
Mature Architecture
The judges described MAXXI as "a mature piece of architecture, the distillation of years of experimentation, only a fraction of which ever got built."
"It is perhaps her best work to date," they said.
Made of gray concrete, MAXXI has an undulating facade and a jutting tower that recalls London's Hayward Gallery. Inside, it has swerving white walls and display "suites" that flow into one another, creating a curving maze where visitors can meander.
Judges called it "the quintessence of Zaha's constant attempt to create a landscape as a series of cavernous spaces drawn with a free, roving line." They awarded her practice a 20,000 pound check.
The Stirling Prize goes to a project that is either built in the U.K. or by a practice based in Britain. Previously, Hadid failed to win it with the Nord Park Cable Railway in Austria (2008), the Phaeno Science Center in Wolfsburg, Germany (2006), and the BMW Central Building in Leipzig, Germany (2005).
Hadid was born and raised in Baghdad, the daughter of a U.K.-educated industrialist who briefly served as minister of finance and industry before managing a series of household-goods factories.
Aunt's House
The youngest of three children and the only girl, she found her calling at age 11 when an architect visited her home and dropped off models of her aunt's future house. Little Zaha declared soon afterwards that she wanted to be an architect.
She began her own practice in 1980. Yet her first finished project came a decade later: the angular Vitra fire station, next to a furniture factory in Weil am Rhein, Germany.
Other projects went unrealized, such as the Cardiff Bay Opera House in Wales, for which she had won the contest in 1982. In a 2007 interview with Bloomberg News, she blamed the Cardiff "stigma" for her slim U.K. portfolio.
Her first high-profile U.K. project is the aquatic center for the 2012 London Olympic Games, which is yet to open.
Hadid, who last visited Iraq in 1980, was recently appointed to design a new headquarters for the central bank in Baghdad, after an attack on the existing building left at least 15 people dead.
Making Space
Asked in the 2007 Bloomberg News interview to explain her passion for architecture, she replied, "I think it's an incredible thing to be able to make space. It's really the next thing to nature."
Last year's Stirling Prize went to the Maggie's Cancer Care Centre, by Rogers Stirk Harbour & Partners (the practice of Richard Rogers, who co-built Paris's Pompidou Center). The 2008 winner was the Accordia housing project in Cambridge, England.
The other three nominees for this year's Stirling Prize were:
- Bateman's Row, London, by Theis+Khan
- Christ's College School, Guildford, by DSDHA
- Clapham Manor Primary School, London, by dRMM (de Rijke Marsh Morgan Architects).
To contact the writer on the story: Farah Nayeri in London at farahn@bloomberg.net.
To contact the editor responsible for this story: Mark Beech at mbeech@bloomberg.net.