Swedish Yields Jump as Data Back Rate Rise Outlook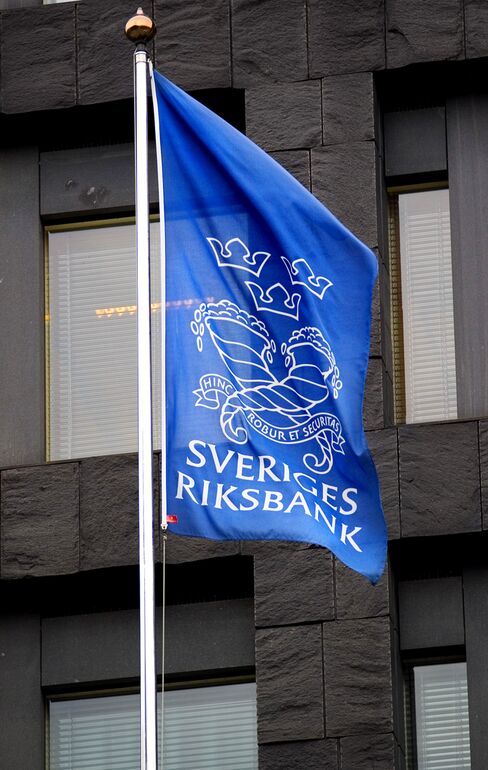 Swedish yields on benchmark 10-year debt jumped the most in the European Union today after a string of indicators underpinned the view that the Riksbank will stick to its monetary tightening plans.
"The flow of data we have got in the last couple of days has been extremely good," said Fredrik Floric, a Stockholm- based analyst at Nordea Bank AB. "People expected data would just roll over but instead they are just sky-rocketing. It's reinforcing the view that the Riksbank will raise rates."
The central bank's rate path indicates it will raise the benchmark repo rate more than 2 percentage points over the next two years to about 3 percent. Manufacturing expanded for a 16th consecutive month in September, with the purchasing managers' index jumping 2.7 points to 63.3, a report showed today. Consumer and business confidence surged to the highest in a decade last month, as the government estimates Sweden's economy will deliver the biggest rebound in the EU this year.
"We were stunned by the data," said Roger Josefsson, Danske Bank A/S chief economist in Stockholm, in an interview. "We've all seen the U.S. and also European data being a bit worse over the last couple of months so we wouldn't have been too surprised if Sweden's export industry suffered from that, but so far we haven't seen it."
Yields Jump
The yield on Sweden's 10-year government bond jumped 5 basis points to 2.57 percent. The yield on the two-year bond gained 4 basis points to 1.45 percent.
"We see no reason to expect less than 25 basis-point steps in hiking at the coming two to three Riksbank meetings," a team of analysts at Danske Bank led by Michael Bostroem, based in Stockholm, said in a note today.
Policy makers raised the repo rate a quarter point to 0.75 percent at their Sept. 1 meeting. The bank on Sept. 2 reiterated its forecast that the repo rate will average 2.1 percent about a year from now, and 3.1 percent in the third quarter of 2012.
Sweden's economy will grow 4.5 percent this year, the government said on Aug. 20, recouping most of last year's 5.1 percent contraction.
"Sweden is export-dependent and we can't stimulate the economy much more than we have already done and if this weaker phase continues in Europe, which it probably will, Sweden is going to suffer," Josefsson said. "But the starting position is better than most other countries, so that's also beneficial for Swedish financial markets."
Before it's here, it's on the Bloomberg Terminal.
LEARN MORE