Manhattan Apartment Sales Climb 19% as Jobs Stabilize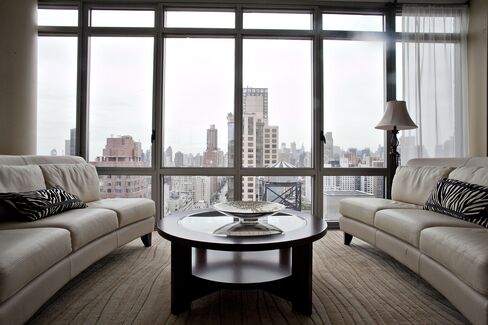 Oct. 1 (Bloomberg) -- Manhattan apartment sales jumped 19 percent in the third quarter from a year earlier, reaching the second-highest level since 2008, as the city's job market stabilized and mortgage rates fell to record lows.
The number of completed sales climbed to 2,661 from 2,230 a year earlier, New York appraiser Miller Samuel Inc. and broker Prudential Douglas Elliman Real Estate said today. The median price of co-ops and condos that changed hands increased 7.5 percent to $914,000 as buyers sought larger units.
The market is back to a "normal comfort level," said Jonathan Miller, president of Miller Samuel. "We're comparing against last year when we weren't fully off the floor. It's currently stable."
New York City's jobless rate stayed at 9.4 percent in August, unchanged from July, the state Department of Labor said Sept. 16. The city's financial industry, which employed 433,200 in August, showed a net gain of 500 jobs over the previous 12 months. It was the first such increase in 2010 for the industry, one of six to show higher year-over-year employment.
Properties stayed on the market an average of 125 days, or 26 percent less time than a year earlier, according to Miller Samuel and Prudential. Listing discounts, which measure the amount of money sellers subtracted from their last asking price to strike a deal, fell to 5.8 percent from 7.6 percent.
Looking for Value
"Buyers have to perceive good value," said Hall Willkie, president of brokerage Brown Harris Stevens, which also released a report today. "If they didn't, they wouldn't be buying."
Five reports issued today showed increases in closing prices. Brown Harris and its sister firm, Halstead Property LLC, reported a median price of $890,000 for Manhattan apartments that sold in the quarter, a 14 percent rise over last year.
The Corcoran Group said the median price climbed 9 percent from a year ago. StreetEasy.com, a service that compiles broker listings, put the increase at 14 percent.
Historically low borrowing costs helped spur some buyer activity, said Gregory Heym, chief economist at Terra Holdings LLC, which owns Halstead and Brown Harris. Rates for 30-year mortgages fell to 4.32 percent in the week ended yesterday, matching a record reached in early September, according to Freddie Mac. The rate hasn't been above 5 percent since May.
Cutting Monthly Payments
It's the low rates that made buying a studio apartment an easy decision for Matthew Russell, 27, a salesman at Brown Harris Stevens, who went into contract for a co-operative apartment on Sept. 28. When the sale closes on his $397,700 alcove studio in the East Village, his monthly mortgage payments will be $2,400 a month, or $800 less than the one-bedroom apartment that he rents in the same neighborhood, he said.
"I've watched the market kind of decline, decline and decline, and I feel like it's at least leveling out," Russell said. "I couldn't be happier that I'm downsizing and buying."
After studying the Manhattan sales market for the last two years, Kim Meehan-Bambino and her husband Laurence Bambino decided that the third quarter was a good time to trade up. They put their two-bedroom, two-bathroom co-op apartment in Chelsea up for sale in June and had an offer two days later, said Meehan-Bambino, who works as a fashion stylist. It is under contract for $1.33 million, $400,000 more than they paid for it.
The couple, expecting their third child in December, simultaneously put in an offer for a three-bedroom apartment in a doorman building further east.
'New Normal'
"We're calling it the 'new normal,'" said Pamela Liebman, chief executive officer of the Corcoran Group brokerage. "It's people who are buying because they want a new home and people who are selling because it's that time in their life. People are not lining up to buy in a new development so they can flip it within five minutes. That's over."
Two-bedroom apartments comprised 38 percent of properties that sold in the quarter, compared with 30 percent of market share last year, according to Miller Samuel and Prudential. Studio apartments made up 9 percent of transactions, down from 17 percent a year ago. The shift toward larger apartments pushed the median sales price higher, Miller and Liebman said.
"You don't have the heavy first-time homebuyer that you had," Liebman said. "The buyers of the large apartments were back in force."
Studio apartment prices fell 7.4 percent from a year earlier to a median of $375,000, Miller Samuel and Prudential said. One-bedrooms slid 6.2 percent to a median of $610,000 and two-bedrooms dropped 1.3 percent to $1.25 million. Three-bedroom prices climbed 15 percent to a median of $2.7 million.
Pending Sales Drop
Pending sales, apartments in contract that haven't closed, declined 29 percent in the third quarter to the lowest level since June 2009, according to UrbanDigs.com, a real estate data site launching next week that tracks Manhattan sales and listing activity on a several-times-daily basis.
The decrease in pending sales, which can take an average of 12 to 16 weeks to close, suggests that fourth-quarter sales volume could be less robust than in 2009's final three months, said Noah Rosenblatt, UrbanDigs.com founder.
New contracts fell 19 percent to 516 in September from the previous month, according to a report from StreetEasy.com,
"Part of it is seasonality, and part of it is that it's a very slow recovery," said Sofia Song, vice president of research at StreetEasy.
Luxury Apartments
Sales of luxury apartments, defined as the top 10 percent by price, jumped 19 percent in the third quarter to 266 transactions, Miller Samuel said. Their median price climbed 12.5 percent to $4.39 million.
Townhouse sales rose 12.5 percent from a year earlier, according to StreetEasy. The median price climbed 7.9 percent to $3.78 million.
On the Upper East Side, the median price of existing co-ops increased 24 percent to $918,000 from a year earlier, according to Corcoran. Condo prices in the neighborhood rose 28 percent to a median of $1.2 million. On the Upper West Side, co-op re-sales jumped 28 percent to a median of $894,000, while condo re-sales climbed 7 percent to a $1.18 million.
The average price per square foot of condos south of 34th Street climbed 5 percent to $1,201, according to Halstead and Brown Harris.
To contact the reporter on this story: Oshrat Carmiel in New York at ocarmiel1@bloomberg.net; Danielle Kucera in New York at dkucera6@bloomberg.net
To contact the editor responsible for this story: Kara Wetzel at kwetzel@bloomberg.net