Consumer Spending in U.S. Rises More Than Forecast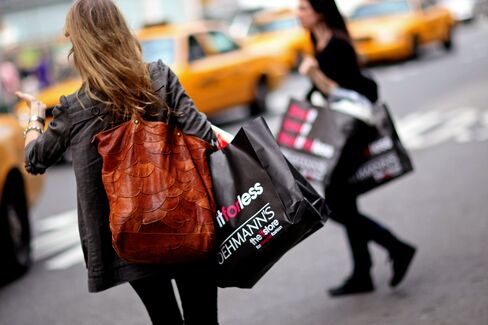 Consumer spending in the U.S. rose more than forecast in August as incomes climbed, bolstering the Federal Reserve's forecast that the world's largest economy will keep expanding at a "modest" pace.
Purchases rose 0.4 percent for a second month, Commerce Department figures showed today in Washington. The gain exceeded the 0.3 percent increase projected by the median forecast of economists surveyed by Bloomberg News. Incomes were up 0.5 percent, the biggest advance this year, propelled by the resumption of extended and emergency unemployment benefits as wage gains cooled.
The pickup in spending, the biggest part of the economy, bodes well for retailers heading into the holiday-shopping season. Nonetheless, a jobless rate that is projected to average at least 9 percent through next year may prevent demand from growing much more, one reason why Fed policy makers like William Dudley say they remain concerned about the speed of the recovery.
"Consumers are doing OK, they are not retrenching, but neither are they splurging," said Sal Guatieri, a senior economist at BMO Capital Markets Inc. in Toronto. "This sets us up for a better holiday-shopping season than the past few years. The recovery is on track, but remains lackluster."
Stock-index futures extended earlier gains following the report. The contract on the Standard & Poor's 500 Index rose 0.6 percent to 1,143.9 at 8:57 a.m. in New York. Treasury securities fell, sending the yield on the benchmark 10-year note up to 2.54 percent from 2.51 percent late yesterday.
Survey Results
The median estimate was based on a survey of 79 economists. Projections ranged from increases of 0.2 percent to 0.5 percent.
Economists forecast incomes would also rise 0.3 percent, following a 0.2 percent gain, according to the Bloomberg survey.
Wages and salaries increased 0.3 percent after a 0.4 percent increase the prior month, showing how the weak labor market is holding back paychecks. Transfer payments, which include government unemployment insurance outlays, jumped 1.6 percent. Congress passed legislation in late July extending emergency benefits.
Disposable incomes, or the money left over after taxes, rose 0.2 percent after adjusting for inflation. They dropped 0.2 percent in July.
The savings rate increased to 5.8 percent from 5.7 percent the prior month.
Inflation Stabilizes
Today's report also showed inflation has stabilized under the Fed's long-term projection. The gauge tied to spending patterns increased 1.5 percent from August 2009, the same as in the 12 months ended in July.
The Fed's preferred price measure, which excludes food and fuel, rose 0.1 percent from the prior month and was up 1.4 percent from a year earlier, matching the 12-month increase in June and July. The central bank's long-term projection calls for an increase in the 1.7 percent to 2 percent range.
Fed policy makers on Sept. 21 moved closer to a second wave of unconventional monetary easing and said for the first time that too-low inflation, in addition to sluggish growth, would warrant taking action.
"Measures of underlying inflation are currently at levels somewhat below those the Committee judges most consistent, over the longer run, with its mandate to promote maximum employment and price stability," according to the Federal Open Market Committee statement. The central bank is "prepared to provide additional accommodation if needed" to support the recovery and return prices to more desirable levels.
Dudley's Concerns
Fed Bank of New York President William Dudley today said the outlook for U.S. job growth and inflation is "unacceptable" and that the central bank has options to add stimulus without major drawbacks.
"We have tools that can provide additional stimulus at costs that do not appear to be prohibitive," Dudley, who serves as vice chairman of the Fed's policy-setting Open Market Committee, said in a speech to business journalists in New York. "Further action is likely to be warranted unless the economic outlook evolves in a way that makes me more confident that we will see better outcomes for both employment and inflation before too long."
Influence on Growth
Today's report showed that adjusted for inflation, which are the figures used to calculate gross domestic product, consumer spending rose 0.2 percent in August for a second month.
Dearborn, Michigan-based Ford Co. is among manufacturers seeing gains in sales while holding below pre-recession levels.
"The auto business is pretty steady and coming back up a little bit," Ford Chief Executive Officer Alan Mulally told reporters in Ann Arbor, Michigan, on Sept. 17. The economy "is coming back slower than past recessions."
Some retailers such as Plano, Texas-based J.C. Penney Co. remain cautious. The third-biggest U.S. department-store chain has planned on getting little help this year from consumer sentiment and demand, said Chief Executive Officer Myron Ullman.
The lack of jobs is "the biggest single factor," together with reduced home equity and credit constraints, Ullman said at an investor conference on Sept. 28. "It's not a surprise that the consumer is still struggling."
The economy is a top issue for voters in the November congressional elections and polls show the public is increasingly skeptical of President Barack Obama's performance.