Chinese Manufacturing Growth Accelerates, Survey Shows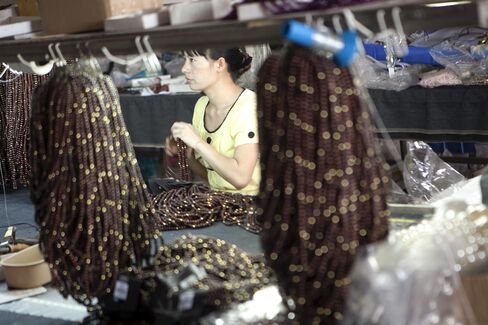 China's manufacturing expanded at the fastest pace in four months in September, adding to signs that economic growth is stabilizing even as the government curbs energy use and tries to cool the property market.
The purchasing managers' index rose to 53.8 from 51.7 in August, China's logistics federation and statistics bureau said in an e-mail. The median forecast of 15 economists surveyed by Bloomberg News was 52.5, with none forecasting such a large gain. Readings above 50 indicate expansions.
The data reinforce evidence from a separate purchasing manager survey two days ago that China's industries are gearing up again after the economy slowed in the second quarter. Bank of America-Merrill Lynch said that officials may accelerate gains by the yuan as domestic demand strengthens and the U.S. maintains pressure for a stronger currency.
"Today's better than expected PMI number suggests that China's economy has regained strength on a strong pick up in domestic orders and a steady increase in external demand," said Liu Li-Gang, a Hong Kong-based economist at Australia & New Zealand Banking Group Ltd.
Copper climbed to a 26-month high on the manufacturing data and a weaker dollar. Asian stocks rose. Chinese markets are closed for a holiday.
The manufacturing index released this week by HSBC Holdings and Markit Economics rose to the highest in five months. The nation's growth may be aided in coming months by government plans to speed the completion of stimulus projects and boost public housing construction.
Limited Slowdown
In today's data, an output index rose to 56.4 from 53.1 in August. A measure of new orders gained to 56.3 from 53.1 and an export-order index climbed to 52.8 from 52.2.
Economic growth "has stabilized after falling from a high level" and the nation's slowdown will be limited by continued gains in consumption, investment and exports, Zhang Liqun, a researcher at the Development Research Center of the State Council, said in today's statement.
"Supposedly seasonally adjusted," the PMI typically climbs in September when exporters are filling Christmas orders, Capital Economics Ltd. said this week. Credit Suisse AG and Bank of America-Merrill Lynch also said today that seasonal factors may have played a role.
Inflation Pressure
An input price index rose to 65.3 from 60.5, the biggest jump among sub-indexes, as raw-material costs climbed. China needs to raise interest rates and allow a stronger yuan to contain inflation and asset-bubble risks, according to ANZ's Liu. The Chinese currency has gained 2 percent since a peg to the dollar was scrapped on June 19.
An interest-rate increase could come as early as the current holiday, which runs through to Oct. 7, Liu said. In contrast, Merrill said in a note that a move is very unlikely this year.
The PMI's rebound suggests Chinese businesses have recovered confidence lost because of Europe's debt crisis and property tightening measures, said Lu Ting, a Hong Kong-based economist for Merrill. So far, real-estate restrictions have had a limited impact on developers' construction activity, he added.
On Sept. 29, China's government added to curbs by tightening down-payment rules for first homes, suspending third-home loans and pledging to quicken a trial of a property tax. In a separate campaign, officials are shuttering factories to meet energy-reduction and pollution targets.
In contrast to measures cooling growth, China's top economic planner, the National Development and Reform Commission, last month urged the speedy completion of projects under a two-year stimulus plan that ends this year.
Fourth-Quarter Outlook
Economic growth moderated to 10.3 percent in the second quarter from 11.9 percent in the previous three months. The pace may slow to 8.7 percent in the fourth quarter, according to the median estimate in a Bloomberg News survey of economists.
China's benchmark Shanghai Composite index gained 11 percent last quarter after tumbling 27 percent in the first half of the year on concern that Premier Wen Jiabao's effort to counter asset bubbles would hurt the economy.
Gains in domestic consumption, including auto sales, are supporting manufacturing, with carmakers including PSA Peugeot Citroen, Toyota Motor Corp. and Nissan Motor Co. boosting capacity or planning new models. Rebounding property sales since August have aided developers including Soho China Ltd., which said Sept. 27 it reached a full-year sales target ahead of schedule.
Still, areas of weakness remain. Today's data showed contractions in output in the metal product and textile industries.
The PMI, released this week by the Beijing-based China Federation of Logistics and Purchasing and the National Bureau of Statistics, covers more than 820 companies in 20 industries, including energy, metallurgy, textiles, automobiles and electronics.
-- Li Yanping. With assistance from Sophie Leung in Hong Kong and Jay Wang in Singapore. Editors: Paul Panckhurst, Ken McCallum.
Before it's here, it's on the Bloomberg Terminal.
LEARN MORE