Futures Sale Spurred May 6 Panic as Traders Lost Faith in Data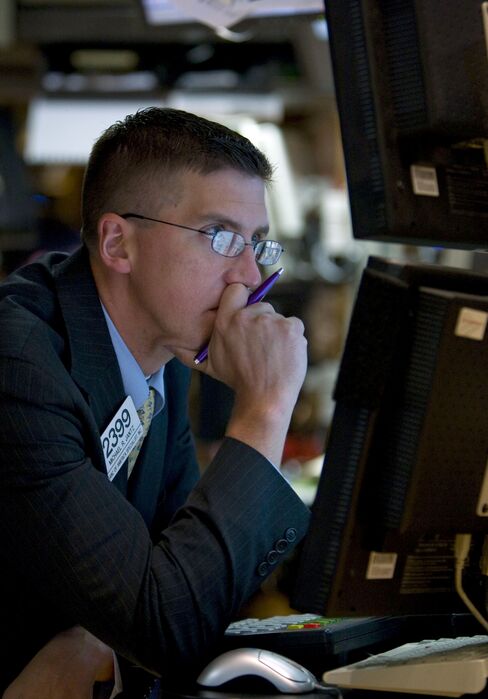 Declines in index futures convinced traders a "cataclysmic event" was pushing down equities on May 6, leading them to abandon the market and triggering the biggest crash in a quarter century, federal regulators found.
A trader's routine attempt to hedge losses helped set off a chain of events that sent the Dow Jones Industrial Average down as much as 998.50 points, according to a 104-page report released yesterday. Two people with knowledge of the findings by the Securities and Exchange Commission and Commodity Futures Trading Commission identified the firm as Waddell & Reed Financial Inc., an Overland Park, Kansas-based mutual-fund company with about $68 billion in assets.
Five months after the plunge spurred calls in Congress for an overhaul of U.S. equities trading, yesterday's report stopped short of giving fresh prescriptions for how to prevent another crash from happening. Instead, regulators honed their original findings to focus on how a single trade in the futures market bled into stocks, overwhelming human beings and computers alike before order was restored minutes later.
"Whether the liquidity providers were there or not, when you get this kind of snowball panic, it's difficult to stop," said Walter "Bucky" Hellwig, a Birmingham, Alabama-based senior vice president at BB&T Wealth Management, which oversees $17 billion. "That's why the SEC is putting in some of these curbs and stops."
Circuit Breakers
The crash that erased $862 billion from the value of U.S. equities in less than 20 minutes prompted exchanges to implement circuit breakers that pause trading in more than 1,300 securities during periods of volatility. Uniform policies for canceling trades and eliminating stub quotes, or bids and offers at prices far away from the stock's last sale, have also been proposed or adopted.
The report focused on the impact of tumbling futures on investor behavior. Market-making firms, concerned the data they were seeing was wrong or incomplete, reduced buying, while companies specializing in exchange-traded funds pulled out. Regulators placed less emphasis on the fragmented structure of U.S. equity exchanges, concluding high-frequency firms that have supplanted market makers as the main facilitators of trading on electronic venues acted like other participants after the selloff began.
According to yesterday's document, a mutual-fund firm that wasn't named sold 75,000 contracts on the Standard & Poor's 500 Index known as E-mini futures -- worth about $4.1 billion -- using a computer program called an algorithm, which gave no regard to prices or the speed of its transactions. The seller was Waddell & Reed, two people familiar with the matter said.
'Absorbed Easily'
"We believe we were one of 250 firms engaging in E-mini trading during the period of the market selloff," Waddell & Reed said in a statement in May. "We believe that trades of the size we initiated normally are absorbed easily in the market."
Roger Hoadley, a spokesman for the company, said the statement was "still accurate and relevant."
Lawmakers have asked if high-frequency firms that dominate electronic trading destabilized the market by withdrawing their liquidity when they were needed most. SEC Chairman Mary Schapiro said in September that regulators should examine increasing obligations for market makers that provide orders to buy and sell stocks.
Yesterday's report "suggests our fragmented market system is even more vulnerable than we realized," Senator Charles A. Schumer, a Democrat from New York, said in a statement. "When one trade can wreak this much havoc, federal regulators need to seriously consider whether the costs of high-frequency trading outweigh the benefits. The SEC should seriously consider ways to slow things down when markets get volatile."
Trading Algorithm
The biggest impact of high-frequency traders in the selloff came when the mutual fund began its initial sales of E-mini futures, the report said. Its trades were accompanied by a flurry of volume -- almost 140,000 contracts --among high-speed firms. The increased trading caused the firm's chosen algorithm, programmed to align its orders with volume in the market, to sell more, the report said.
"Net holdings of HFTs fluctuated around zero so rapidly that they rarely held more than 3,000 contracts long or short on that day," the report said. "Moreover, compared to the three days prior to May 6, there was an unusually high level of 'hot potato' trading volume -- due to repeated buying and selling of contracts -- among the HFTs," it said. Between 2:45:13 p.m. and 2:45:27 p.m. New York time, "HFTs traded over 27,000 contracts, which accounted for about 49 percent of the total trading volume, while buying only about 200 additional contracts net."
Looking for Errors
As selling increased, some high-speed trading firms began assessing whether the rapid price moves were the result of erroneous data and how their systems were keeping up with the high volume of data, according to the report. They also sought to determine what impact the moves had on their risk and position limits and their profitability, and how the prospect of trades being canceled by exchanges would affect their holdings.
"A number of participants reported that because prices simultaneously fell across many types of securities, they feared the occurrence of a cataclysmic event of which they were not yet aware, and that their strategies were not designed to handle," the report said. Some of these firms widened their quote spreads, or the difference between the price they were willing to pay for a security and the level at which they would sell. Others pared back the liquidity they were providing. "A significant number withdrew completely from the markets," the report said.
CME Statement
CME Group Inc., The Chicago-based owner of the world's biggest futures market, disputed the role of the 75,000-contract trade in driving the market plunge. E-minis are a CME product. The trade represented 1.3 percent of total volume on May 6, and less than 9 percent of transactions at the time of execution, CME said in a statement.
"These hedging orders were entered in relatively small quantities and in a manner designed to dynamically adapt to market liquidity by participating in a target percentage of 9 percent of the volume executed in the market," CME said. "As a result of the significant volumes traded in the market, the hedge was completed in approximately 20 minutes, with more than half of the participant's volume executed as the market rallied -- not as the market declined."
'No. 1 Concern'
The SEC and CFTC said questions about the accuracy of the data they were receiving were the "No. 1 concern" of trading firms as the crash gained momentum. The rapid drop in the E-mini contract and among individual stocks triggered "data-integrity pauses" in the automated systems they use to trade, the study found. The programs look for unusually large price moves, and it didn't matter that the swings they were observing were real.
The crash "was not caused by some automated trading strategy gone wild," Adam Sussman, director of research at New York-based Tabb Group LLC, wrote in a report sent to clients yesterday. "In fact, it would be reasonable to conclude that it was execution algorithms -- not high-frequency trading outfits - - that played a larger role as triggers."
Because of the speed with which the algorithm was selling, market makers and other traders that help facilitate trading withdrew from the market or increased the spreads between their bid and offer prices, according to the SEC-CFTC report. High-frequency firms, "who normally both provide and take liquidity as part of their strategies, traded proportionally more as volume increased, and overall were net sellers in the rapidly declining broad market along with most other participants," regulators said.
Five Hours
Only two sell programs in E-mini futures amounting to at least 75,000 contracts had occurred in the 12 months before May 6, including one by the same firm, the report said. In that instance, it took the trader more than five hours to execute that many contracts.
Thirteen pages of the report examined the role of high-frequency traders in the evaporation of buy and sell orders following Waddell & Reed's sale. While the computerized firms have been criticized in Congress and the press for being the first to pull out when losses started to snowball, regulators said that wasn't always the case. The report cautioned against assuming all high-frequency firms use the same strategies, saying some are pure market makers, some proprietary traders, and some hybrids of both.
Stepping Away
The report said 6 of the 12 biggest high-frequency firms on Nasdaq and off-exchange venues scaled back after indexes hit their lows of the day, including 2 that stopped trading for the rest of the day. That compares with traditional market-making firms, which regulators said widened bid-ask spreads, reduced the number of shares provided or paused trading after price swings set off risk limits. Among traders specializing in ETFs, a "large majority" paused market making "for considerable periods" after volatility increased, according to the report.
"If you looked at the provision of the liquidity, there were a number of high-frequency traders that stood in the market," said Kevin Cronin, the Atlanta-based global head of equity trading for Invesco Ltd., which has $573.8 billion in assets. "They stuck around, and that's one of the things that kind of gets missed in this whole discussion."
Schapiro is trying to protect investors in a fragmented U.S. stock market while maintaining liquidity -- the ease with which investors can buy and sell shares -- on venues dominated by firms that profit from computerized trading.
Shifting to Humans
While the report stressed the need to coordinate rules among equity venues in the U.S., it found that a system to slow down trading unique to the New York Stock Exchange didn't have a direct impact on participants' ability to buy and sell. More than 1,000 securities triggered liquidity replenishment points - - an NYSE system that switches from electronic trading to automated auctions overseen by humans -- that lasted more than 1 second in the half hour starting at 2:30 p.m. on May 6, the report said. That compared with the daily average of 20 to 30.
Firms told regulators that their systems automatically adjust for slow quotes on the NYSE Euronext venue by routing to other exchanges. The agencies also noted that since 80 percent of the 326 securities with broken trades weren't listed on NYSE, it's unlikely that buy and sell orders "trapped" on the Big Board would have mitigated the selloff.
"Participants did not report they had difficulty routing or felt their orders were 'trapped' as a result of LRP events," the study said. "However, a number of market participants told us that the fact so many LRPs were being triggered further underscored the severity of market conditions as they were unfolding, and that this additional 'evidence' played into their decisions to reduce liquidity, pause trading, or withdraw from the market."
'Self-Help'
Declarations of "self-help" against NYSE Arca, which allow exchanges to ignore the best prices on that venue, by Nasdaq Stock Market and Bats Exchange didn't exacerbate trading problems on May 6, the report found. Self-help is a mechanism exchanges use when a venue doesn't respond to messages for 1 second to avoid sending orders to a market that might be experiencing delays.
NYSE Euronext, which owns NYSE Arca, and Nasdaq OMX Group Inc. are based in New York. Bats Global Markets has its headquarters in Kansas City, Missouri.
The circuit breakers that pause securities when they rise or fall at least 10 percent within 5 minutes and a new order-cancellation process that applies to all stock venues have helped safeguard markets, Bart Chilton, a CFTC commissioner, said in an interview yesterday on Bloomberg Television.
'Band-Aid Fixes'
"We're safer today than we were on May 6," he said. "We need to harmonize our rules and regulations. These are Band-Aid fixes."
About $61 billion has been withdrawn from U.S. stock mutual funds since the beginning of May, the most during any five-month period since 2008, according to data compiled by the Investment Company Institute, a Washington-based trade group. At the same time, about $116 billion was stashed in bond funds.
"Years down the line, this may happen again -- probably will," said Larry Peruzzi, senior equity trader at Cabrera Capital Markets Inc. in Boston. "At least what we would learn is how do we protect the investor -- whether the circuit breakers, clear-defined rules. It's a great first step in regaining the investor confidence."
Before it's here, it's on the Bloomberg Terminal.
LEARN MORE