'Freakonomics' Film Features Cheating Sumo Wrestlers, Temptress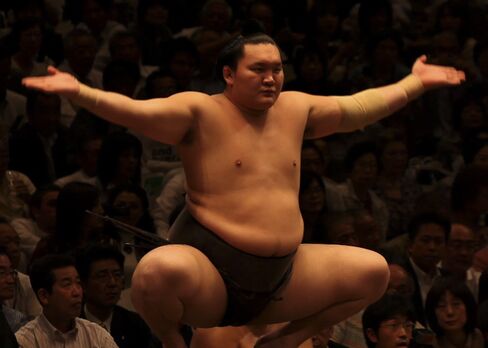 Cheating sumo wrestlers, a girl named Temptress, high-school students paid to get good grades and the relationship between abortion and crime.
These seemingly incongruous subjects are explored in "Freakonomics," a fascinating documentary based on the best-selling book that challenges conventional wisdom about economics and human behavior.
The movie, which opens today, includes four main segments, each directed by top documentary filmmakers. They're linked by several shorter pieces featuring the book's authors, Steven D. Levitt and Stephen J. Dubner.
Six directors worked on the film, including the team of Rachel Grady and Heidi Ewing on one segment and Seth Gordon on the introductions and segues. Three of the directors (Morgan Spurlock, Grady and Ewing) have been nominated for Academy Awards, one has won an Oscar (Alex Gibney, "Taxi to the Dark Side") and another (Eugene Jarecki, "Why We Fight") won the top documentary prize at the Sundance Film Festival.
"It's like an all-star team," "Freakonomics" producer Chad Troutwine said in an interview at Bloomberg's New York headquarters, where he was joined by all the directors except Grady and Gordon.
Troutwine let the directors choose their subjects.
Gibney, who once lived in Japan, picked the cheating scandal that rocked the country's ancient sport of sumo wrestling. Analyzing data from sumo bouts, Levitt found that the big-bellied grapplers sometimes lost matches on purpose to help an opponent boost his ranking.
"In Japan there was an assumption that sumo was a pure sport," Gibney said. "But it turns out the pure image was masking the corruption. It was all an elegant facade."
Crime, Abortion
Jarecki's segment examines the correlation between the sharp crime decrease in the 1990s and Roe vs. Wade, the 1973 U.S. Supreme Court decision that legalized abortion. While many attributed the drop in crime to tougher gun laws and larger police forces, the authors of "Freakonomics" had a different theory. They argued that legalized abortion reduced the number of unwanted children, who are more likely to grow up in poverty and commit crimes.
"Talking about abortion and crime is like crossing live wires," Jarecki said. "I'm sure it's going to upset some people. But that's the whole idea behind the book -- that things aren't as simple as they appear."
Cash for Grades
Ewing and Grady, who made "Jesus Camp" about a training school for young evangelical Christians, tell a story that isn't in the book. It's about an experiment at a Chicago high school where freshmen earned cash rewards for getting good grades.
"It seemed like a harebrained idea," Ewing said, "but it got our attention. We know parenting and teachers have a big impact on how kids do in school, but what about money? Can that make a difference?"
Spurlock, who pigged out at McDonald's every day for a month to measure the health effects of junk food in "Super Size Me," had a personal motive to tackle the chapter on how names affect peoples' lives.
"My wife and I had just had our first child, so I was obviously thinking about baby names," said Spurlock, whose piece examines what happened to a baby girl named Temptress and two brothers named Winner and Loser.
'Wonderful Life'
Each segment reflects the cinematic style of the director.
Jarecki uses clips from "It's a Wonderful Life," where a suicidal banker played by Jimmy Stewart learns how the lives of his friends and family would have been altered if he had never been born. Spurlock, Ewing and Grady spice up their stories with humorous anecdotes, while Gibney's sumo segment has a more somber tone.
"All the other filmmakers constructed these magnificent souffles, so rich but so light to the touch," Gibney said. "Mine was more like beef stroganoff, very heavy and thick."
None of the directors saw their colleagues' work until the film premiered at the Tribeca Film Festival in April. Jarecki compared the process to a Surrealist parlor game called the Exquisite Corpse, where players take turns drawing body parts on sections of a folded piece of paper. When the paper is finally unfolded, everyone sees the result of their combined work.
"I hope this movie is exquisite, but not a corpse," Jarecki said.
(Rick Warner is the movie critic for Muse, the arts and leisure section of Bloomberg News. Opinions expressed are his own.)