Yellen, Raskin Win Senate Approval for Fed Board of Governors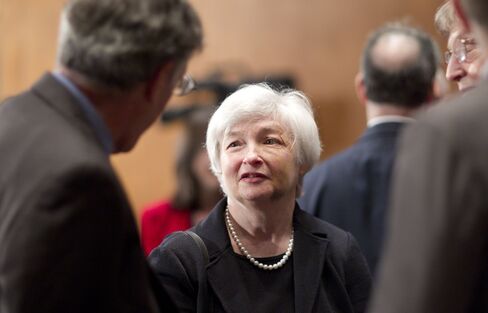 The U.S. Senate confirmed Janet Yellen as vice chairman of the Federal Reserve along with a second nominee to the central bank's board, clearing the way for their votes on possible new measures to boost the economy.
The chamber approved Yellen, currently president of the San Francisco Fed, and Sarah Bloom Raskin, Maryland's commissioner of financial regulation, in voice votes late last night ahead of Congress's adjournment for the Nov. 2 midterm elections.
Yellen, 64, and Raskin, 49, will join the Fed's Board of Governors as policy makers debate taking action to reduce borrowing costs and help lower unemployment persisting near a 26-year high. Some economists predict Chairman Ben S. Bernanke and his colleagues will resume large-scale asset purchases, or quantitative easing, at the central bank's Nov. 2-3 policy meeting.
"The ranks of the policy makers who are more willing to act and believe that quantitative easing can be effective just went up," said Vincent Reinhart, the Fed's monetary-affairs director from 2001 to 2007. Yellen, who has participated in Fed policy meetings this year without voting, may become a "more forceful advocate" for action now that her confirmation is no longer pending, Reinhart said.
In its Sept. 21 statement, the Fed's Open Market Committee said it's prepared to ease monetary policy if needed and that inflation is below what's consistent with the central bank's congressional mandate for maximum employment and stable prices.
Four-Year Term
The Fed has been operating with four of seven governors since former Vice Chairman Donald Kohn retired Sept. 1. Yellen will have a renewable four-year term as vice chairman and a separate term as governor through January 2024. Raskin's term will run through January 2016.
Yellen said at a Banking Committee confirmation hearing on July 15 that the central bank must focus on creating jobs and reducing "painfully high" unemployment. Raskin told the panel that the Fed's achievement of stable prices is "only a partial victory when many American households continue to face the perils of unemployment."
The Senate is only acting on two of President Barack Obama's three nominees because the third, Peter Diamond, was forced to start the confirmation process over in August. Diamond's nomination was returned to the White House because of objections from at least one unidentified senator. The White House resubmitted his nomination to the Senate on Sept. 13.
Second Hearing
Richard Shelby, the senior Republican on the Banking Committee, said Sept. 23 he sought a second hearing to discuss Diamond's qualifications, and Chairman Christopher Dodd agreed. Dodd, a Connecticut Democrat, hasn't announced a date for a hearing. The panel approved all three nominees in July, with Diamond winning a 16-7 vote.
Senators in committee also voted 17-6 for Yellen and 21-2 for Raskin. All of the opposition came from Republican members.
Without a hearing before Election Day, Diamond's chances for joining the Fed may hinge on whether Dodd can schedule a hearing and committee vote during a so-called lame-duck congressional session after elections.
Yellen spent most of her career teaching economics and researching labor markets, joining the University of California at Berkeley in 1980, and is married to George Akerlof, a Nobel Prize-winning economist.
Clinton Appointee
In 1994, then-President Bill Clinton appointed Yellen to be a Fed governor in Washington, serving until 1997, when Clinton moved her to the White House to chair the Council of Economic Advisers. She left the position in 1999 to return to Berkeley.
Yellen rejoined the Fed in 2004 as president of its San Francisco district bank, which represents the largest region by area and economic output. She has always voted with the majority of policy makers on interest-rate decisions.
Under the Federal Reserve Act, John Moore, chief operating officer of the San Francisco Fed, would automatically serve as interim president of the bank until a permanent successor is named. Moore, 54, has been the regional bank's No. 2 officer since 1996, responsible for all administration, financial services and operations in the bank's district.
One potential candidate to succeed Yellen is Christina Romer, former chairman of Obama's Council of Economic Advisers who said Sept. 3 she "would be honored" to be considered for the post.
Without a full board, existing governors have additional duties overseeing supervision, budgets and regional Fed banks that are usually spread out among members. The central bank is gearing up to carry out directives under the Dodd-Frank law overhauling financial regulation that was enacted in July.
"Congress has told the Board of Governors to write a lot of regulations associated with Dodd-Frank," said Reinhart, now a scholar at the American Enterprise Institute in Washington. "That taxes senior policy makers -- and therefore Chairman Bernanke having company to delegate some of that work is a good thing."
Bernanke said in testimony prepared for a Senate Banking Committee hearing tomorrow that the Fed has identified about 250 projects associated with carrying out the law.
Before it's here, it's on the Bloomberg Terminal.
LEARN MORE