Wal-Mart Plans to Boost Headcount 36% to 3 Million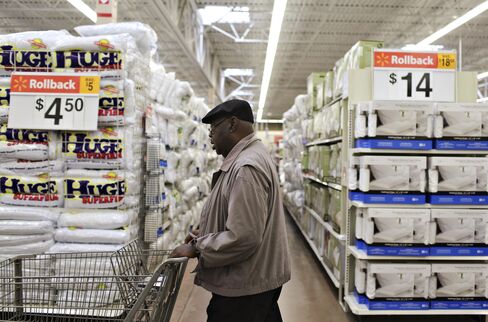 Wal-Mart Stores Inc., the world's largest retailer, plans to increase its workforce by 36 percent in the next five years as global economic growth boosts spending.
New employees will be hired "mostly" outside the U.S., Susan Chambers, executive vice president for human resources, said in a speech at a conference in New Delhi today. "The opportunity for growth is not just in India but global," she said, without providing more details on the hiring plans.
Wal-Mart plans to have 3 million workers in five years, up from 2.2 million now, Chambers said. Overseas sales for the world's largest listed company by revenue have grown 91 percent in the last five years to $100.1 billion, almost triple the pace in the U.S., according to data compiled by Bloomberg.
"It's another nod to international growth as opposed to a U.S. focus," said Brian Sozzi, an analyst at Wall Street Strategies Inc. in New York. "It seems there is a real internal push to guide market expectations towards Wal-Mart's international opportunity, in an attempt to re-energize the stock." He recommends holding the shares.
The Bentonville, Arkansas-based retailer is boosting overseas expansion to offset slowing growth in the U.S., where same-store sales, which strip out the effects of new outlets, have fallen for five consecutive quarters. Wal-Mart plans to enter Africa by acquiring Massmart Holdings Ltd. in a transaction worth about $4.6 billion.
'Adjust Model'
"This points to much more aggressive growth outside the U.S., both through organic store expansion and acquisitions like Massmart," analyst Colin McGranahan of Sanford C. Bernstein in New York said in an e-mail. "It means Wal-Mart is going to be even more complex and needs to adjust its model to address local market employee issues." He rates the shares "market perform."
The Congress of South African Trade Unions, or Cosatu, the nation's largest labor federation, said today it is concerned that the proposed takeover of Massmart may erode workers' rights. Massmart, South Africa's second-largest listed retailer, said on Sept. 28 that it has "no doubt" that Wal-Mart will honor pre-existing memberships that workers have with labor unions.
Wal-Mart rose 17 cents to $53.52 at 4 p.m. in New York Stock Exchange composite trading. The shares are little changed this year.
Indian Rules
In India, Wal-Mart and rivals including Carrefour SA are urging the government to allow overseas investment in multibrand retailers after the trade ministry invited views from the industry on the matter. India may decide in two to three months whether to relax the restrictions, junior trade minister Jyotiraditya Scindia said Sept. 17.
Indian laws limit overseas investment to single-brand retail or wholesale outlets. The government of the world's second-most populous country is reviewing feedback it sought in July from interested parties such as local and foreign retailers, and industry groups, according to Scindia.
Wal-Mart has partnered with closely held Bharti Enterprises Pvt. in India to open wholesale stores and build a supply chain network.
The venture, Bharti-Walmart Pvt., plans to open 15 stores in India by the end of 2011, Chief Executive Officer Raj Jain said in New Delhi Sept. 28. It has three stores now.
Wal-Mart may open hundreds of stores in India should the government lift the ban on foreign direct investment in multibrand retailers, Jain said in July.
"India will take time to play out," Wal-Mart's international chief Doug McMillon said in a June interview. "Our hope is that at some point foreign direct investment is opened up."