UniCredit's Ghizzoni to Review Central, Eastern Europe Strategy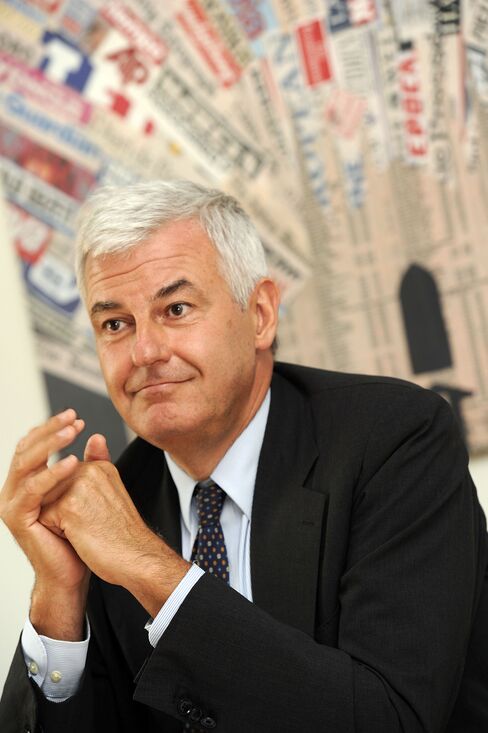 Federico Ghizzoni, appointed chief executive officer of UniCredit SpA yesterday, will review the bank's strategy in central and eastern Europe, boosting investments in Russia, Turkey, Poland and the Czech Republic.
"In terms of significant investments we will concentrate on a few countries, the largest ones," Ghizzoni said during a press conference in Milan today. "Russia, Poland, Turkey are our three major markets." UniCredit, Italy's biggest bank, also plans to open new branches in the Czech Republic.
He didn't rule out UniCredit exiting some countries, though he didn't identify them. The bank will focus on "selective product lines" in "weaker" countries, Ghizzoni said, adding that he doesn't exclude acquisitions in the bank's main markets in central and eastern Europe. No negotiations are under way.
Ghizzoni, who was picked to replace Alessandro Profumo in the top job, is a 30-year UniCredit veteran who steered the lender's east European businesses through the financial crisis. The bank, which generates more than half of its revenue outside Italy, is seeking to end friction with some investors by promoting an insider who began as a local customer relations manager and later ran operations from London to Istanbul.
The new CEO aims to outline a new business plan to the board by the end of the year, while a deadline for a presentation to the market isn't scheduled yet, Ghizzoni said.
General Managers
The bank will review a new management structure over coming weeks and Ghizzoni will start discussions within days to appoint one or two general managers. Italian banking foundations that own more than 11 percent of UniCredit favor increased lending and investment at home, a strategy that led to clashes with former CEO Alessandro Profumo.
"A new CEO, especially from within the firm, rarely makes a radical break with the past, but we see signs of protectionism everywhere in times of stress," said Chad Deakins before today's presentation, who oversees the $275 million Ridgeworth International Active Fund in Atlanta and holds UniCredit shares. "He may slow down some expansion."
Ghizzoni, 54, who took over the central and eastern European business just as the subprime crisis unfolded, told reporters that he still plans to find a partner for UniCredit's Pioneer asset management unit and the lender is evaluating options.
The bank's priorities include the planned reorganization of its Italian units, Ghizzoni said in a letter to employees today. "I will meet unions in coming days to discuss the planned job cuts," he said. The plan designed by Profumo was among the issues that sparked tension between the former CEO and shareholders.
'Political Grip'
Ghizzoni, named a deputy CEO of UniCredit in August, beat out 45-year-old Roberto Nicastro, another deputy CEO, for the top job. Ghizzoni and the other deputy CEOs have been dubbed "Profumo boys" by the Italian media because the former chief executive promoted all four through the ranks.
"Our concern is that the appointment may lead to a tighter political grip on the bank's management, which we see as a negative," Silvia Benzi, an analyst at Credit Agricole Cheuvreux in Milan, who has an "underperform" rating on the stock, wrote in a note to investors today. "He will preserve the group's international strategy and ensure business continuity," she said.
In the 1990s, Ghizzoni served as deputy general manager of the London office and later ran the Singapore office. He was chosen to head UniCredit's Polish unit, Warsaw-based Bank Pekao SA, in 2000, and in 2003 was put in charge of the joint-venture that controls Turkey's biggest bank, Yapi Kredi SA.
Lower Profile
During his tenure overseeing UniCredit's Bank Austria AG unit, Ghizzoni managed the reorganization of the businesses in Ukraine, including JSCB Ukrsotsbank, and integrated Kazakhstan's ATF Bank. UniCredit posted a 162 million-euro ($221 million) goodwill writedown related to its unit in Kazakhstan in the second quarter, when the bank's profit fell 70 percent to 148 million euros. In Ukraine, he restored the businesses to profit, including in 2009, when the economy contracted 15 percent.
Married with two children, Ghizzoni is a graduate of Parma University, where he earned a law degree. Like Profumo, he is a fan of the Inter Milan soccer team and he joined his former boss in Madrid to watch the May 22 Champions League final won by the Italian club.
"He seems to be a solid manager, but I don't think he has Profumo's high profile," said Fabrizio Spagna, the CEO of Axia Financial Research in Padua, Italy. "It's hard to think of someone who does."
'High Profile'
Profumo, 53, became one of Italy's most prominent bankers by seizing on the opening of European markets brought by the introduction of the euro to expand at home and abroad. He turned the regional bank Credito Italiano SpA he took over in 1997 into UniCredit, the sixth-biggest bank in the euro region with 954.6 billion euros of assets at the end of June.
Profumo's expansion built UniCredit into Italy's most European bank, with more than half its revenue generated outside the country.
Takeovers left UniCredit short of funds when confidence in banks collapsed in 2008 and credit became scarce, forcing Profumo to turn to investors for cash twice in 18 months. The tension with the banking foundations increased after one of two Libyan investors raised its holdings, ultimately forcing Profumo to quit at a Sept. 21 board meeting.
Ghizzoni's appointment may calm foundations. "His constant and close interaction with policy makers, regulators, internal organizations and market participants makes him ideally suited for managing UniCredit's relations with all key shareholders," Chairman Dieter Rampl, 63, said in the statement. He directed the CEO search.
Philanthropic Foundations
UniCredit fell 1.1 percent to 1.85 euros at 4:10 p.m. in Milan, giving the company a market value of 36 billion euros. The Bloomberg Banks and Financial Services Index, which was down 0.1 percent today, has dropped 7 percent in the past six months, compared with UniCredit's 17 percent decline.
The new CEO is a "compromise solution," said Edoardo Liuni, an analyst at IlNuovoMercato.it in Rome. "His years of experience managing local branches matches the foundations' needs, while his focus on eastern Europe and Austria makes him a good point of contact for the non-Italian constituency."
Italy's banking foundations, regional institutions that oversee 49 billion euros of assets, use money generated by their holdings in lenders to fund philanthropic programs at schools and museums. They were formed two decades ago when the charitable arms of Italy's savings banks were split from lending operations to allow for the industry's privatization.
Some investors said Profumo should have informed them about the Libyans intentions, while the Northern League, a regional party that is part of Silvio Berlusconi's ruling coalition, expressed concern that UniCredit might fall into foreign hands.
Italian stock market regulator Consob and the Bank of Italy asked UniCredit to prove that the two investors are independent entities after the Libya Investment Authority, a sovereign wealth fund, bought a 2.1 percent stake in the lender in July. It has since increased the holding to 2.6 percent.
The Libyan fund and the Central Bank of Libya, which owns a 5 percent stake, would violate UniCredit's statute if they were determined to be a sole entity because the bank restricts voting rights to 5 percent.
The board, answering a Bank of Italy request said yesterday it's unable to determine yet if the two investors are autonomous entities, adding that it's still reviewing the matter and needs more information.