Spain's Credit Rating Cut One Level to Aa1 by Moody's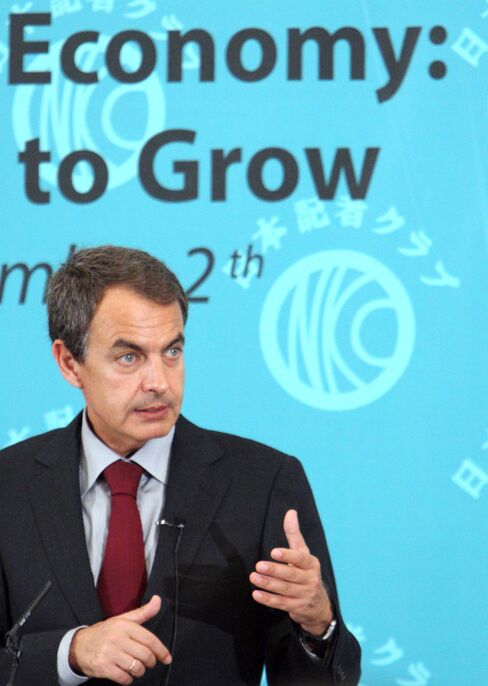 Spain had its top credit rating cut one level by Moody's Investors Service, which cited the nation's "weak" economic outlook.
The ratings company lowered Spain to Aa1 from Aaa with a stable outlook, it said today in a statement. Spain lost its top grade at Fitch Ratings in May and at Standard & Poor's in January 2009.
The move puts additional pressure on the government of Prime Minister Jose Luis Rodriguez Zapatero, which saw the extra yield on its debt surge to a euro-era high in June, as it prepares to pass the most austere budget in three decades. Zapatero is trying to convince investors he can rein in the euro region's third-largest deficit while returning the economy to growth after an almost two-year recession.
The extra yield investors charge to hold Spanish 10-year debt rather than the German equivalents widened to 199 basis points today, compared with a two-month low of 134 basis points on July 27. The spread reached 233 basis points on June 17, the widest since the start of the euro more than a decade ago. Irish and Portuguese spreads widened to euro-era highs this week, both exceeding 400 basis points.
Spain's borrowing costs are still more than twice the average for 2009 before concern about Greece's ability to finance its budget shortfall prompted investors to sell bonds of other high-deficit European Union countries, adding to pressure on their credit ratings.
Greek Downgrade
Moody's downgraded Greece on June 14 by four steps to non- investment grade, citing "substantial" risks to economic growth from austerity measures tied to a 110 billion-euro ($149 billion) EU-led aid package. The company cut Portugal's rating on July 13 by two notches to A1. S&P cut Ireland to AA- on Aug. 24, its third reduction in less than two years, citing the possible costs of supporting the nation's financial industry.
Spain's "weak economic growth prospects," the "considerable deterioration" of the government's finances and the "worsening debt affordability" triggered the downgrade, Moody's said.
The Cabinet approved on Sept. 24 the 2011 budget, which aims to reduce spending by 3 percent compared with this year and includes an increase in income tax for those earning more than 120,000 euros a year. The plan today goes to parliament, where Zapatero needs to win votes from smaller parties to pass it. The country saw its first general strike yesterday in protest at the austerity measures and changes to labor laws.
Growth Forecasts
Spain's economy is likely to grow about 1 percent per year on average over the "next few years," Kathrin Muehlbronner, a Moody's analyst, said in the release. The Spanish government sees the economy expanding 1.3 percent next year, having reduced its forecast from 1.8 percent as a result of the deepest budget cuts in at least three decades, which include lower wages for public workers. It still expects economic growth to accelerate to 2.5 percent in 2012 and to 2.7 percent in 2013.
The Socialist government aims to cut the budget shortfall to 6 percent of gross domestic product in 2011 from 11.1 percent last year, bringing it within the EU's 3 percent limit in 2013. To achieve the reduction, the government is cutting public wages 5 percent this year, raising taxes, reducing spending on infrastructure and freezing pensions.
The measures are starting to pay off, as the central government's budget deficit narrowed by almost half to 3.3 percent of GDP in the first eight months of the year, the Finance Ministry said on Sept. 27. The overall deficit that the EU monitors also includes the regional administrations' shortfalls and the balance of the social security system, which is in surplus.
Fitch Ratings cut Spain to AA+ on May 28, citing concerns over the economy's ability to grow. S&P ranks the nation AA.
Before it's here, it's on the Bloomberg Terminal.
LEARN MORE