Rousseff Is Lula to Bond Market as Vote Nears: Brazil Credit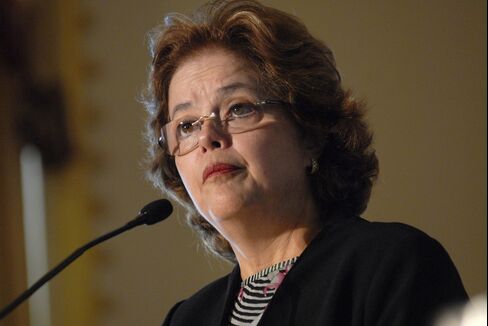 Sept. 30 (Bloomberg) -- Brazilian bonds are posting their longest streak of monthly gains since President Luiz Inacio Lula da Silva was elected in October 2002 as investors bet his successor will preserve policies that are fueling the fastest economic expansion in two decades.
Dollar-denominated bonds sold by the South American country have returned 2 percent in September, the eighth straight monthly advance, according to JPMorgan Chase & Co. Brazilian debt is outperforming emerging-market bonds, which are up 1.8 percent, according to JPMorgan's EMBI+ index.
Dilma Rousseff, Lula's chosen heir and the leader in polls ahead of the Oct. 3 vote, is pledging to maintain fiscal policies that are helping spur growth of more than 7 percent in Latin America's largest economy. The investor optimism contrasts with the bond market rout that preceded Lula's victory eight years ago. Government bonds lost 17.7 percent that September before posting an eight-month rebound as Lula squelched concern that he would allow the country to default.
"After 2002, the elections became less of an issue for Brazil," said David Spegel, the New York-based head of emerging-market debt strategy at ING Groep NV. "Rousseff is not really going to change things all that much. Investors are optimistic. The underlying fundamentals are very favorable."
Brazilian bonds are up 14.2 percent this year, compared with a 10.2 percent advance for Russian debt and a 15.6 percent gain for Mexican notes, according to JPMorgan. Emerging-market debt overall has gained 14.4 percent.
Investment Grade
The average yield on Brazilian dollar debt slid 16 basis points, or 0.16 percentage point, this month to 4.94 percent, within one basis point of a record low set Aug. 19. The yield surged 686 basis points in September 2002 to 26.70 percent.
Lula, 64, has shored up investor confidence since his election by cutting the budget deficit and reining in consumer price increases. The annual inflation rate dropped to 4.6 percent from 17 percent in 2003 as Lula pared the budget deficit to the equivalent of 3.4 percent of gross domestic product from as wide as 6.1 percent. The real has rallied 108 percent against the dollar since he took office, more than any other currency tracked by Bloomberg.
Brazil won its first investment-grade rating in April 2008, when Standard & Poor's raised it to BBB-. Fitch Ratings matched the move a month later and Moody's Investors Service followed suit in 2009.
Election Polls
The 62-year-old Rousseff, a former cabinet chief under Lula, vowed to cut tax rates and "continue changing with more growth and social inclusion" when she was confirmed as the candidate of Lula's Workers' Party on June 13. She has focused her campaign on how she will maintain Lula's cash transfers and social welfare programs, which have helped lift 21 million Brazilians out of poverty.
Rousseff had the support of 47.5 percent of those surveyed, compared with 25.6 percent for ex-Sao Paulo governor Jose Serra, in a Sensus poll for the National Transport Confederation taken from Sept. 26-28. The nationwide poll of 2,000 people had a margin of error of 2.2 percentage points. In the previous Sensus poll, published Sept. 14, Rousseff had 50.5 percent support.
Should no candidate receive more than 50 percent of the vote in the first round, Rousseff would win a runoff four weeks later by taking 53.9 percent to Serra's 34.5 percent, according to the poll.
CPI-Linked Debt
"With the most recent polls, it's more obvious that Rousseff will win the first round of elections, removing some uncertainty," said Cristina Panait, a strategist at Payden & Rygel, which manages $1 billion of emerging-market debt. "If the elections continue to go by quietly, we're going to see Brazil do very well."
Yields on Brazil's inflation-linked, real-denominated bonds due in 2017 have climbed two basis points in September to 6.05 percent, the first increase in four months. The yield on the country's fixed-rate real-denominated notes maturing in the same year rose 36 basis points to 11.85 percent, the first monthly increase since April.
The cost of protecting Brazilian bonds against default for five years was unchanged at 115, according to CMA DataVision prices. The swaps have dropped 23 basis points in the three months ending September, the first quarterly decline this year. Credit-default swaps pay the buyer face value in exchange for the underlying securities or the cash equivalent should a government or company fail to adhere to its debt agreements.
Yields on Brazil's interbank rate futures contract due in January 2012 rose one basis point to 11.50 percent, paring their slide this quarter to 58 basis points. The real rose 0.8 percent to 1.6873 per dollar. The currency has gained 7 percent since June 30.
'Open Question'
The extra yield investors demand to own Brazilian dollar bonds instead of U.S. Treasuries fell 45 basis points this quarter to 203, after falling four basis points today, according to JPMorgan.
Investors may be overly optimistic because Rousseff could still choose a cabinet that signals a break from Lula's policies, said David Beker, the head of Latin America strategy at Bank of America Corp. in New York.
"How Dilma will set up her government still remains an open question," Beker said in a telephone interview.
Bank of America in April cut its real forecast for September to 1.9 per dollar on concern the election would curb investment in the country. The bank now forecasts the real will end the year at 1.8.
Swings in the currency are declining to a two-year low.
Implied volatility on one-month options for the real versus the dollar, which reflects traders' expectations for currency fluctuations over the next month, dropped to 10.75 percent from 18.38 percent at the end of May. Earlier this month, the gauge touched the lowest since September 2008.
"With the elections looking a lot less noisy than people expected and the securities showing less volatility, it's putting investors' concerns at ease," said Nick Chamie, head of emerging-markets research at RBC Capital Markets in Toronto.
To contact the reporters on this story: Tal Barak Harif in New York at tbarak@bloomberg.net Veronica Navarro Espinosa in New York at espinosa@bloomberg.net
To contact the editor responsible for this story: David Papadopoulos at papadopoulos@bloomberg.net