Porsche Says $275,000 911 Speedster May Sell Out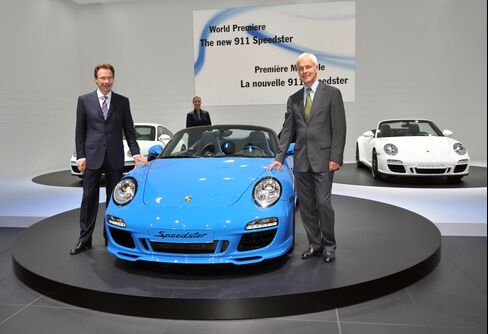 Porsche AG said the new limited- production 911 Speedster may sell out by the end of October as orders for the sports car grow "by the hour."
Porsche, which is unveiling the fourth version of the 911 Speedster at the Paris Motor Show, will start delivering the 408-horsepower vehicle worldwide in November, Wolfgang Duerheimer, the company's development chief, said today in an interview in the French capital. Production will be restricted to 356 cars priced at $275,000.
"There's a sizeable fan community for such vehicles in the market," Duerheimer said. "The new Speedster will be a big hit for us."
A global economic recovery has prompted luxury-car makers including Bayerische Motoren Werke AG and Daimler AG's Mercedes-Benz division, the two biggest, to boost sales or earnings forecasts this year, while Volkswagen AG's Audi luxury brand is targeting record deliveries. BMW and Audi said today that small-cars they're introducing will also sell out.
The 911 Speedster is part of a growth strategy that will be overseen by Chief Executive Officer Matthias Mueller, who took Porsche's top post at a ceremony last night, when CEO Michael Macht shifted to Volkswagen to be production chief. Porsche will expand its lineup from 38 models across four vehicle lines in an effort to almost double yearly sales to 150,000 cars and sport- utility vehicles by about 2014, Duerheimer said.
Fifth Model Line
As Porsche merges with VW, Europe's largest auto manufacturer, the fifth model line will probably be a smaller version of the Cayenne SUV, the Stuttgart, Germany-based carmaker's best-selling model, Duerheimer said. VW's management board may approve production of the SUV during the first half of 2011, and its initial sales target would be about 20,000 vehicles, he said.
"Our last two model lines were already pegged at that sales level," Duerheimer said. "That seems about right for the next SUV too."
Audi, which is based in Ingolstadt, Germany, will deliver all 40,000 A1 compacts planned for production this year by mid-October, Chief Executive Officer Rupert Stadler said at a press conference at the show. The A1, which targets young professionals and first-time customers, went on sale in Europe last month priced at 15,800 euros ($21,500).
Mini Countryman
The 20,200-euro Countryman crossover built by BMW's Mini brand, which entered showrooms this month, won't be available again to customers in the U.K. until February, Ian Robertson, BMW's sales chief, said at a separate briefing.
Porsche has yet to decide whether to build a smaller version of its Boxster roadster as internal business studies have raised questions about such a model's profitability, Duerheimer said.
"We're not in the business of making cars for the sake of it," Duerheimer said. "Porsche is committed to making profits on every new model. That seems more difficult" with a smaller Boxster.