H&M, Zara Fast Fashion Pressures Luxury Labels to Speed Up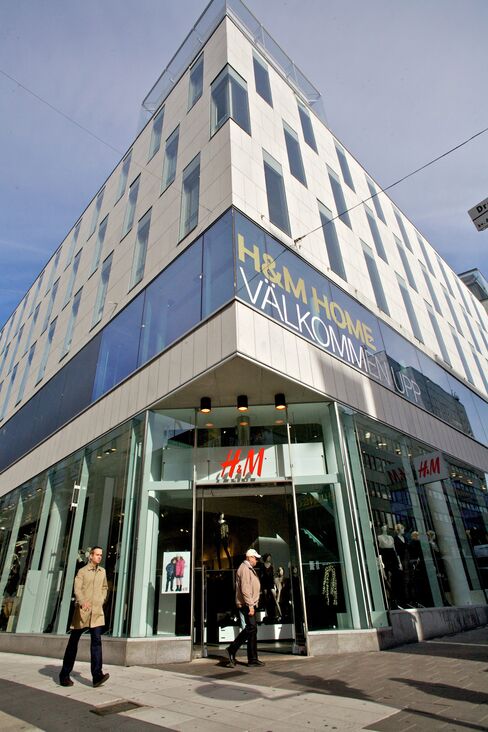 Fast-fashion retailers often get inspiration from the catwalks of Paris and Milan. Now, luxury companies like Cavalli Group say they must take their lead from cheaper and speedier rivals.
Hennes & Mauritz AB and Inditex SA, the owner of Zara stores, update their clothing and accessory designs continuously and can get them from studio to store in as little as two weeks. The speed of change increases pressure to offer new products more often, Cavalli Chief Executive Officer Gianluca Brozzetti said in an interview.
As demand for 3,750-euro ($5,102) silk dresses and 2,395-euro zebra design bags returns after the recession, luxury companies need to innovate to attract and retain customers, Brozzetti said.
"Loyal clients that are coming to the store frequently will get bored of not finding something new," he said.
Cavalli and companies including Chanel SA and PPR SA-owned Yves Saint Laurent already offer pre-collections of apparel and accessories and limited-edition lines, in addition to the traditional spring-summer and autumn-winter ranges that are the focus of fashion weeks in New York, London, Milan and Paris.
"The concept of the two seasons is more and more obsolete," Peter Farren, an analyst at Bryan Garnier & Co., said in a telephone interview. "That's what especially Zara has brought to the scene and accustomed the customer to. Luxury companies are responding to that."
Twice a Week
Inditex, the world's largest clothing retailer, delivers new models to its stores twice a week, according to its website. H&M, which sells $29.95 blazers, can design, manufacture and distribute new products in three weeks, spokeswoman Jenni Tapper-Hoel said.
To be sure, fast-fashion retailers don't always get it right. While H&M's August sales rose 14 percent, the quickest pace in more than two years, third-quarter profit missed analysts' estimates after the Stockholm-based company's efforts to increase sales weighed on margins. H&M didn't specify where it spent more improving the "customer offering." The shares fell the most in two years on Sept. 29.
Luxury companies need to improve their logistics to react more quickly to changes in consumption patterns, Farren said. Burberry Group Plc is now able to replenish stock monthly and in April introduced a limited-edition range of apparel and accessories, which went from design to store in three months.
'Season-less'
The maker of $3,595 double-breasted silk lace trench coats has also allowed customers to order items online during fashion-show webcasts since September 2009 to enable early delivery and installed iPad tablet computers in its stores during London Fashion Week.
"It's got to be a dynamic business," Burberry CEO Angela Ahrendts said in an interview. "So keep being dynamic is going to be part of our longer term success."
Because sales of luxury goods are rising fastest in markets like Asia and Latin America, "there has to be a large part of the line that's season-less," she added.
Emerging market consumers may account for 60 percent of global luxury goods sales in 2020, up from 40 percent in 2009, according to Luca Solca, an analyst at Sanford C. Bernstein. Excluding tourist flows, luxury expenditure in emerging markets may rise to 40 percent of the total from 23 percent in the same period, Solca estimates.
Saint Tropez
The goal for every luxury company, wherever their clients are, "is to keep people coming back into stores with new products," analyst Farren said. "That's what consumers want."
Cavalli will introduce in November the Saint Tropez denim collection for spring ahead of the main seasonal range, Brozzetti said.
The Florence, Italy-based company won't be able to present new collections every month because it's costly, Brozzetti said. "But the premium luxury brands are developing packages that can be delivered in step to the shops so that almost every four weeks you have something new to show the clients," he said.