Geithner Plays Down Risk of Trade Battle With China Over Yuan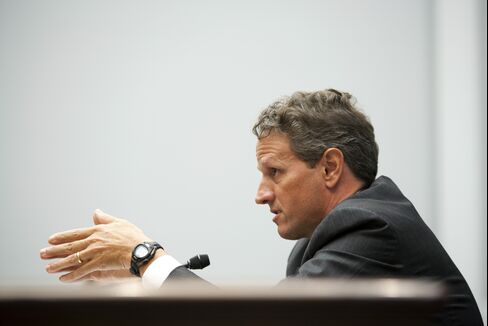 Treasury Secretary Timothy F. Geithner played down the danger of a trade war over China's currency policy after U.S. lawmakers took a step toward approving a bill designed to protect against Chinese imports.
"We're not going to have a trade war," Geithner said in remarks to a Washington conference yesterday hosted by The Atlantic magazine and the Aspen Institute. He also said that if the recent appreciation in the yuan "continues, that would make a really material difference on their economics and on our economics in ways that we think are important."
The comments, along with the gains in the yuan, which yesterday posted its biggest monthly gain against the dollar since 2005, signal subsiding risk of tit-for-tat trade sanctions. While the House of Representatives approved a bill this week letting companies seek compensation for imports from countries with misaligned exchange rates, the Senate has yet to vote.
"It won't work if they pressure China too hard," said Xie Dongming, a Singapore-based economist at Oversea-Chinese Banking Corp. The prospect of trade war "will make both countries suffer, and it's not serving the best interest for the two nations," he said.
The yuan dropped 0.07 percent to 6.6912 per dollar in Shanghai yesterday according to the China Foreign Exchange Trade System, after advancing 1.74 percent for September, the most since a dollar peg was ended in July 2005. Chinese markets are closed for a holiday today.
No 'War'
Geithner also dismissed risks of a global conflict over exchange-rate policies after Brazilian Finance Minister Guido Mantega this week warned of a "currency war" as his country weighed a higher tax on capital inflows. Countries from South Korea to China to Brazil and Switzerland have sold their currencies as policy makers worldwide seek to boost exports.
The U.S. Treasury chief said yesterday he wasn't sure "what that means" to talk about a "currency war." In any case, "we're not going to have currency wars," he said.
Japan intervened in the foreign-exchange markets last month for the first time since 2004 in a bid to suppress the yen's rise. Geithner hasn't commented on that move, instead focusing on U.S. efforts to encourage China to let the yuan appreciate.
China said in June it would allow its currency to become more market-driven, without saying how much of a rise it would allow or how quickly. The Obama administration, under pressure from Congress, has said the yuan hasn't been moving fast enough.
'Steep' Path
Yesterday, Geithner said China has recently permitted the currency to appreciate more quickly, in line with the more than 20 percent climb that authorities in Beijing allowed between 2005 and 2008. Officials kept the currency at about 6.83 per dollar from July 2008 to June 2010 to shield exporters during the global crisis.
"If you look at the pace it's moved since Sept. 2, it's moving on a path pretty similar to the steep path it was in that period of time," Geithner said.
Economic data today indicated China's manufacturing is accelerating, giving Premier Wen Jiabao's government more room to let the currency keep rising, according to Bank of America-Merrill Lynch economist Lu Ting in Hong Kong.
Geithner also said the U.S. economy is "very resilient," with strong exports and business investment. He said President Barack Obama's proposals to extend middle-class tax cuts have broad-based support, and that the $700 billion Troubled Asset Relief Program will have a final cost of under $50 billion as banks and other bailed-out companies repay their government aid.
The Treasury secretary urged Republicans to work with the administration to enact its economic agenda. He said the Republican "Pledge to America" isn't a credible alternative.
"It's really just a press release, it's not an economic proposal for a country," Geithner said. "It was designed as a press release on the campaign -- unfair to evaluate it as a serious economic plan."