Cigna, Restaurants Seek Low-Wage Health-Plan Waivers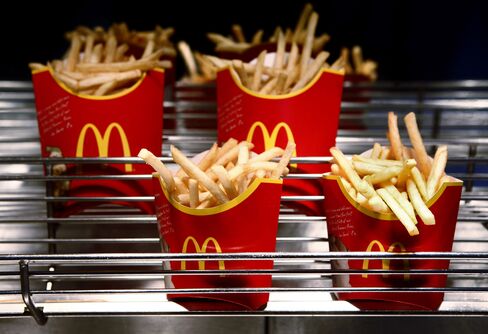 U.S. restaurants have asked the federal government to waive health overhaul rules that may force companies to abandon low-cost "mini-med" plans that insure 1.4 million minimum-wage and part-time employees.
Cigna Corp., the Philadelphia-based health insurer, has also asked for a waiver on behalf of its "limited-benefit" customers, and expects to hear back soon from federal officials, Gloria Barone Rosario, a spokeswoman, said today in an e-mail. She declined to name the clients involved.
McDonald's Corp., the world's largest restaurant chain, yesterday said it may be forced to seek alternative plans to cover 30,000 workers if it can't get a waiver. The companies are seeking exemptions from two health-law mandates. One requires plans to spend at least 80 percent of member premiums on medical care. The other bans companies from capping yearly coverage for each worker. Mini-med programs are designed to offer a low-cost way to cover part-time employees with limited benefits.
Without waivers, "mini-med plans would either no longer be offered or lead to a significant increase in premiums," the National Restaurant Association wrote in an Aug. 27 letter to U.S. health officials asking that all of its members be exempted. "Restrictions found in the regulations would infringe both the spirit and the letter of the law," the letter said.
Jessica Santillo, spokeswoman for the Department of Health and Human Services, declined to comment on waiver requests and said she couldn't immediately provide a list of companies that had sought the exemptions.
UnitedHealth Plans
UnitedHealth Group Inc., owner of the biggest U.S. insurer by sales, offers limited plans to fewer than a dozen companies covering "well under 1,000" employees, and hasn't yet sought a waiver, said Daryl Richard, a spokesman for the Minnetonka, Minnesota-based company.
The plans are helpful for companies with workforces that don't make enough to afford coverage, or for which it might be prohibitively expensive to insure, Richard said. "It at least provides an essential set of benefits for a portion of the workforce that may not have typically had access" to health coverage, Richard said.
Health insurance costs may rise as much as 500 percent for restaurants with more than 50 employees if all employees participate in a company-sponsored plan, said Todd Gordon, president of insurance broker The Benefits Group Inc.
'Frightening Time'
"It's a frightening time for any company with a small number of salaried employees and a large number of hourly employees," the Atlanta-based Gordon said in a telephone interview.
The health-care costs for franchises may rise from 1 percent of each store's revenue to as much as 5 percent if they hire a significant number of full-time employees, said Jordan Krolick, president of restaurant consulting firm Tound & Drowth LLC.
"Is it the end of the world? No. But you've already got incredibly tight margins. It's almost like paying a second franchise fee," Krolick said in a telephone interview.
McDonald's, based in Oak Brook, Illinois, was granted an exemption to one of the health-law's provisions on Sept. 24, the health department's Santillo said in an e-mail. It is seeking another waiver for the rule still being developed that requires plans to spend at least 80 percent of premiums on medical care, known as the "medical-loss ratio."
'Significant Flexibility'
"The new law provides significant flexibility to maintain coverage for workers," Santillo wrote.
"HHS remains committed to implementing the law in a way that minimizes disruption to coverage that is available today," Jay Angoff, who heads the department's Office of Consumer Information and Insurance Oversight, said today in a separate statement.
The department intends to create a similar waiver program for the medical-loss ratio requirements, Angoff said.
More than 1,000 U.S. employers, larger and small, offer mini-med plans, said Ronald Fontaneta, director of the health and group-benefits division at Towers Watson & Co., a New York- based benefits consultant.
Many of the plans cap annual benefits at levels of $2,000, $5,000 or $10,000, he said. They often spend as little as 65 percent of premiums on medical care, because of the administrative costs associated with their high-turnover workforces, he said.
Top Providers
Cigna and Aetna Inc. are the top U.S. providers of the plans, said Lindsay Shearer, a Cigna spokeswoman, in an e-mail. Cigna's plans cover about 1,700 clients and about 250,000 people, she said.
Barone Rosario, the other Cigna spokeswoman, said the company requested a benefit-cap waiver from the health department on behalf of its customers. She declined to name the clients involved.
Companies have stressed "how important these programs are to employees in this interim period between now and 2014," she said. That's when the health law would expand Medicaid, the government insurance for the poor, and offer subsidies to buy private coverage for low-income workers who don't qualify for the government program.
Aetna Waiver
Aetna has already received a waiver for some its customer from the annual benefits cap, said Fred Laberge, a spokesman for the Hartford, Connecticut-based insurer. "We've worked with HHS and will continue trying to ensure employers and employees in limited-benefit plans can keep" their benefits, he said in an interview. He couldn't immediately say how many people Aetna covers under the plans.
McDonald's hint at dropping insurance may be good news for health plans led by WellPoint and UnitedHealth, said Jason Gurda, a Leerink Swann & Co. analyst in Boston. The potential embarrassment of workers losing coverage is likely to make the administration more willing to waive or loosen requirements of the law, among them the medical-spending rules, Gurda said in a note to clients today.
Florida and other states have talked of seeking delays in the spending requirement to keep insurance companies from dropping out of some markets, he said.
McDonald's letter is "exactly the type of publicity the administration and the Democrats do not want heading into the November elections," Gurda wrote.
"The political risk of large companies and/or states threatening the loss of health insurance coverage is something the administration will want to avoid, and as a result, we believe waivers aren't going to be that difficult to receive."
Before it's here, it's on the Bloomberg Terminal.
LEARN MORE