Ahold Names Boer CEO as Rishton Takes to Rolls-Royce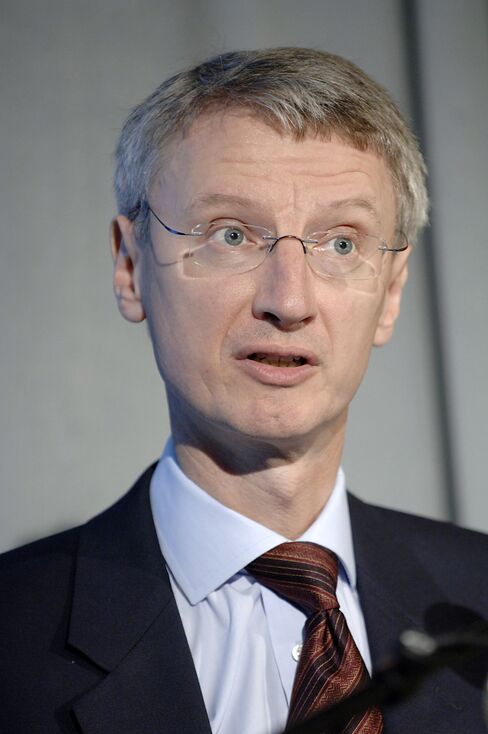 Royal Ahold NV, the Dutch owner of Stop & Shop supermarkets in the U.S., appointed Dick Boer to succeed Chief Executive Officer John Rishton, who is leaving to become head of Rolls-Royce Group Plc.
Currently Ahold's chief operating officer for Europe, Boer will take the job in March, Amsterdam-based Ahold said today. Rishton, who has been a non-executive officer of the U.K. aircraft-engine maker since 2007, will succeed Sir John Rose, London-based Rolls-Royce said separately.
Boer, 53, will take the post part-way through a 350 million euro ($477 million) cost-saving program as Ahold cuts prices to combat slowing consumer spending. He'll be the first Ahold CEO with prior food-retail experience since 1989. Rishton, who was chief financial officer at British Airways Plc before joining the retailer, lowered costs and refurbished U.S. supermarkets.
"Boer will look for acquisitions much more aggressively, both in Europe and the U.S." said Ton van Ooijen, an analyst at Kepler Capital Markets. "Rishton had other priorities."
Ahold fell 1.9 percent to 9.86 euros at 12:54 p.m. in Amsterdam trading. The stock has gained 6.5 percent this year.
"He was the obvious choice and the unanimous choice of the supervisory board to succeed me," Rishton told reporters on a conference call. "It's absolutely terrific to have an internal successor. It's further evidence of the strength of the company. It's also great to have a food-retailer back in the top of Ahold and it's wonderful to have a Dutchman back in charge."
'Empire-Building'
Boer, a Dutch national, joined Ahold in 1998 as head of the company's operations in the Czech Republic. He became CEO of its Albert Heijn grocery stores, the biggest chain in the Netherlands, in 2000, three years before Ahold said it had overstated revenue and profit.
"Rishton has been quite busy getting the U.S. back on track and working the balance sheet," said Van Ooijen, who has a "buy" rating on Ahold. "That has been successful. Boer, who is a real supermarket man, now has the chance to start empire- building."
Boer declined to comment on whether he would pursue acquisitions more aggressively.
Rishton took over as CEO from Anders Moberg in 2007, stepping up from the role of chief financial officer. Ahead of bigger rivals Supervalu Inc. and Kroger Co., Rishton refurbished the U.S. grocery stores, cut prices and introduced cheaper private label products to lure shoppers, copying a strategy that Boer had applied in the Netherlands three years earlier.
'A Blow'
Boer will be succeeded in his current job by Sander van der Laan, who runs Albert Heijn. Carl Schlicker, currently head of Ahold's U.S. retail operations, has been appointed chief operating officer of the U.S., in succession to Larry Benjamin, who will retire in early 2011.
"The exit of John Rishton and Larry Benjamin deals a blow to Ahold's prospects given their key roles in the group's turnaround," James Grzinic, an analyst at Jefferies International Ltd. in London, wrote in a note. "The likelihood of more value-enhancing events near-term, such as mergers and acquisitions and cash return, is also reduced."
Rishton in March raised the dividend by 28 percent and announced a 500 million-euro share repurchase plan, digging into a 2.7 billion-euro cash pile.
"We're very comfortable with the strength of the business, the strength of the balance sheet and the repositioning work that we've done," said Rishton. "We've done a lot of stuff, but the journey continues."
Before it's here, it's on the Bloomberg Terminal.
LEARN MORE