Southwest's AirTran Purchase May Bring Higher Fares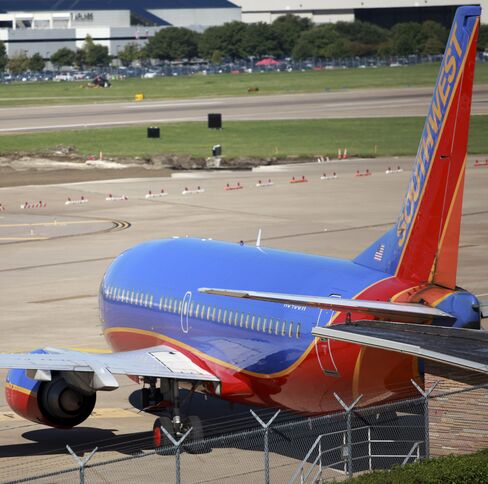 Southwest Airlines Co.'s planned purchase of AirTran Holdings Inc. may lead to higher ticket prices as a low-fare competitor is eliminated and the merged carrier works to make up for higher costs.
"Over time, fares will go up," said Vaughn Cordle, managing partner of AirlineForecasts LLC in Clifton, Virginia. That will follow the initial celebration of the merger in which they offer "everyone a discount to fly on the new Southwest."
Southwest, the world's largest discount airline, agreed this week to buy AirTran for $1.4 billion in cash and stock. The purchase would enable Southwest to resume the capacity growth it halted in 2008, and bring it into direct competition with Delta Air Lines Inc. at Delta's largest hub in Atlanta.
Southwest is known for moving into new markets and slashing fares to stimulate travel and woo passengers away from rivals. It may have to deviate this time from that pattern, dubbed the "Southwest Effect" in a 1993 U.S. Transportation Department study, and move from discounting to higher ticket prices for routes run by AirTran.
"Southwest prices its product higher than AirTran does," Jamie Baker, a JPMorgan Chase & Co. analyst, said in a report yesterday. "We expect costs and fares to be marked to Southwest levels, suggesting improved returns for everyone in markets where AirTran already has a presence."
Lowest Average Fare
Southwest sees the lowest average fare as being "at the core of our DNA," Brad Hawkins, a spokesman for Dallas-based Southwest, said in an e-mail. "Every decision takes that into account."
Tad Hutcheson, a spokesman for Orlando, Florida-based AirTran, declined to comment.
The lowest available fare for a round-trip, single-connection flight between Washington and San Francisco, departing Oct. 10 and returning Oct. 15, was $221.40 at AirTran and $258.60 at Southwest. The fare prices are as of today and do not include taxes or fees.
Southwest fell 5 cents to $13.19 at 4:02 p.m. in New York Stock Exchange composite trading, while AirTran advanced 1 cent to $7.34.
'Affordable Pricing'
Southwest's "affordable pricing" helps determine fares for other airlines in the markets it serves, according to Henry Harteveldt, a senior analyst at Forrester Research Inc. in San Francisco. Some analysts expect Southwest, the biggest U.S. airline by market value, to remain true to its lower-fare strategy, even as other airlines increase fares amid a contracting industry.
"In the near-term, this deal should be beneficial for fliers in Atlanta and perhaps in other cities Southwest is new to," Craig Hutson, a senior bond analyst at Gimme Credit LLC, said in an interview yesterday. "Longer term, consolidation as an industry trend should herald higher fares over time."
Southwest will also extend its capacity-management style to AirTran, said James M. Higgins, an analyst at Soleil Securities Corp. in New York who advises holding Southwest and AirTran.
Over the past two years, Southwest has readjusted flight schedules to eliminate poorly performing routes and move capacity to more-profitable markets.
Airline Integration
The takeover, announced Sept. 27, should close in about nine months, the carriers said. Southwest doesn't expect to gain a single operating certificate for about two years. During the interim, it will focus on integrating the separate airlines.
Southwest expects costs of $300 million to $500 million to mesh the carriers, and annual "synergies" of about $400 million. The combined airline will keep Southwest's policies of not charging for the first two checked bags, not assigning seats and single-class cabins.
Southwest climbed 8.7 percent on Sept. 27 in New York Stock Exchange composite trading, while AirTran jumped 61 percent. Yesterday, Southwest fell 11 cents to $13.24 and AirTran lost 1 cent to $7.33.
Southwest is the fifth-largest U.S. carrier based on miles flown by paying passengers, while AirTran is No. 8. Once the merger of UAL Corp.'s United Airlines and Continental Airlines Inc. closes this week, Southwest-AirTran will be ranked fourth.
In addition to decreasing discount pricing that is "destructive" to the industry, the combination allows Southwest to grow without increasing capacity, said Jim Corridore, a Standard & Poor's equity analyst in New York. Keeping capacity close to demand typically allows airlines to increase fares.
"This is the way to grow," Corridore, who advises buying Southwest and AirTran, said in an interview. "They will be 20 to 25 percent larger, without increasing industry capacity by one seat."
Before it's here, it's on the Bloomberg Terminal.
LEARN MORE