Santana Rocks O2, Threesome, Gherkin's Homeless: London Weekend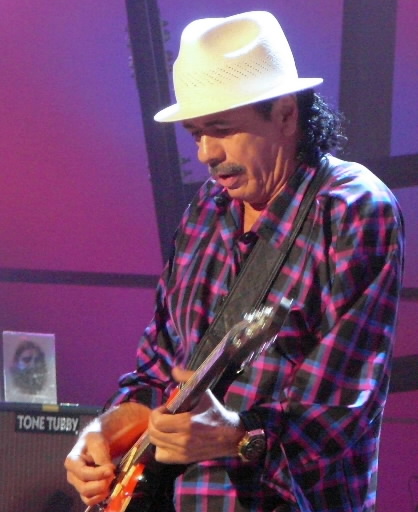 After decades of turning out Latin-rock hits such as "Black Magic Woman," Carlos Santana is trying something different at the O2 on Friday night.
London gets the first concert taste of his new CD "Guitar Heaven," out this week, which reinterprets such songs as "Riders on the Storm" (the Doors), "While My Guitar Gently Weeps" (the Beatles) and "Little Wing" (Jimi Hendrix). The 63-year-old will also perform the usual jazz-and-salsa hits from the many albums he's cut since 1969.
The O2, Peninsula Square, SE10 0DX. Information: http://www.theo2.co.uk, http://www.santana.com/tour/default.aspx
Saturday
Sergei Diaghilev was a nightmare manager: He bossed staffers around, worked them to death, and took a chosen one to bed with him as often as possible.
Diaghilev was, of course, also an avant-garde ballet impresario. The show at the Victoria & Albert Museum starts with his top hat and opera glasses, and ends with his final hotel bill -- itemizing everything down to the mineral water -- from Venice, where he died.
In between are pointes and threadbare tutus worn by his ballerinas, a giant front cloth that Picasso designed for one ballet, and costumes that Coco Chanel made for it.
A special room remembers his dancer-lover Vaslav Nijinsky, who was fired for marrying on the sly, and ended up in mental wards. His feathered turban and wedding photo can be admired.
Information: http://www.vam.ac.uk or +44-20-7942-2000.
Saturday Night
Gilda loves two men: Leo and Otto. They love her back -- and, just to keep things simple, they love each other, too.
That threesome is the focus of Noel Coward's 1933 "Design for Living," now in a stylish, well-acted staging at the Old Vic.
Set in three cities -- Paris, London, New York -- and swish Art Deco interiors, the play shows blond, bored-looking Gilda swapping countries and men with each new act. Exchanges with third parties, such as the dowdy housekeeper Miss Hodge (Maggie McCarthy), boost the amusement value.
The Old Vic is at The Cut, London SE1 8NB. Information: http://www.oldvictheatre.com or +44-844-871-7628.
Sunday
Sometime in the future, when the global economy will have collapsed for good, the Gherkin -- that pointy monument in London's financial district -- will shelter homeless refugees.
That's one of the 14 apocalyptic climate-change scenarios that illustrators Robert Graves and Didier Madoc-Jones conjure up via photomontages at the Museum of London. Other scary prospects: rice paddies in Parliament Square, and a nuclear power station at Kew Gardens.
Information: http://www.museumoflondon.org.uk or call +44-20-7001-9844. The exhibition is part of "Story of London," a festival focusing on the capital. Information: http://www.london.gov.uk/story.
Restaurant Picks
Japanese cuisine is increasingly popular in London. The problem is finding a place that serves heavenly food without charging stellar amounts.
Pham Sushi (http://www.phamsushi.co.uk/) is a neighborhood eatery with surprisingly good sushi.
Edokko (Tel. +44-20-7242-3490) doesn't even have a website, and is a favorite with chefs such as Jun Tanaka.
If you have the budget, Dinings (http://www.dinings.co.uk), hidden in a basement and hard to find, is favored by aficionados.
(Farah Nayeri writes for Muse, the arts and leisure section of Bloomberg News. The opinions expressed are her own.)