NFL, Packers Fans Boost Broadway's $3 Million 'Lombardi' Drama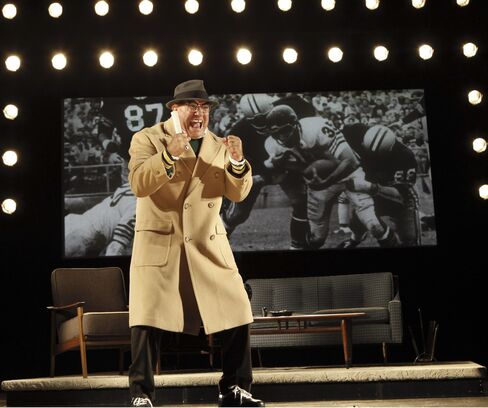 The new Broadway play "Lombardi," about the revered football coach Vince Lombardi, needs no introduction to one demographic: expatriate fans of his Green Bay Packers.
"He's a bigger deal than the pope," said Jim Clarahan, a 51-year-old management consultant, at Kettle of Fish, a Greenwich Village bar that broadcasts Packers games.
Matt Giordano, a 23-year-old accountant, added: "I'm not big on plays, but I'll see it."
The biographical drama began previews on Thursday at Circle in the Square Theatre. It's by Los Angeles writer and director Eric Simonson, drawn from David Maraniss's best-selling 1999 biography, "When Pride Still Mattered."
"I didn't write a play about football," Simonson said. "I wrote a play about a guy trying to be perfect. And he wasn't able to achieve it." That story, according to the producers, should attract more than just football fans to the theater.
"Some people say it's risky to bring a show about football to Broadway," said Tony Ponturo, a "Lombardi" producer. "We salivate about bringing in new customers."
Brooklyn-Born
The one-act drama is set primarily in November 1965, seven years after the Brooklyn-born coach arrives in Green Bay, Wisconsin. When we meet Lombardi (Dan Lauria), he's transformed the mediocre team by applying football and management insights honed in coaching positions back East.
"In three seasons, Vince Lombardi turned those perpetual losers into perennial winners," a fictional journalist named Michael McCormick (Keith Nobbs) tells the audience.
"But then came two seasons of second-place finishes," the journalist says, "which for Coach Lombardi was completely unacceptable."
Lombardi mixes it up with his wife, the reporter (writing for the now-defunct Look magazine) and his team, represented by three actors. He guides, goads and strategizes, at once inspiring and controlling.
He also struggles with the increasing influence of agents in football and, more broadly, young Americans' antipathy to authority.
"The world was changing around him," Simonson said. "And he didn't get it."
Female Appeal?
Ponturo and producing partner Fran Kirmser say the play appeals to women and men, fans and non-fans alike. One-third of the women surveyed in a 2004 Harris Poll identified football as their favorite spectator sport, according to the National Football League.
"Lombardi" was capitalized at just over $3 million, according to an April filing with the Securities and Exchange Commission. Ponturo, who ran sports marketing for Anheuser-Busch Cos. until 2008, when it was purchased by InBev NV, contacted NFL Commissioner Roger Goodell about co-producing. The league provided uniforms, helped with marketing and provided film clips and Lombardi memorabilia. (Although the league has a producing credit, it had no say in the content of the play.)
With the cooperation of Maraniss and the NFL, "we know we're getting it right," Kirmser said.
Robyn Goodman, a Broadway producer who isn't involved in this show, sees it as a test of whether a title appealing primarily to men can succeed. Women are two-thirds of the Broadway audience and make most ticket-purchasing decisions, according to a recent survey by the Broadway League, the industry's trade group.
"History shows that women buy the tickets and drag their husbands to the theater," Goodman said. "Will it work the other way around?"
At 50th St. and Eighth Ave. Information: +1-212-239-6200; http://www.lombardibroadway.com/
Before it's here, it's on the Bloomberg Terminal.
LEARN MORE