Segway Owner's Death Adds to Company's Safety, Image Challenges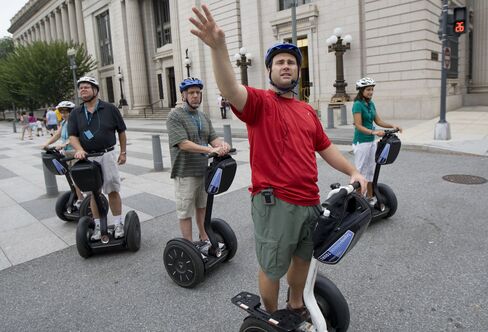 Segway Inc. may face fresh challenges trying to broaden the appeal of its transporter after the company's owner died driving the vehicle off a cliff.
Jimi Heselden, the British millionaire who owned the company, accidentally drove a Segway off a precipice and into a river, according to police in West Yorkshire, England, where he had his estate. He was pronounced dead at the scene, and the two-wheeled vehicle was recovered from the water.
The Segway, hailed as a revolutionary invention when it debuted nine years ago, has struggled to expand beyond its status as a niche product. Though some law enforcement and sightseeing groups have embraced the vehicle, a $6,000-plus price tag has prevented it from catching on with consumers. Product recalls and restrictions by cities such as New York also have hampered the Segway's sales.
While the accident may have had nothing to do with the Segway's design, the company could use it to highlight safety precautions, said Glenn Bunting, managing director of public-relations firm Sitrick and Co.
"They have to use it as teachable moment for their customers," said Bunting, whose firm specializes in crisis management. "What we would recommend is: Thoroughly investigate how this tragedy occurred, and from it, not only do you learn, but use it for an opportunity to enhance safety measures."
Safety Precautions
The San Francisco-based Electric Tour Co., which has a fleet of 48 Segways, requires all riders to wear bright-green vests and helmets, said owner Brian Huber. The nearly six-year-old business also spends as much as 45 minutes on safety training. Since the city doesn't allow Segways on sidewalks, the company takes extra precautions, Huber said.
"We don't let anyone leave our facility unless we think they're a competent rider," he said in an interview. "Something like this we will use as another reminder to stay away from treacherous objects."
Heselden crashed into the River Wharfe in West Yorkshire while riding around his estate on Sept. 26, said Neil Wardley, a police spokesman. The accident isn't believed to be suspicious, Wardley said yesterday.
The 62-year-old, who made his fortune from the Leeds, England-based Hesco Bastion Ltd., bought the Segway business this year. He had an estimated personal fortune of 166 million pounds ($263.2 million), according to the latest Sunday Times Rich List.
'Tragic Accident'
"Our family has been left devastated by the sudden and tragic loss of a much loved father and husband," Heselden's family said in an e-mail. "There is absolutely nothing to suggest it was anything other than a tragic accident."
Segway, based in Bedford, New Hampshire, didn't immediately return requests for comment after business hours. Dean Kamen, who invented the Segway, is traveling internationally and couldn't be reached, said Dennis Garrigan, a spokesman for Kamen's nonprofit organization. He no longer works at Segway.
The death marks a low point for a product that was greeted with hype initially, followed by tepid demand and later marred by recalls. The Segway, a two-wheeled, self-balancing transportation device, allows riders to remain upright and steer with body movements.
The invention gained attention even before it was unveiled in December 2001, spurred by leaked quotes from a book proposal that ran on the Inside.com news site. The proposal quoted Apple Inc. Chief Executive Officer Steve Jobs saying people will design cities around the invention and venture capitalist John Doerr comparing its significance to the World Wide Web.
Book Deal
Harvard Business School Press paid $250,000 for the book deal before it knew what the invention was, according to the New York Times. The company also raised $90 million from venture capitalists. At the time, Kamen tried to tamp down the excitement, saying the book-proposal quotes were taken out of context.
Segway spent about $100 million developing the vehicle, which won early support from government and corporate customers. Law-enforcement departments and the U.S. Postal Service started testing Segways in 2002, and Amazon.com Inc. began taking orders that year. Michelin North America Inc., the National Park Service and the city of Atlanta also pledged to use transporter.
Prices of between $5,000 and $10,000 limited the appeal, and cities such as New York restricted where people could drive their Segways. In 2003, President George W. Bush was photographed leaping from one of the vehicles after losing control of it in Maine. In the same year, the company recalled all 6,000 of its transporters after a safety report found operators risk falling as batteries ran out.
Switching Direction
In September 2006, the company voluntarily recalled 23,500 of its scooters because they could suddenly reverse, causing the rider to fall. The wheels could unexpectedly switch direction when the rider leaned the transporter back to slow down, get off and get on again in a short period of time.
More than 500 organizations worldwide now use the transporters for policing and security, according to the company. Consumers make up 60 percent of sales, with 350 retail outlets in 80 countries. Forty-four states allow Segways to operate in the same spaces as walkers and bikers, according to the company.
Segways have built a fan base among sightseeing tour groups and enthusiasts such as Apple co-founder Steve Wozniak, who participates in a Segway polo league.
Huber, at Electric Tour Co. in San Francisco, said Segway crashes are rarer than bicycle accidents. When they do happen, they typically result in the same kind of scrapes and bumps that bike riders get, he said. Still, the transporters can instill an inflated sense of confidence, Huber said.
"People think Segways are like hovercrafts, that if you bang them into a curb you're not going to fall," he said. "They're not magic."
Before it's here, it's on the Bloomberg Terminal.
LEARN MORE