David Miliband Yet to Decide If He'll Serve Under Ed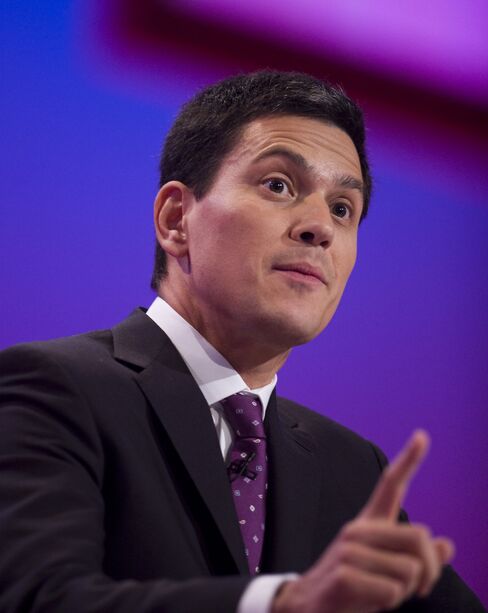 Sept. 27 (Bloomberg) -- David Miliband, who lost to his younger brother Ed in the battle to head the U.K.'s Labour Party, said he is yet to decide whether to join the new leader's team of opposition spokesmen, even as he called for party unity.
"I came here on Saturday planning a slightly different week. Now I'm thinking about what I should do instead," David told reporters today in Manchester, northwest England, where the party is holding its annual conference. "Anyone who tells you anything about what they know of what I've decided is not telling you the truth because they don't know."
Ed beat David to the top job by 50.65 percent to 49.35 percent in the final round of voting as second-preference votes were counted, after trailing in three previous rounds. Ed owed his victory to votes from labor-union members, 42 percent of whom backed him in the first round. David got most votes from lawmakers and party members throughout.
A decision by David not to serve under his brother would be a blow to Labour as the party seeks to end the factionalism that has dogged it since the late 1990s, with supporters of Tony Blair at odds with those of his chancellor and successor as prime minister, Gordon Brown. David was a protege of Blair, while Ed worked for Brown.
'Incredibly Proud'
"We have a great new leader and we have to get behind him," David said in a speech at the conference today. "I'm really, really, really proud of my campaign, I'm so proud of my party but above all I'm incredibly proud of my brother."
He was given a standing ovation by delegates.
"It is crucial for the party that David is there behind his brother," Mark Wickham-Jones, professor of politics at Bristol University, said in an interview. "Not only is he a huge asset, but in the interests of unity of the party they have to present a common front against the Conservatives. Besides, this generation of Labour is not marked by its talent."
Lawmakers who want to serve in Miliband's team of ministers-in-waiting need to nominate themselves for election by Labour parliamentarians by Sept. 29, with the results announced Oct. 7. Under party rules, at least six of the 19-strong team must be women. At least 46 lawmakers have already declared they will stand, according to the discussion forum Labour List.
Former Defense Secretary Bob Ainsworth, who backed David to become leader, said today he hoped he would stay on.
'Wouldn't Blame Him'
"He's made a fantastic contribution and will continue to do so," Ainsworth said in an interview. "But I wouldn't blame him if he didn't." David said he would not make an announcement on his intentions until after his brother's keynote speech tomorrow.
David "has a huge amount to offer our politics but we'll see what he decides," Ed told reporters as he arrived at the conference today. "Who gets what is not a decision for this week, it's a decision for later, and he will make his own decisions."
The Financial Times reported today that Ed had offered David the role of finance spokesman opposing Chancellor of the Exchequer George Osborne, without saying where it got the information.
In his speech to the Labour conference, David joked about an activist who, mistaking him for his brother, had congratulated him on his victory. "I can do without that," he said. Speaking of his defeat, he told activists, "Don't worry, I'll be fine."
Labour lawmaker Stephen Pound paid tribute to David's talent.
"It's only been 36 hours," Pound said in an interview in Manchester when asked whether David should stay on and serve. "He's got an enormous amount of thinking to do. We all know he's got a lot to give, and we all know he's capable of thinking."
To contact the reporters on this story: Kitty Donaldson in Manchester, England, at kdonaldson1@bloomberg.net; Robert Hutton in Manchester, England, at rhutton1@bloomberg.net.
To contact the editor responsible for this story: James Hertling at jhertling@bloomberg.net.