Cuomo Faces Paladino Alone as Lazio Quits N.Y. Race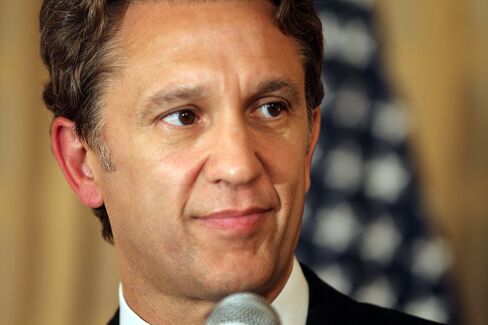 Rick Lazio, the Conservative Party's candidate for New York governor, dropped out of the race, leaving Republican Carl Paladino as Democrat Andrew Cuomo's main opponent.
Lazio, who lost the Republican primary to Paladino, said at a Manhattan news conference today that staying on the ticket made a Cuomo win more likely. The Conservative Party will probably vote to nominate Paladino on Sept. 29, Chairman Michael Long said.
"If there's anything that all conservatives are in agreement on, it's that Andrew Cuomo should not be the next governor," Long said in an interview.
Long said he intends to campaign for Paladino, and the party will nominate Lazio for a judgeship.
Lazio, 52, a former four-term congressman from Long Island, remained the Conservative Party's candidate after losing in the Republican primary to Paladino.
"While my heart beckons me forward, my head tells me that my continued presence on the Conservative line would simply lead to the election of Andrew Cuomo and the continuation of an entrenched political machine," Lazio said.
He didn't endorse Paladino, a Tea Party favorite.
"I strongly believe that Andrew Cuomo cannot bring about change, but I remain unconvinced that Carl Paladino will bring the improvements that New Yorkers need, deserve and want," Lazio said.
Consolidating Opposition
Bruce Gyory, a political adviser at Corning Place Consulting in Albany, said in an interview that Lazio's withdrawal is good news for Paladino. "It will help Paladino consolidate" his supporters under one ballot line, he said.
Voters will choose between Paladino, 64, a Buffalo real estate developer, and Cuomo, 52, on Nov. 2.
Four polls last week showed Cuomo as the frontrunner. Three registered leads of at least 16 percentage points, including a 19 percentage point lead among likely voters polled by Marist College. Lazio had the backing of 9 percent, Marist said.
A Sept. 22 Quinnipiac University poll that excluded Lazio showed Cuomo ahead of Paladino by 6 points. That poll had a margin of error of plus or minus 3.6 percentage points.
Bats and Coalitions
Paladino won an upset Sept. 14 in the primary, beating Lazio, the candidate selected by Republican Party leaders. He has promised to clean up Albany with "a baseball bat" and to cut taxes 10 percent and spending 20 percent in his first year as governor.
Cuomo has said he is seeking a coalition with lawmakers and unions to support his plan to freeze taxes and government wages, and to limit growth of state spending to the rate of inflation.
The previous Republican governor, George Pataki, won office in 1994 thanks to backing by the Conservative Party, whose 328,605 votes, when added to 2.16 million Republican votes, allowed him to beat Mario Cuomo, father of this year's Democratic nominee Andrew Cuomo.
Before it's here, it's on the Bloomberg Terminal.
LEARN MORE