This Time Different Calling Trough as NBER Sees Not Much Rebound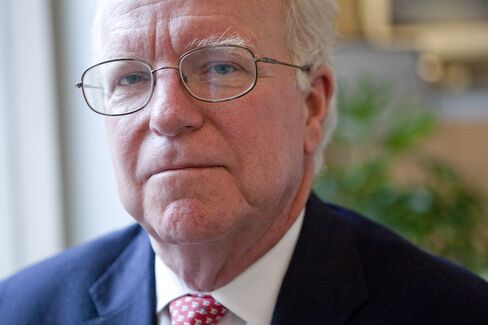 The panel of U.S. economists that calls the beginnings and ends of recessions may be a lot busier in the coming decade than it was in the past quarter century.
The average time between contractions might fall back toward its long-term average of about every four years compared with about eight years during the past two decades, said Robert C. Doll, chief equity strategist for BlackRock Inc. in New York, which oversaw about $3.15 trillion at the end of March.
"The cyclical recovery is under way now, but more recessions are down the line," Doll said. While he says he's buying U.S. stocks because he doubts the economy will relapse in the immediate future, he is betting returns in the next decade will fall short of their traditional average gains of about 12 percent.
This rebound "is very different from other cycles, especially 1981-82, when employment had grown vigorously by this time in the recovery," said Robert Hall, a Stanford University economics professor who heads the National Bureau of Economic Research's Business Cycle Dating Committee. "An important reason is that changes in the financial system resulting from the crisis, a factor absent in recoveries since the Depression, have hindered expansion" by limiting the supply of credit.
The worst recession since the 1930s ended in June 2009, the committee said on Sept. 20. At the same time, the panel "did not conclude that economic conditions since that month have been favorable or that the economy has returned to operating at normal capacity," according to a statement.
Reluctant Lenders
Consumers are cutting back on spending to reduce debt and build savings, and banks are reluctant to lend, while policy makers have little room to assist growth because they've cut interest rates to near zero and pushed budget deficits to record highs.
Such imbalances leave economies that rely on leverage and credit such as the U.S. less resilient to shocks, making them "unusually vulnerable to the risk of recessions" at a time when their economic growth is already near "stall speed," said Mohamed El-Erian, chief executive officer at Newport Beach, California-based Pacific Investment Management Co., which had more than $1.1 trillion of assets as of June 30.
Even investors with well-diversified portfolios and appropriate risk-management techniques can expect greater volatility, with returns shrinking to between 3 percent and 5 percent in the current economic cycle compared with 6 percent to 8 percent historically, El-Erian said.
Hunkering Down
His outlook was borne out in a quarterly poll this month of 1,408 global investors, analysts and traders who subscribe to Bloomberg. More than 40 percent of those surveyed are still hunkering down, while one in three is taking on more risk. The rest said they are returning to normal.
Lakshman Achuthan, managing director of the Economic Cycle Research Institute in New York, predicts "cyclical instability" in the U.S., with the next recession starting before employment has fully recovered. The jobless rate has stalled at or above 9.5 percent for more than a year, compared with a pre-recession average of 4.6 percent in 2007.
Given these conditions, stock investors should be wary of pursuing a buy-and-hold strategy, Achuthan said.
"Major equity bear markets are associated with recessions, so it follows that if there are more frequent recessions, there would also be more cyclical bear markets," he said. That will "demand the ability to ride the cycle in both directions."
Companies that may be able to cope are those with exposure to emerging markets, which are now better able to withstand slowdowns in major economies, said Ian Richards, an equity strategist at Royal Bank of Scotland Group Plc in London.
Asian Demand
Athletic-shoe maker Nike Inc. in Beaverton, Oregon, and Atlanta-based United Parcel Service Inc., the world's biggest package-delivery company, are among U.S. businesses that cite demand from Asian nations as helping profits this year.
"When you look at the demographics of Asia, the undeveloped nature of their consumers and their lack of leverage, you have a structural-growth story," Richards said. "Companies able to exploit that are well-positioned to manage lower and more volatile growth domestically."
Frequent recessions once were the norm in the U.S., which had 19 in the 90 years until 1990 and only three since, according to the NBER. The recovery from the contraction that began in December 2007 has lost momentum, with growth slowing to an annualized 1.6 percent in the second quarter from 3.7 percent in the first and 5 percent in the fourth quarter of 2009, according to the Commerce Department in Washington.
'Negative Shock'
"If an economy's growing at 4 percent, it can live with a negative shock," Harvard University professor Martin Feldstein, a member of the NBER's business-cycle committee, said in an Aug. 27 interview. "If it's stuck at 1 to 2 percent, then a negative shock can easily push it into recession territory."
The U.S. government's debt burden might intensify such a push. The deficit will reach $1.47 trillion, or 10 percent of gross domestic product, this year and $1.42 trillion, or 9.2 percent of GDP, in fiscal 2011, which begins Oct. 1, the White House Office of Management and Budget projected in July.
Among consumers, the ratio of U.S. household debt to disposable income was 118 percent in the second quarter, above the 30-year average of 90 percent, according to data from the Federal Reserve and the Commerce Department.
The need to pare such liabilities typically hampers expansion and leaves economies more vulnerable to events such as an oil-price spike, said Carmen Reinhart, a professor at the University of Maryland in College Park and co-author of a recent study warning that the U.S. and other developed nations face another seven years of weak growth and high unemployment.
'Great Repercussions'
"Small shocks can have great repercussions" for countries that are "highly leveraged," said Reinhart, who co-wrote the 2009 book "This Time Is Different: Eight Centuries of Financial Folly" with Kenneth Rogoff, a Harvard professor.
The credit crisis also ended a period of financial deregulation and innovation that smoothed economic performance even as it lay the groundwork for asset bubbles that later hurt economies when they burst, said Neal Soss, chief economist in New York at Credit Suisse Holdings USA Inc.
Now, banks are proving less willing to provide loans, and regulators are forcing them to hold more capital. Financial institutions worldwide have logged writedowns and losses totaling $1.8 trillion since the crisis began in 2007, according to Bloomberg data.
"There's not going to be as much access to credit to absorb shocks," said Soss, a former Fed economist. When they do occur, "they'll be delivered to the body of the economy, and recessions will be more frequent and possibly more severe."
Rate Support
To compensate, U.S. central bankers will need to provide support through low interest rates "for a very long time," Soss said. He predicts the Fed will keep its benchmark rate for overnight loans among banks near zero through 2011.
The nightmare scenario is that the U.S. repeats Japan's recent history. Having suffered 10 recessions in the four decades before 1991, it has fallen into four since then as it struggled to regain momentum after the 1980s asset bubble burst. That has thwarted recoveries in the Nikkei 225 Stock Average, which has failed to sustain rallies above 20,000, almost half its 1989 peak. The average stood at 9,471.67 at the 3 p.m. close on Sept. 24 in Tokyo, and the economy remains plagued by deflation.
The lesson is that authorities shouldn't take early signs of a recovery for granted and must tackle their financial imbalances as they inject stimulus to restore growth, said Kenneth Kang, an International Monetary Fund economist in Washington and co-author of a December 2009 study of Japan.
'Vulnerable' Economy
"The financial weaknesses in Japan left its economy very vulnerable," Kang said. "Macro stimulus can help but can only provide a supportive environment for restructuring. I can see the argument that as long as financial weaknesses remain, economies are more vulnerable to shocks, and this could lead to more frequent recessions."
John Lipsky, the IMF's No. 2 official, says he doubts economies such as the U.S. will suffer more regular recessions, in part because policy makers have learned from past mistakes and are now better adept at supporting recoveries, he said. New demand from developing countries also will counterbalance weaker domestic expansion in richer nations, said Harvard professor Niall Ferguson.
"The growth of Asia and other emerging markets like Brazil is the plus side of the story," Ferguson said in a Sept. 3 "Global Connection" interview on Bloomberg Television. "It's not, I think, time to get out the arsenic and plan a suicide."
Modest Cycles
More frequent recessions would nevertheless confirm an end to the Great Moderation, a period economists hail for its modest business cycles. That's no surprise to James Stock, the Harvard economist who coined the term and views the era as the result more of luck than a paradigm shift.
"It's clear we're in a situation where there is more fluidity and uncertainty than there was in the 1990s or 2000s," Stock, also a member of the NBER committee, said in an Aug. 27 interview. "I do see substantial risks of increased volatility going forward."