Swiss Franc Reaches Record Versus Dollar on U.S., Yen Outlook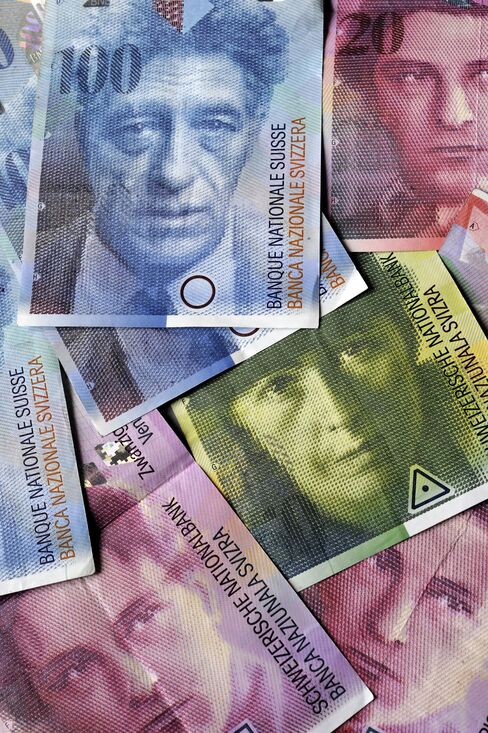 Sept. 24 (Bloomberg) -- The Swiss franc reached a record high against the dollar as Japan's intervention in the market for its currency stoked demand for an alternative to the yen amid speculation the U.S. economy will weaken.
The franc strengthened against the dollar for the sixth day, the longest streak in almost two months. The yen fell against the franc as traders speculated Japan sold its currency to protect exporters today, repeating a similar move last week, and that similar action by the Swiss is less likely.
"It's a macro story cobbled with safe-haven developments, which point to the Swiss franc being more favored," said Derek Halpenny, European head of global currency research at Bank of Tokyo-Mitsubishi UFG Ltd. in London. "The U.S. economy is growing at below-trend levels. The justification for a franc-selling intervention is diminishing in Switzerland, whereas a yen intervention certainly isn't in Japan."
The franc strengthened as much as 0.8 percent against the dollar to 97.79 centimes, according to Bloomberg data, passing the 97.86 level set in March 2008, when markets were roiled by the U.S. subprime-mortgage crisis. It traded at 98.24 centimes at 4:13 p.m. in London, and had touched the 2008 record earlier today. The currency gained 0.2 percent against the Japanese currency to 85.78 yen, and weakened 1 percent versus the euro to 1.3250.
Kyodo News reported earlier today that Japan had likely sold yen and bought dollars, citing an unidentified market source. Finance Minister Yoshihiko Noda declined to comment on whether the government intervened.
U.S. Economy
The franc stayed lower versus the dollar even as a U.S. report showed orders for capital equipment rebounded in August.
Investors traditionally buy the franc in times of financial and economic turmoil because of the perceived stability of Switzerland's economy, as its trade surplus frees the nation from dependence on overseas capital. They offload their holdings of the currency when they want to take on more risk.
"People are buying the Swiss franc as there is this belief now that there are only a few currencies offering true stability," said Neil Mellor, a currency strategist at Bank of New York Mellon Corp. in London. "There has been such growing disenchantment with the major currencies."
Applications for U.S. unemployment benefits unexpectedly rose last week, a sign companies remain cautious about hiring as economic growth slows. Initial jobless claims increased by 12,000 to 465,000 in the week ended Sept. 18, Labor Department figures showed yesterday in Washington.
Franc Advances
The franc climbed 4.6 percent this year against a basket of currencies, according to Bloomberg Correlation-Weighted Currency Indexes, amid concern the U.S. economic recovery is slowing and euro-region nations including Greece, Spain and Portugal are struggling to finance their deficits. The currency reached a record level of 1.2766 per euro on Sept. 8.
The Swiss National Bank began selling francs in March 2009 to curb gains against the euro, ward off deflation and bolster exports, which account for more than half the economy. The bank signaled this June that it would end the policy, after losing as much as 14 billion francs in the first half, saying risks of a drop in consumer prices had "largely disappeared."
"The SNB has been quite dovish," said Marcus Hettinger, a currency strategist at Credit Suisse Group AG in Zurich. "This may also be another supportive factor for the franc."
To contact the reporter on this story: Stephen Morris in London at smorris39@bloomberg.net.
To contact the editor responsible for this story: Daniel Tilles at dtilles@bloomberg.net