Ruhl's 'Orlando' Morphs From He to She; Busch's 'Divine': Review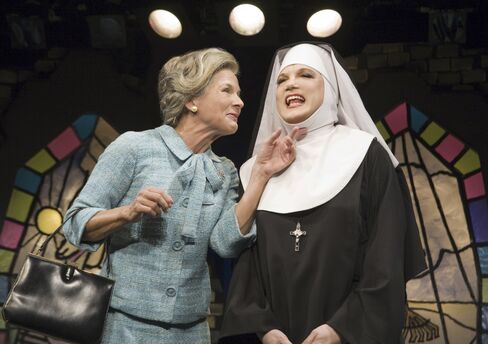 Sarah Ruhl is a bender of rules and genders ("In the Next Room or The Vibrator Play") and she brings charm and humor to the story of "Orlando" now at the Classic Stage Company in Manhattan.
At the end of the 17th century, the beautiful youth Orlando decides never to grow old. He becomes, briefly, the consort of Elizabeth I, later the lover of a Russian princess and, later still, an envoy to Constantinople. There he falls asleep and wakes up a woman, or, more precisely, Orlando in a woman's body, surviving into the 20th century.
Clear your head of all but these most basic components of Virginia Woolf's 1928 novel, "Orlando: A Biography" and the 1992 film starring Tilda Swinton.
It's not hard to do: The tiny CSC theater, surrounded on three sides by the audience, consists almost exclusively of a slightly raised square platform covered luxuriantly with grass. High above it, tilted toward the audience, hangs a massive gilt-framed mirror. In a corner sits a tiny model of a palace. A few gold high-back chair rest against the theater's black rear wall.
That's about it, yet these few elements (the designer is the gifted Allen Moyer) cohere in an elegant setting.
"The age was Elizabethan," a chorus comprising three men announces at the outset. "Their morals were not ours. Nor their poets, nor their climate, nor their vegetables even."
We meet the hero, played by the incandescent Francesca Faridany toying with an oversize sword, yearning to prove his manhood ("I do so long to chop off the head of an infidel, but I am, as yet, only sixteen.")
No Travelogue
Ruhl and her director, Rebecca Taichman, resist turning "Orlando" into a travelogue. Instead they dwell on Woolf's descriptive passages of Orlando's internal growth while experiencing extraordinary external change. There is very little dialogue. The tale is narrated by the actors in or out of character, story-theater style.
Annika Boras is particularly fine flaunting the charms of the Russian princess. Also deserving of mention are Christopher Akerlind, whose lighting makes the combined elements of sets, costumes and actors glow as if from within; Anita Yavich, whose mostly white and gold-trimmed costumes are elegant and the sensuous music and sound design by Christian Frederickson and Ryan Rumery.
Through Oct. 17 at 136 E. 13th St. Information: +1-212-352-3101; http://www.classicstage.org Rating: ***
'The Divine Nun'
Charles Busch, a take-no-prisoners parodist, focuses his multiple comic gifts on beloved nuns and nun-wannabes in his latest, very funny travesty, "The Divine Sister." He plays Mother Superior at the Convent of St. Veronica, in Pittsburgh, in the late 1960s:
"We are living in a time of great social change," M.S. tells her flock. "We must do everything in our power to stop it."
Mother Superior can sing like her counterpart in "The Sound of Music" and, before taking her vows was a crack newspaper reporter. Her foil is dour Sister Acacius (Julie Halston), the convent's wrestling coach, with an assist from a blue nun imported from Chermany and played by the dizzyingly funny Alison Fraser.
The Maria in all this is Agnes, a novitiate played wide-eyed by Amy Rutberg, who sees "the holy face of St. Clare" in a laundry stain. Adroitly staged by Carl Andress with much tipping of the wimples at "His Girl Friday," "The Trouble With Angels" and others too countless to mention, it's all fine fun.
At the Soho Playhouse, 15 Vandam St. Information: +1-212-691-1555; http://www.sohoplayhouse.com Rating: ***
What the Stars Mean:
****       Do Not Miss
***        Excellent
**         Average
*          Poor
(No stars) Worthless
(Jeremy Gerard is an editor and critic for Muse, the arts and leisure section of Bloomberg News. The opinions expressed are his own.)
Before it's here, it's on the Bloomberg Terminal.
LEARN MORE