Lincoln Dealers May Not Reinvest for 2 Sales a Week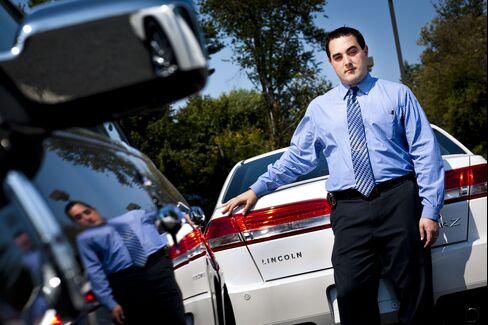 Ford Motor Co.'s Lincoln dealers may be facing the bleakest days in the brand's 93-year history. Soon they will have to decide whether to double down on the luxury line or walk away.
Sales have plunged almost two thirds from their peak and now average fewer than two vehicles a week for each dealer, one-thirteenth the volume of Toyota Motor Corp.'s Lexus.
Most of Ford's 1,187 Lincoln dealers also sell Mercury vehicles, and will lose more than half their sales when the automaker discontinues the mid-priced line at the end of the year. Now the company may ask them to spend as much as $2 million each to upgrade showrooms and improve customer service at a meeting in Dearborn, Michigan, on Oct. 4.
Lincoln lags behind other luxury lines as its buyer base ages and it fights an image driven by the Town Car, the typical airport shuttle of corporate executives. Lincoln sold an average of 5.8 cars per showroom a month in 2009, compared with Lexus's more than 78, according to company data and research firm Grant Thornton.
"You can't make it on that; it's just impossible," said Jack Kain, a Ford and Lincoln dealer in London, Kentucky. "Ford has got to do something."
The second-largest U.S. automaker says it is. Chief Executive Officer Alan Mulally has sold off the Volvo, Aston Martin, Jaguar and Land Rover brands and is focusing on Lincoln, now Ford's only luxury line, to get a bigger slice of the more-profitable premium-car market. The company is attempting to attract younger buyers to Lincoln with redesigned models like the MKX sport-utility vehicle and touch-screen technology to operate phone, stereo and climate controls.
'Major Investment'
After peaking at 231,660 vehicles in 1990, Lincoln's U.S. sales fell to 82,847 last year. While sales have edged up 4.7 percent this year, those of General Motors Co.'s Cadillac have surged 50 percent. Total U.S. sales of luxury models are up 15 percent, according to J.D. Power & Associates.
"We're going to make a major investment in Lincoln over the next four years with seven new or significantly refreshed products," Mark Fields, Ford's president of the Americas, told auto analysts in Southfield, Michigan, yesterday. "Our approach is to enhance and expand Lincoln here in the U.S. and then we can think about maybe looking at global opportunities."
Ford rose 25 cents, or 2 percent, to $12.56 at 4:15 p.m. in composite trading on the New York Stock Exchange. The shares have risen 26 percent this year.
Shedding Dealers
Ford also is slashing dealerships, attempting to cut its U.S. dealer base in half to about 3,000 to reflect a market share that has dropped to 17 percent from 25 percent in the late 1990s, said Jim Farley, the automaker's marketing chief.
The retrenching means the company will buy out many Lincoln outlets or pair them with Ford dealers, whose sales have risen 20 percent this year, said Stephen Amabile, a Ford and Lincoln dealer in Springfield, Pennsylvania. That would buttress dealers' finances in the short run.
"I don't see how a stand-alone dealer can sell six cars a month and stay in business," Amabile said. "We'd be disappointed if we didn't sell that many in a day."
The Oct. 4 meeting with Ford may be bad news for some Lincoln dealers as the automaker lays out its higher expectations for the brand after the Mercury line disappears from their showrooms, said Bob Tasca Jr., head of the Lincoln-Mercury dealer council.
"After that meeting, dealers are going to have to decide if they can make it without Mercury," said Tasca, who owns Lincoln-Mercury and Ford showrooms in Rhode Island and Massachusetts. "Dealers will have to decide if it's a good business case making the extra investment" in Lincoln.
Similar Models
Selling the two surviving brands together may end up hurting Lincoln as consumers compare the models and find the Ford a thrifty alternative, said Paul Melville, a Grant Thornton auto-retailing analyst in Southfield, Michigan. The Lincoln MKS and Ford Taurus, built in the same Chicago factory, share a mechanical foundation and many amenities.
"Ford needs to be careful about getting Lincoln too tied to Ford dealerships," Melville said. "Lincoln is starting to do a better job of distinguishing itself, but it's going to take a lot of money and hard effort to get it to be a true luxury brand."
7 Models
A new Lincoln small car is among the seven new or improved models Ford has said are coming from Lincoln by 2014. The Dearborn, Michigan-based automaker has overhauled Lincoln's design theme to outfit models with prominent, split-bow grilles. It also is dedicating engineering and marketing staff to Lincoln, rather than having the brand share personnel with Ford.
"I don't see a whole lot of new customers coming to the Lincoln brand in the next 12 months or so," said Amabile, the Pennsylvania dealer. "Until we have an entry-level SUV and the small car, I don't see any large increases."
Ford wants to upgrade the buying experience to emulate Bayerische Motoren Werke AG, Lexus and Daimler AG's Mercedes-Benz. At the dealer meeting, Ford will ask the Lincoln dealers to renovate showrooms and improve customer service, said Christian Bokich, a company spokesman.
"Our goal is to set up our dealers so they can succeed wildly and also can treat our customers well," he said. "Dealers will decide if they're interested in providing the next level of experience. It will be a question of the market as to whether certain dealers will decide to stay with us."
Costly Upgrades
Amabile said it cost more than $1 million to upgrade his combined Ford and Lincoln showroom in 2008. He estimates the renovations Ford is seeking will cost dealers $500,000 to $2 million.
Lincoln's 264 stand-alone dealers -- those who don't also have a Ford showroom -- will find it hardest to afford additional investments in renovations and training, said Jeff Schuster, an auto analyst with J.D. Power & Associates in Troy, Michigan.
"Dealers will feel like, 'At the same time you've cut my volume in half, you're asking me to invest'," Schuster said. "I can see some push-back happening."
At 1,187 dealers, Lincoln has more than five times more showrooms than Lexus, which has 230, Grant Thornton's Melville said. Lexus sold 145,490 cars and trucks this year through August, almost tripling Lincoln's 55,776 vehicles sold.
"That's probably not a sustainable level of sales per dealer with the loss of Mercury," Schuster said. "Ford does have plans to expand and grow the Lincoln brand. But that's not something that happens overnight, and dealers have bills to pay."
Before it's here, it's on the Bloomberg Terminal.
LEARN MORE