Gulliver's Promotion at HSBC Marks Ascent of Investment Bankers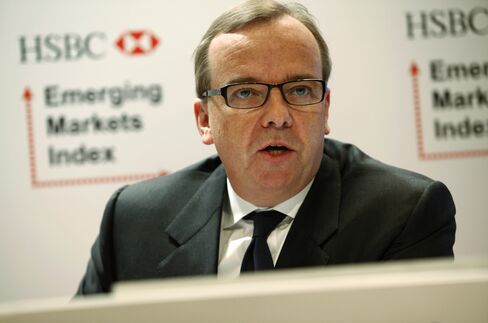 Stuart Gulliver's appointment as chief executive officer of HSBC Holdings Plc, Europe's biggest lender, leaves investment bankers holding six of the top eight positions at Britain's biggest banks.
Gulliver, who has led HSBC's investment bank since 2006, will replace Michael Geoghegan as CEO at the end of the year, a person familiar with the matter said. He joins fellow investment bankers Robert Diamond, the newly appointed CEO at Barclays Plc, Barclays Chairman Marcus Agius, Royal Bank of Scotland Group Plc CEO Stephen Hester, RBS Chairman Philip Hampton and Lloyds Chairman Win Bischoff.
"The sad reality is that if you have grown up in retail banking you don't know about derivatives and convertibles," said Simon Maughan, a banking analyst at MF Global in London, who has a "neutral" recommendation on HSBC. "The risk is that the investment banker comes with a very different time horizon, a different profile, and of course a very different remuneration expectation which distorts the nature of the bank."
Total investment banking losses were five times higher at RBS, Lloyds and Barclays than at their consumer units between 2008 and the first six months of 2010, according to Bruce Packard, a London-based bank analyst at Seymour Pierce. Investment bankers have been attacked by politicians and the public for causing the financial crisis.
'Spivs and Gamblers'
Business Secretary Vince Cable attacked bankers in a speech to party workers this week, describing them as "spivs and gamblers." A British government-commissioned enquiry began collecting evidence today as it investigates whether to force lenders to separate their commercial and investment banks.
"The appointment of investment bankers as CEOs of the large banks makes perfect sense," said Tom Kirchmaier, a fellow at the London School of Economics. "This is where the profits and the risks are generated, as the investment banks became the most important business units of many, if not most, of the very large banks. To appoint the CEO out of this area is a logical consequence," he said.
Revenue at Gulliver's global corporate, investment banking and markets division almost doubled to $21.9 billion last year from $11.5 billion in 2005, making it HSBC's fastest-growing division, according to data compiled by Bloomberg. Diamond's Barclays Capital accounted for two-thirds of the lender's pretax profit in the first half of this year.
Europe's universal banks such as Deutsche Bank AG, UBS AG and Credit Suisse Group AG are led by investment bankers. In the U.S., JPMorgan Chase & Co. is run by a former consumer banker, Bank of America Corp. is run by a lawyer by training, while Goldman Sachs Group Inc. and Citigroup Inc. are run by former traders.
'Complex Experience'
"It's a sign of the times," said Jason Kennedy, chief executive officer of Kennedy Group, a London-based executive search firm. "With complex products, you need people who have complex experience."
Douglas Flint, the finance director of HSBC, will become chairman, according to the person familiar with the situation. He will be the only chairman of the U.K.'s four largest banks who hasn't been an investment banker.
The rise of investment bankers at U.K. lenders marks a change from an earlier generation. Brian Pitman, who as CEO and chairman transformed Lloyds into Britain's most profitable lender during the 1990s, said he wouldn't touch investment banking "with a barge pole" because it involved risky businesses with dangers that outweighed the rewards.
Martin Taylor, CEO of Barclays from 1994 to 1998, sold Barclays de Zoete Wedd's money-losing European equities and corporate finance units.
"The investment banking activities of a universal bank were at all times parasitic on the retail bank balance sheet," Taylor said at a hearing of the U.K. government's Future of Banking Commission in March. "I wouldn't change that view now."
Before it's here, it's on the Bloomberg Terminal.
LEARN MORE