Blockbuster Chief Will Evaluate 'Every Single Store'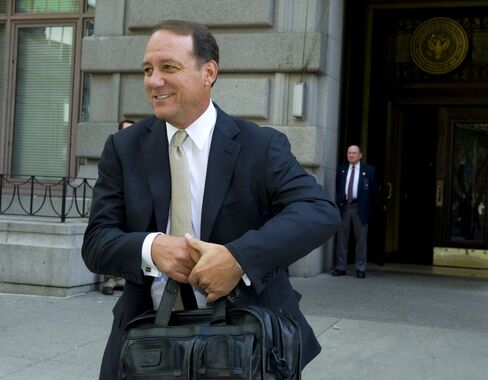 Blockbuster Inc. Chief Executive Officer James Keyes said he will evaluate "every single store" in the video-rental chain as it reorganizes to compete with competitors that provide movies online and by mail.
The 25-year-old company filed for bankruptcy yesterday in New York after losing sales to Netflix Inc.'s Web and mail-order movie service and Coinstar Inc.'s Redbox DVD rental kiosks. Revenue dropped 20 percent to $4.06 billion last year, when Dallas-based Blockbuster reported a $558.2 million net loss.
As of Aug. 29, Blockbuster had about 5,600 stores worldwide, including 3,300 in the U.S., according to court papers. Michael Pachter, an analyst at Wedbush Morgan Securities in Los Angeles, said the company may have to cut U.S. locations to about 2,000 to increase annual sales per store to at least $1 million. In 2002, that figure stood at $1.1 million, he said.
"No one can predict what the market will look like for them going forward as Netflix and Redbox continue to take market share, so they are shooting in the dark," Pachter said. The company will also face pressure to cut stores from "a new class of shareholder wanting to see cash increasing in a hurry," he said.
In the past two years, Blockbuster has closed 1,061 U.S. company-operated stores, according to a court document. All its U.S. operations, including stores, DVD vending kiosks, mail and digital, will continue to operate normally, the company said.
Every Store
"We'll literally be evaluating every single store," Keyes, 55, said yesterday after a bankruptcy hearing in Manhattan.
The company is likely to close more than 500 stores and will seek ways to reduce lease costs on hundreds of others, a person with knowledge of the plans said. The actual number of stores is still being worked out, said the person, who declined to be identified because the deliberations are private and subject to court approval. The Wall Street Journal reported the store closings earlier.
"We've never said how many are going to close because we don't know," said Patty Sullivan, a spokeswoman for Blockbuster.
Movie Gallery
Movie Gallery Inc., which once had as many as 4,800 locations, filed for bankruptcy in 2007 and closed more than 1,700 stores. After reorganizing, the chain closed another 715, before filing a second bankruptcy in February and liquidating.
In 2009, Blockbuster reached a deal with NCR Corp. for DVD vending kiosks. Duluth, Georgia-based NCR owns, operates and maintains the kiosks and pays royalties to Blockbuster. Blockbuster said in a court filing that the agreement lets it compete with Redbox without the startup costs.
As of Sept. 19, there were about 6,600 Blockbuster kiosks throughout the U.S. That business will continue to operate, NCR said yesterday in a statement.
Blockbuster has a marketing partnership with Comcast Corp., the biggest U.S. cable-television provider, in which subscribers are offered Blockbuster's by-mail services through a website.
The company also negotiated agreements with consumer-electronics makers, including Samsung Electronics Co. and Toshiba Corp. to deliver movies to customers with Internet- connected TVs and Blu-ray players through a partnership with Sonic Solutions. Blockbuster also has an accord with Motorola Inc. to embed its digital applications in mobile phones.
"We've already transformed the business model," Keyes said yesterday.
Older, Affluent Shoppers
As the company continues to lose business to online and mail-order rivals, its customers will increasingly be older, affluent shoppers who aren't as technologically savvy, said Pachter, the Wedbush analyst.
"What Blockbuster offers is a fairly high-priced product, but you can get what you want immediately and the selection is extensive," Pachter said.
Blockbuster dropped 22 percent to 4.3 cents yesterday in over-the-counter trading and has plunged 94 percent this year.
Netflix rose $3.54, or 2.3 percent, to $160.47 yesterday on the Nasdaq Stock Market. Revenue at the Los Gatos, California-based company climbed 22 percent last year to $1.67 billion. Bellevue, Washington-based Coinstar, which had about 22,400 DVD kiosks as of Dec. 31, jumped 2.6 percent to $40.53 on the Nasdaq.
Debt, Equity
Under the proposed reorganization plan, there will be no recovery by the holders of the company's outstanding subordinated debt, preferred stock or common stock, Blockbuster said in a statement. Senior bondholders will swap their debt for equity in the reorganized company.
"Blockbuster seeks a restructuring that permits a significant de-leveraging of its business so that it can move forward at the digital clip at which its industry and competitors are currently running," Jeffery Stegenga, the company's restructuring officer, said in a court filing.
In court papers, the company listed assets of $1.02 billion against debt of $1.46 billion. The Chapter 11 filing "provides the optimal path for recapitalizing our balance sheet and positioning Blockbuster for the future, as we continue to transform our business model to meet the evolving preferences of our customers," Keyes said in a statement yesterday.
The case is In re Blockbuster, 10-14997, U.S. Bankruptcy Court, Southern District of New York.
Before it's here, it's on the Bloomberg Terminal.
LEARN MORE