Verizon to Move to Tiered Prices, Would 'Love' IPhone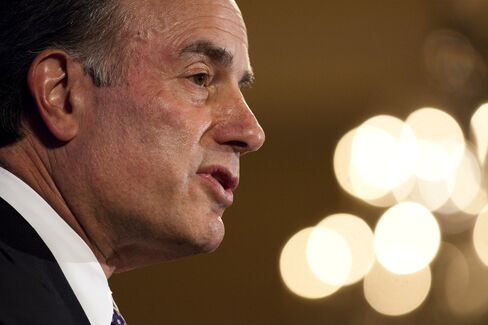 Verizon Wireless, the largest U.S. mobile carrier, will introduce tiered pricing in the next four to six months to take advantage of the growth in data traffic as it rolls out its faster, fourth-generation network.
The company will add in the new pricing as it rolls out new services, Verizon Communications Inc. Chief Executive Officer Ivan Seidenberg said at a Goldman Sachs Group Inc. conference in New York today.
Verizon's 4G network, which uses long-term evolution technology, has been set up in 30 markets, including 50 airports, since June, Seidenberg said. The Basking Ridge, New Jersey-based wireless company will make the service available to customers this year.
"We're going to feather in our pricing over the next couple of months as we introduce new products, new services and try to get that value proposition to fit the added excitement and added capabilities that we're going to offer," Seidenberg said.
Tiered plans typically give users a wider array of price options for different network usage and eliminate unlimited packages. Dallas-based AT&T Inc., the second-largest mobile carrier, introduced tiered plans this year for its 3G network.
Transition to 4G
Seidenberg said that the widespread availability of the Verizon's LTE network will encourage smartphone companies, including iPhone-maker Apple Inc., to build 4G devices. LTE will make it easier and faster for customers to download high-definition videos, watch live television and upload pictures to the Web.
AT&T, which has exclusive rights to sell the iPhone in the U.S., has said it is moving to LTE next year. Seidenberg didn't say when Verizon will start offering the iPhone.
"We're running our business to make ourselves the destination for all of the key tablets and devices," Seidenberg said. "Hopefully at some point, you know, Apple will get with the program."
Verizon will start selling the iPhone next year, two people familiar with the plans said in June.
"We don't feel like we have an iPhone deficit," Seidenberg said today. "We would love to carry it when we get there, but we have to earn it."
Verizon Communications, which co-owns Verizon Wireless with Vodafone Group Plc, dropped 22 cents to $32.17 in New York Stock Exchange composite trading at 4 p.m. The New York-based company's shares have gained 3.9 percent this year.