Facebook CEO Plans to Donate $100 Million to Newark's Schools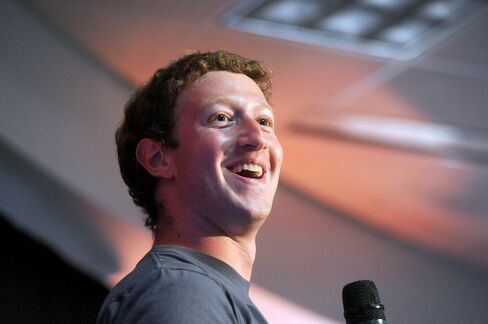 Facebook Inc. Chief Executive Officer Mark Zuckerberg will donate $100 million to assist schools in Newark, New Jersey's largest city, an education advocate said.
Derrell Bradford, executive director of Excellent Education for Everyone, said yesterday the money will help give teachers merit pay and expand charter schools. He said he learned about the gift from the office of Governor Chris Christie. A person within Christie's administration confirmed the gift. The person declined to be identified before a planned announcement today on the Oprah Winfrey show.
Zuckerberg, 26, chose Newark because of the persuasive powers of Mayor Cory Booker, Bradford said. Booker, a 41-year-old Democrat, is a co-founder of Excellent Education for Everyone.
"The mayor is a magician," Bradford said. "This experiment is as high a stakes experiment in school reform as you can do. If they're not successful, it might never happen again."
The district, with about 39,000 students, has been under state control since 1995. Christie will give Booker a larger role in running the schools, and the mayor will also get a major say in picking a new superintendent, the New York Times reported.
Living in Poverty
About 1 in 4 residents of Newark, a city of about 280,000, live in poverty, according to the U.S. Census Bureau. Booker has proposed firing as many as 350 police and firefighters and another 600 city employees in the face of a deficit of as much as $83 million. The city's annual education budget is about $940 million, according to the school district website.
Of the 164 chronically failing public schools in New Jersey, 38 are in Newark, Bradford said. Excellent Education for Everyone defines such schools as those where 40 percent or more of the students fail state math and language tests for two years, or 65 percent fail either test.
Booker didn't respond to a phone call seeking comment. He will appear with Christie and Zuckerberg on the show tomorrow afternoon, according to the mayor's public schedule.
Larry Yu, spokesman for Palo Alto, California-based Facebook, declined to comment. The company owns the world's largest social network.
'Economic Distress'
"Any time government or a public entity gets a philanthropic donation like this, it's something that right now in this economic distress you'd have to welcome," said Senator Teresa Ruiz, a Democrat from Newark who chairs the Senate Education Committee, at a hearing yesterday in Trenton.
Newark may be able to extend the class day or the school year, bolster enrichment programs or fund other initiatives, she said.
Zuckerberg is tied for No. 35 on the 2010 list of the 400 wealthiest Americans, according to Forbes magazine's ranking. His wealth jumped 245 percent to $6.9 billion, the largest percentage increase on the annual list, the magazine said.
A former resident of Dobbs Ferry, New York, he started Facebook in 2004 in his Harvard University dorm room. The service has grown to more than 500 million members and is valued at $26.3 billion on SharesPost Inc., a marketplace for closely held companies.
The gift was reported earlier by newspapers including the New York Times, the Wall Street Journal and the Star-Ledger of Newark.
Christie, 48, a Republican who took office in January, made his first appearance following his November defeat of Democrat Jon Corzine at a Newark charter school. He has called for using student performance in determining teacher salaries.
Before it's here, it's on the Bloomberg Terminal.
LEARN MORE