Coal From South Africa Seen Rebounding on India: Energy Markets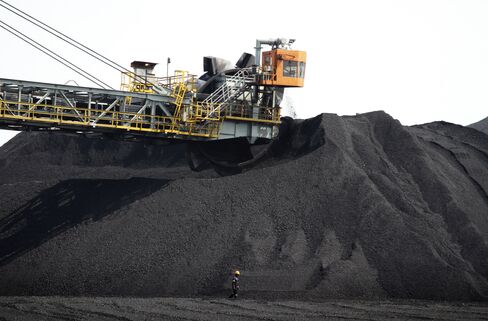 Coal prices from South Africa are poised to reverse a four-month decline and may rise to a near a two-year high as sales surge to India and China, the world's fastest-growing major economies.
Prices at Richards Bay, the world's second-biggest export harbor for the power-station fuel, may climb more than 12 percent to $95 a metric ton this winter, according to a survey of six traders and analysts in India, South Africa's biggest customer for the fuel. Coal from the east coast port was at $84.80 in the week ended Sept. 17, and has averaged $87.71 this year, according to IHS McCloskey data.
India's thermal coal imports surged 16 percent in the year ended March as the country's near double-digit growth boosted demand for electricity. China, which passed Japan as the world's second-biggest economy in the three months to June, turned to a net importer of coal last year. South African exporters are benefiting, with shipments to India rising 14 percent in the year to August and jumping 10-fold to China.
"India will be importing in a big way and we expect a rise in demand from the Pacific area, which includes Japan, Korea and China," said T.K. Chatterjee, procurement manager at NTPC Ltd., Asia's second-largest power producer. "This will lead to an increase in prices."
South Africa accounts for about 30 percent of India's thermal coal imports, according to coal ministry data. Shipments in the first eight months of this year increased to 13.3 million tons, while China's purchases surged to 4.7 million tons, according to mjunction Services Ltd., a Kolkata-based trader backed by Tata Steel Ltd. and Steel Authority of India Ltd., two of the country's three biggest coking-coal consumers.
Monsoon Ends
"We expect Richards Bay prices to pick up over the next few months as the monsoon season in India comes to an end and we see them return to the market," said Amrita Sen, a London-based analyst at Barclays Capital. "Underlying Indian demand for coal remains extremely strong as India continues to industrialize, reflected in its rising power generation." Prices at Richards Bay may average $90 a ton this year and $92 in 2011, she said.
Richards Bay prices are below those from competitors in Asia. Coal from Australia's Newcastle port, a benchmark for Asia, averaged $96.02 this year and was at $94.70 for the week ended Sept. 17. Indonesian prices may rise to $100 a ton by the end of this year because of bad weather, which has disrupted mining, Bob Kamandanu, chairman of the Indonesian Coal Mining Association, said at a conference in Jakarta Sept. 21.
Indonesia's reference price for fuel with a gross energy value of 6,322 kilocalories a kilogram was $90.05 a ton for September, the Directorate General of Coal, Minerals and Geothermal said on its website.
China Prices
Domestic prices in China have gained over the past 18 months, as the world's biggest producer and consumer shut small mines to improve safety standards. Coal prices at Qinhuangdao port, a benchmark for China, rose as high as $122 a ton in February and were at $111.45 for the week ended Sept. 17, about 31 percent higher than Richards Bay, according to IHS McCloskey.
India's thermal coal imports rose to 44 million tons for the year ending March 2010 from 38 million a year earlier, according to data from India's coal ministry. Purchases from overseas may climb to 72 million tons in 2011, according to Tata Power Co., which is setting up a coal-fired power plant with a capacity of 4,000 megawatts.
India's economy will expand 9.4 percent in 2010 and 8.4 percent next year, the International Monetary Fund said July 7. China's economy, which surpassed Japan's as the world's second-largest in the quarter ending June 30, will grow 10.5 percent this year and 9.6 percent in 2011, according to the IMF.
European Demand
In addition to India and China, "European demand will pick up by the end of the year as winter intensifies," said Rahul Bhandare, chairman of New Delhi-based Knowledge Infrastructure Systems Ltd., a coal trader, which imports South African grades.
Not all analysts agree that coal is heading higher. There will be less demand from Europe in the second half of the year because most countries have coal stocks, and excluding Germany, no country has spoken about importing coal, said a trader at Adani Enterprises Ltd., India's biggest coal importer, who declined to be named because he isn't authorized to speak to the media.
Indian companies will have increased orders for coal by year end, and as Indonesia is saturated any excess demand from India will have to be met from South Africa, pushing prices higher, said a trader from MMTC Ltd., India's biggest trading company, declining to be named because of company policy.
Freight Rates
Transport bottlenecks and monsoon rains reduced imports by 14 percent in the April to July period from a year earlier, according to data by the Indian Ports Association.
Lower freight rates have enticed India back into the market after being absent during the monsoon season, Australia & New Zealand Banking Group Ltd. said in a note e-mailed today.
NTPC, India's operator of coal-fired plants, plans to buy as much as 27 million tons of the commodity by 2013 to help fuel a doubling in its capacity to 75,000 megawatts by 2017, according to the company's purchase plans.
South Africa, the world's fifth-largest coal producer, is selling more to Asia than to Europe for the first time, according to mjunction. Purchases by Asia in the first eight months totaled 29 million tons as Asian economies rebounded while Europe brought in 5.8 million tons, mjunction said.
Before it's here, it's on the Bloomberg Terminal.
LEARN MORE