Takeda's Hasegawa Targets 10-Fold Jump in China Sales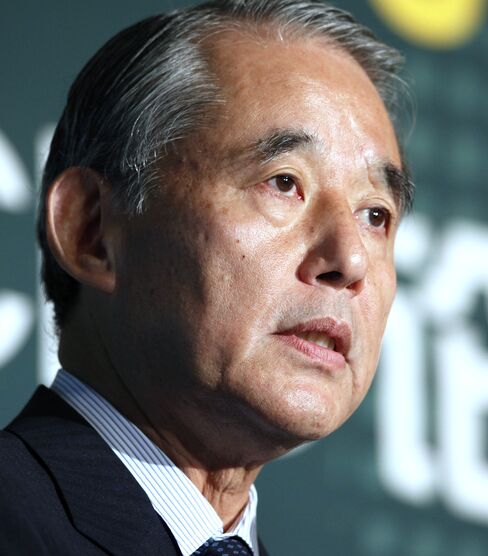 Sept. 22 (Bloomberg) -- Takeda Pharmaceutical Co., Asia's largest drugmaker, is seeking a 10-fold revenue gain in China within five years after hiring a top executive to stem an exodus of sales employees there, President Yasuchika Hasegawa said.
The maker of Actos, the world's best-selling diabetes drug, has struggled to increase annual revenue in China to more than $40 million because 50 percent to 60 percent of its local sales force was leaving each year, Hasegawa said in an interview today. The average attrition rate among other companies in China is about 10 percent to 20 percent, he said.
"We missed the boat several times in China," Hasegawa, 64, said. "We are trying to catch the last boat."
Hasegawa said a new general manager of its Beijing-based unit will start this year, after Haruhiko Hirate, a former top executive at Merck & Co. in Japan, was appointed head of Asian operations in July, to improve leadership in China. London-based Datamonitor Plc said China's drug sales reached $22.9 billion in 2009 and have risen about 23 percent annually since 2005, a pace that Hasegawa says may continue for four to five more years.
"We already have very promising compounds on the market," Hasegawa said. "Those have big potential but because of the poor management that ended up causing high turnover in the sales organization, we couldn't maximize those products' opportunity in China."
Takeda was unchanged at 4,020 yen at the 3 p.m. close of Tokyo trading, compared with a 0.4 percent decline for Japan's Topix index. The stock, the seventh-largest on the benchmark, is less than half its peak of 8,350 yen reached in June 2007.
Medicine Wholesaler
The drugmaker, founded in 1781 as a wholesaler of traditional Japanese and Chinese medicines, entered China in 1994 through a 75 percent stake in a venture with Tianjin Lisheng Pharmaceutical Co. Lisheng plans to sell its 25 percent share of the venture and list the assets for sale on the Tianjin Property Rights Exchange, and Takeda will join the bid, the companies said in August.
Takeda's joint venture in China has a sales force of about 170, compared with 3,000 for Pfizer Inc., Toshiyuki Ikeuchi, a spokesman at the Japanese company, said in December.
Sales at Pfizer, the largest foreign drugmaker in China, reached almost $500 million in the country in the second quarter, the New York-based company said on Aug. 3. Takeda and Pfizer said in December they will co-promote Actos in China.
Relationship With Doctors
"Having a lot of salespeople turn over, it makes it harder to develop the relationships with physicians that you need to get the products up and running," said Philip Hall, a health-care analyst at BNP Paribas Securities (Japan) Ltd. in Tokyo. "Once the brand is big, they sell themselves."
Hasegawa said the company is also targeting India, Russia and Australia for growth, accelerating the development of experimental medicines, and scouting for acquisitions to cope with its first revenue decline in almost two decades.
Takeda has about $5 billion available for acquisitions and "could easily borrow $10 billion," he said, declining to specify whether he is close to announcing a deal.
The company's sales in China are less than 1 percent of group revenue of 1.47 trillion yen ($17 billion) for the year ended March 31.
"I don't think anybody would dispute China is an area for future growth, but it's clearly going to be some time before it reaches a size where it's meaningful," said BNP Paribas' Hall, who has a "reduce" rating on Takeda. "These guys need billion-dollar profits to move the needle."
Falling Profit
Takeda has predicted net income will fall to 220 billion yen in the 12 months to March 2011 and decline to 200 billion yen in the fiscal year ending March 2013, a 12-year low, as competition from cheaper, generic copies of Actos erode profit.
Hasegawa said he expects to announce Takeda's strategy for India -- a country he's yet to visit -- within a few months. The company may enter the high-volume generic-drug business to bolster cash flow, he said.
"In emerging markets, including India, it may make good sense to have a generics business," Hasegawa said. "We may be able to use that capability to tap other emerging countries."
Therapies for ailments of the central nervous system, such as Alzheimer's disease and Parkinson's disease, are Takeda's primary target for drug development, Hasegawa said. The company is also pursuing treatments for cancer and metabolic conditions, such as obesity.
To contact the reporters on this story: Kanoko Matsuyama in Tokyo at kmatsuyama2@bloomberg.net; Jason Gale in Singapore at j.gale@bloomberg.net.
To contact the editor responsible for this story: Jason Gale at j.gale@bloomberg.net.