Name Your Price for Dinner With Ramsay: Food Buzz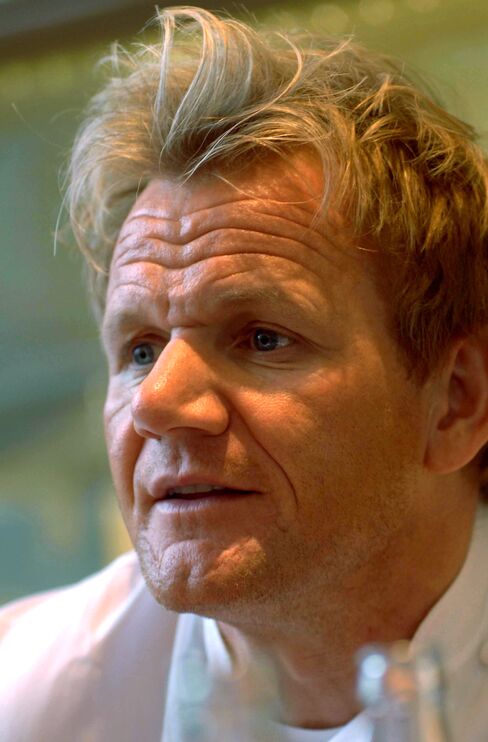 Bids for a dinner prepared by Gordon Ramsay for guests aboard the London Eye on Oct. 8 have reached only 7,400 pounds ($11,500), according to the London Restaurant Festival website. The television chef raised 23,000 pounds to help fight poverty in London at a similar charity event last October.
Bidding for the meal, served a course at a time as the wheel revolves, was scheduled to close on Sept. 8 and has been extended again through Sept. 26. If you have no fear of being shouted at in a confined space, you have another day to name your price to Katie.mann@londonrestaurantfestival.com. Evenings with chefs Richard Corrigan (Oct. 4) and Joel Antunes (Oct. 18) are also still available, according to the organizers.
Ferran Adria will be in London on Sunday, Oct. 24, at the Royal Geographical Society. The El Bulli chef will be reflecting on his career with Colman Andrews, the author of the new book "Reinventing Food, Ferran Adria: the Man Who Changed the Way We Eat" (Phaidon). There will be a book signing after the talk. Tickets are 24 pounds from http://bit.ly/ajnfot. One small word of advice: Please don't ask about getting a table at El Bulli. He doesn't generally welcome such inquiries.
Terroirs, the wine bar and bistro that is packing in the punters off Trafalgar Square, is to have a baby brother in East London. Brawn -- as in potted pig's head -- is scheduled to open in November in a former furniture-making warehouse at 49 Columbia Road. The head chef will be Owen Kenworthy, from Terroirs, and the venue is expected to seat 70 over two rooms and on stools at the bar.
Bar Battu, a new natural wine bar and bistro in the City, is offering 50 percent off food until Oct. 1. The venue, on two floors near the Guildhall, is the brainchild of Simon Binder, the owner of Luc's Brasserie. The menu consists of bar snacks, charcuterie, small plates such as steak tartare and about four mains, currently including bavette, shallot and bone marrow.
D&D London Ltd., the company that owns Coq d'Argent and other popular restaurants, says City diners are returning to the table after a squeeze on expenses and corporate hospitality held back earnings last year. Like-for-like sales rose 6 percent in the five months to August. All outlets in the financial district are trading better than last year and the Royal Exchange is up 15 percent. In addition to building a hotel in South Place, D&D is looking at bidding for the restaurant atop the Heron Tower and is expected to announce a new venue in an East India warehouse off Devonshire Square. Chief Executive Des Gunewardena would only say that more projects are "bubbling under."
Bompas & Parr, purveyors of towering jellies and other culinary treats, has produced a line of meat jewelry. "These solid silver skewers can be used to truss quail or to garnish pigs' heads, but equally as elegant brooches or hair accessories," Sam Bompas said in an e-mail. They are what the world has been waiting for. While this may be a triumph of gluttony over lust, Lady Gaga's meat dress just made me feel hungry.
Two of Sydney's leading chefs, Peter Gilmore of Quay and Mark Best of Marque, cooked a fabulous lunch for food writers at the Ledbury on Sept. 17. Neither has immediate plans to open a London restaurant, so you probably won't want to read too much about a multicourse meal that included butter-roasted partridge breast with chestnuts, truffle, bitter chocolate black pudding, milk skin and walnuts. I would recommend Gilmore's book "Quay," (Murdoch Books) and here's a tip. The lunch was attended by chef Bill Granger, a celebrity in Australia. He's looking to open a restaurant in London. Having met him, and also watched him on "Saturday Kitchen," I predict great things for him in the U.K.
Fans of a fine dram may be in for a treat at the Whisky Show, at the Brewery, on Chiswell Street. Tickets costs 95 pounds and include the chance to sample any of the 200 varieties on show. You also get one tasting of an ultra premium, meaning a whisky that is aged as long as 62 years or is up to 3,500 pounds in value. Information: http://www.thewhiskyshow.com/2010/.
The Roundhouse plans to open a new restaurant and bar next month. It will be called Made in Camden, which sounds like an Amy Winehouse adventure. The singer may be pleased to hear that the bar will be the only local venue to stock of all of Camden Town Brewery's beers, while Bibendum will supply the wines. Chef Josh Katz promises dishes with light, seasonal ingredients. I'd like to meet the chef who promises heavy, unseasonal grub.
Geales, a posh fish-and-chip shop in Chelsea, opened with a party last week on the site of Tom's Place, which closed when chef Tom Aikens's business there failed. Guests were served Champagne cocktails, the perfect accompaniment for chips.
Booking starts on Sept. 27 for the Covent Garden branch of Hawksmoor, which opens on Nov. 1. The number will be +44-20-7856-2154: Don't call before Monday unless you would like a conversation with a plasterer or someone fixing the phone. There may be a soft opening for those who sign up via the website http://www.thehawksmoor.co.uk/index.asp, where you will also see a raffle for Action Against Hunger with the prize of free monthly meals for a year.
Chef Shane Osborn of Pied a Terre made the canapes and donned military attire for a Blitz party to promote the Rare Tea Co.'s Royal Air Force Tea at the disused Aldwych Underground station. Guests included a Battle of Britain veteran and the menu featured corned beef.
(Richard Vines is the chief food critic for Muse, the arts and leisure section of Bloomberg News. Opinions expressed are his own.)
Before it's here, it's on the Bloomberg Terminal.
LEARN MORE