Lufthansa Names Franz CEO, Buys $4.7 Billion Jets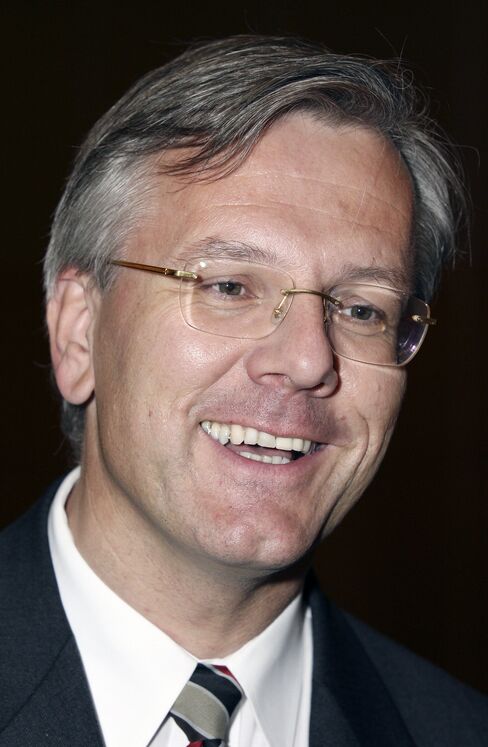 Deutsche Lufthansa AG, Europe's second-largest carrier, named Christoph Franz to succeed Wolfgang Mayrhuber as chief executive officer and announced jet orders valued at 3.5 billion euros ($4.7 billion).
Franz, 50, will take over on Jan. 1, the Cologne, Germany- based airline said in a statement today. Carsten Spohr, 43, who has run the cargo unit since 2007, will succeed Franz as head of the Lufthansa brand passenger unit.
The CEO of Swiss International Air Lines from 2004 to 2009, Franz made the carrier profitable after it was taken over by Lufthansa by cutting costs. He initiated a program to reduce annual expenses by 1 billion euros by the end of 2011 at the Lufthansa brand. That track record may help Lufthansa turn around the Austrian Airlines and BMI units it bought last year.
"He works very solidly and turned Swiss around when it was in difficulty," said Bjorn Naf, an ex-CEO at Gulf Air who worked at Swiss between 2000 and 2004 before Franz joined. "Swiss was a much smaller company than Lufthansa, so he may find it difficult dealing with the political aspect of the airline. There will be a lot more restrictions in Lufthansa and the job will be more about the network he will have to work within."
BMI, Austrian
Lufthansa's shares fell from a two-year high, dropping 1.9 percent to 13.40 euros at the 5:30 p.m. close of trading in Frankfurt. That pared the stock's gains this year to 14 percent and valued the company at 6.1 billion euros.
"We view the appointment of Christoph Franz as the continuation of the air carrier's strategic positioning in Europe and around the world," said Donald Reed, who manages about $1.4 billion at Franklin Templeton Investments in Toronto.
The supervisory board today also approved an order for 48 planes. The aircraft include eight Airbus SAS A330 wide-bodies for long-haul flights. The single-aisle contracts are for two A321s, 22 A320s, eight A319s and eight Empresa Brasileira de Aeronautica SA E-195 regional jets.
The aircraft will be delivered beginning in 2012 and financed from cash or "external financing," Lufthansa said.
Mayrhuber, who took charge of Lufthansa in 2003, oversaw the takeovers of Swiss, BMI, Austrian and Brussels Airlines. It isn't immediately clear yet what the 63-year-old plans to do after stepping down.
Engineering Background
Franz studied industrial engineering in Germany, France and the U.S. He helped former CEO and current chairman Juergen Weber cope with a slump in demand following the 1991 Iraq War. He also worked at Deutsche Bahn AG for nine years, eventually leading the state-owned railway's passenger business.
His contact will run until May 31, 2014, Lufthansa said.
In an interview with the carrier's employee newsletter published last week, Franz said that he is aiming for an 8 percent operating margin for the Lufthansa brand passenger division. The unit had an operating loss of 203 million euros in the first half, bringing the group to an operating loss of 171 million euros.
Revenue was hurt in the period by cold winter weather, a strike by pilots and an ash cloud from an Iceland volcano that shut down European air traffic during April.
Lufthansa more than doubled its net income in the three months through June to 194 million euros. British Airways Plc had a 122 million-pound ($191 million) loss, while Air France-KLM Group, Europe's largest airline by traffic, reported an operating loss of 142 million euros from its passenger business.
Fares Rebound
Demand for Lufthansa's passenger and cargo transport have bounced back after the economic crisis. Average fares are almost back to 2008 levels except on short-haul routes, and the cargo division is raising prices for the second time this year starting Oct. 1 after a slump in the previous year
"Through his work at Swiss, he has proven that he can bring an airline onto the right path," said Uwe Weinreich, an analyst at Unicredit in Munich with a "hold" recommendation on the shares. "Lufthansa is a different story in terms of size, but I'm sure he can do it."
The carrier agreed on pay freezes with its pilots and ground staff this year. It is negotiating with cabin crews, and the UFO union has said it may call for walkouts should talks fail to result in an agreement.
Karl Ulrich Garnadt, 53, was proposed to succeed Spohr as head of the cargo division, the airline said. Garnadt is currently chief of hub management and passenger services at Lufthansa's passenger unit.
Before it's here, it's on the Bloomberg Terminal.
LEARN MORE