Gold Jumps to Record as Fed Policy Statement Drives Dollar Down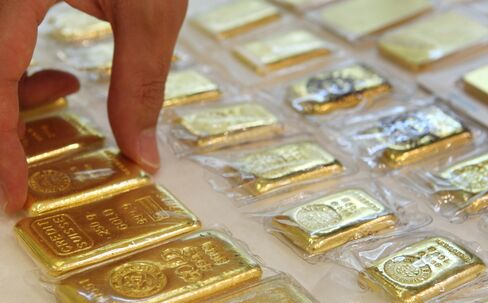 Gold futures climbed to a record $1,298 an ounce after the Federal Reserve said it was willing to ease monetary policy further to boost the U.S. economy, triggering a slump in the dollar.
The metal surged to an all-time high for the fifth straight session. The greenback declined to a six-month low against a basket of major currencies. The Fed signaled yesterday it may expand its near-record $2.3 trillion balance sheet as soon as November. Silver rose to the highest closing price since 1980.
"People are finally starting to understand that quantitative easing will devalue the currency," said Gijsbert Groenewegen, a partner at Gold Arrow Capital Management in New York. "That's why they're shifting into gold and silver."
Gold futures for December delivery rose $17.80, or 1.4 percent, to settle at $1,292.10 at 1:40 p.m. on the Comex in New York. The metal has gained 18 percent this year.
The Fed has kept its benchmark interest rate at zero percent to 0.25 percent and purchased mortgage-backed securities and Treasuries to help bolster the economy. Yesterday, policy makers said in a statement they are "prepared to provide additional accommodation if needed to support the economic recovery and to return inflation, over time, to levels consistent with its mandate."
'Green Light'
"The Fed has given the greenest of green lights to the gold market," said Dennis Gartman, an economist and the editor of the Suffolk, Virginia-based Gartman Letter. "Parabolic strength may lie just ahead."
Gold for immediate delivery rose to a record $1,296.30.
The metal is heading for its 10th straight annual gain amid tame inflation. Fed policy makers said yesterday that inflation is "somewhat below" levels consistent with its target for stable prices, a signal that low interest rates may remain for an extended period.
"Commodity prices are higher and rising as the world becomes aware of how anti-deflationary the Fed's policies now are and how detrimental to the dollar they shall be," Gartman said.
Before today, the Reuters/Jefferies CRB Index of 19 raw materials climbed 5.4 percent this month.
"The Fed has encouraged investors to front-run some of their ideas and get involved in some of these assets before they make a move toward extended quantitative easing," said Adam Klopfenstein, a senior market strategist at Lind-Waldock, a broker in Chicago.
Gold has outperformed global equities, Treasuries and most industrial metals, spurring record investments in exchange- traded products backed by the metal.
ETP Holdings
Global holdings of gold by ETPs gained 1.01 metric tons to a record 2,089.5 tons yesterday, according to Bloomberg data from 10 providers. They have increased 16 percent this year.
Silver futures for December delivery jumped 41.5 cents, or 2 percent, to settle at $21.055 an ounce, the highest closing price for a most-active contract since Oct. 15, 1980. Earlier, the metal reached $21.20, the highest intraday level since March 17, 2008.
Platinum futures for October delivery rose $20.50, or 1.3 percent, to $1,632.90 an ounce on the New York Mercantile Exchange.
Palladium futures for December delivery gained $11.85, or 2.2 percent, to $541.90 an ounce, halting a four-session slide.
Before it's here, it's on the Bloomberg Terminal.
LEARN MORE