Geithner Says TARP Costs Shrinking as Massad Replaces Allison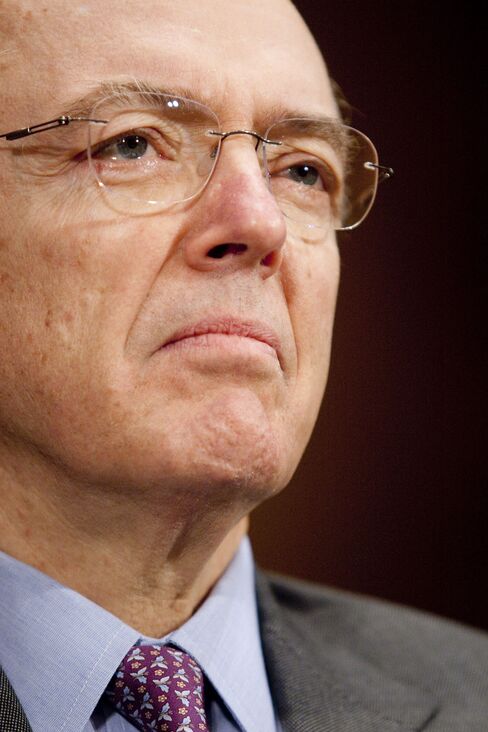 U.S. Treasury Secretary Timothy F. Geithner said taxpayer losses from the Troubled Asset Relief Program are shrinking, and he credited departing TARP chief Herbert Allison with helping the government stabilize financial markets.
Allison, the department's assistant secretary for financial stability, today announced plans to leave the Obama administration and return to Connecticut, saying in a letter to employees today that "it is the right time for me to step down." Geithner said Tim Massad, the financial stability office's chief counsel, will be acting TARP administrator.
The Congressional Budget Office predicts the $700 billion rescue program will cost $66 billion, Geithner told employees today in Washington, compared with the $105 billion in the Treasury's most recent official estimate. Taxpayer returns, including repayments and dividends from banks, already have reached $225 billion, the Treasury chief said.
"We are going to largely get the taxpayers' money back," Geithner said. "As TARP comes to its end, the skeptics are coming around."
TARP was enacted in October 2008 to prevent a collapse of the U.S. financial system. The program was used by then-Treasury Secretary Henry Paulson to inject capital into hundreds of banks, including Goldman Sachs Group Inc., Citigroup Inc. and Bank of America Corp.
'Despised'
"The TARP may well be the best and most useful federal program that has ever been despised by the public," said Douglas Elliott, a fellow at the Brookings Institution in Washington and a former managing editor at JPMorgan Chase & Co. "Unfortunately, the public hates the banks so much that it cannot accept that a program that did the banks so much good could also have been a real boon to the public."
Allison, a former Merrill Lynch executive who also previously worked as chief executive officer of TIAA-CREF and of Fannie Mae, took the program's helm in June 2009. In addition to the program's bank investments, TARP funds also have been used to shore up the U.S. auto industry and help homeowners who fall behind on their mortgages.
"The TARP program has proven remarkably successful in achieving its goal of stabilizing the financial sector and laying the foundation for our nation's economic recovery," Allison said in his letter.
Economic Recovery
In his prepared remarks, Geithner said the U.S. economy is headed "in the right direction" after the financial system was falling apart at the height of the crisis. The economy is now "healing" and growing again, he said, and he called on lawmakers to shore up the recovery through bipartisan cooperation on measures to boost hiring and help small businesses.
"TARP was the single-most important program that prevented a meltdown in our financial system," said Tony Fratto, who served as a White House and U.S. Treasury official under President George W. Bush. "Many members of Congress -- on both sides of the aisle -- fell on their swords during a tense and difficult time to get it done."
Massad, named today as Allison's interim successor, was a partner at New York-based Cravath, Swaine & Moore LLP for 17 years. While on leave from the firm in late 2008 and early 2009, Massad was special legal adviser to a congressional panel on economic stability, the Treasury said.