Daimler Says No Talks With Fiat After Bid Report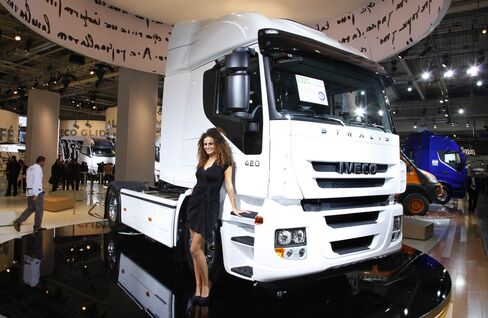 Daimler AG said today that it isn't in talks with Fiat SpA about taking over the Italian carmaker's industrial operations, after la Repubblica reported that the German company made a 9 billion-euro ($12 billion) pre-offer.
"There are no talks on this with Fiat," Daimler spokesman Florian Martens said in a telephone interview. "In our industry at this time, everyone is talking with everyone and so are we."
Negotiations are stalled as Fiat wants 10.5 billion euros for Fiat Industrial SpA, the truck and tractor unit being spun off from Fiat SpA, la Repubblica reported, without saying where it got the information. A deal could still be reached after the division's listing in Milan next year, the newspaper said.
Daimler, headed by Chief Executive Officer Dieter Zetsche, is the world's largest maker of heavy trucks and the No. 2 in luxury vehicles. To focus on carmaking, Fiat CEO Sergio Marchionne is spinning off industrial operations, including the Iveco truckmaking unit and CNH Global NV tractor division. Fiat Industrial may have a market value of 13 billion euros, according to an estimate by Jochen Gehrke, an analyst at Deutsche Bank AG.
"Such a deal would be difficult to pull off because of antitrust concerns on the truck side," said Georg Stuerzer, a Munich-based analyst with UniCredit, who recommends buying Daimler shares. "I don't see how a combination with Iveco would work from a competition point of view, especially in Europe."
Credit-Default Swaps
It's normal for Fiat to look at "opportunities to enhance operational synergies and access to new markets through potential cooperation agreements," the Italian company said in a statement. One aim of the spinoff of industrial businesses is "significant improvement in strategic flexibility."
Fiat rose 3 cents, or 0.3 percent, to 10.89 euros at the 5:30 p.m. close of trading in Milan. Daimler, based in Stuttgart, Germany, dropped 1.7 percent to 44.85 euros on the Frankfurt exchange.
Credit-default swaps linked to Daimler's debt jumped 4 basis points to 91 today, according to data provider CMA. A basis point on a credit-default swap protecting 10 million euros of debt from default for five years is equivalent to 1,000 euros a year.
Daimler and competitors Volvo AB and Scania AB are benefitting from increasing orders for commercial vehicles. Daimler's heavy-truck unit posted a second-quarter operating profit of 300 million euros compared with a loss of 604 million euros a year earlier.
Market Share
Daimler had 23 percent of the market for medium- and heavy-duty trucks in western European, based on 2009 delivery figures. A combination with Iveco would create an entity with a 34 percent share. MAN SE and Scania, both partly owned by Volkswagen AG, had a total share of 27 percent.
Industrywide deliveries of heavy vehicles will grow by more than 50 percent to about 3 million vehicles by 2015 because of emerging markets, Andreas Renschler, head of Daimler's truck division, forecast at an industry event in Hanover this week.
"I would not be surprised if Daimler was interested in Iveco, but I would be surprised if they were interested in all of Fiat Industrial," said Arndt Ellinghorst, a London-based analyst with Credit Suisse, who has a "neutral" rating on Fiat and "outperform" on Daimler.
Fiat, which acquired a 20 percent stake in Chrysler Group LLC in June last year, and Daimler have enough time to evaluate a possible deal, and Marchionne is committed to preparing the document for the spinoff of Fiat Industrial and its listing, la Repubblica reported.
Marchionne Target
For every Fiat share held, investors will receive one share in Fiat Industrial, which will be listed on the Milan stock exchange on the first trading session of 2011. Fiat shareholders approved the deal last week.
"If Marchionne believes his 2014 targets for CNH and Iveco -- and there's no reason to think they are not feasible -- then it would be strange to sell it now still near the bottom of the cycle, and not at the price the article suggests," said Max Warburton, an analyst at Sanford C. Bernstein.
Before it's here, it's on the Bloomberg Terminal.
LEARN MORE