Axis Underwriting Lead Spurs Top-Performing Stock: India Credit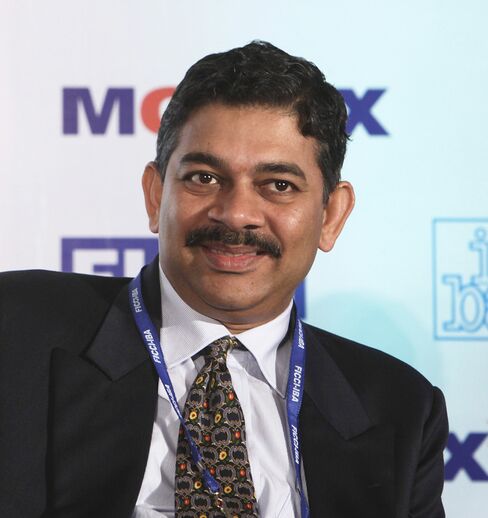 Sept. 22 (Bloomberg) -- Axis Bank Ltd., India's fourth-largest lender, is beating all local and international competitors in underwriting bond sales from the country in a market the bank says is poised to grow 30 percent.
Axis of Mumbai underwrote 215 billion rupees ($4.7 billion) of domestic offerings this year, a 16 percent market share, as global funds pumped an unprecedented $9.2 billion into Indian debt, according to data compiled by Bloomberg. ICICI Bank Ltd., India's second-biggest lender by market value, has 11 percent, and Barclays Plc, the world's biggest underwriter of international bonds, has 9 percent, the data show.
Investors seeking to buy assets in Asia's second-fastest-growing major economy are hindered by trading in corporate securities that is about 3 percent of U.S. volumes, according to data from the Indian bond association and debt-reporting system Trace. Axis Bank, the best performer this year on the S&P CNX Nifty Index of India's largest companies, has maintained its lead by sustaining a market in the bonds it sells, Executive Director Srinivasan Varadarajan said in an interview.
Axis has an "interest in keeping the bond alive for a longer period," said Alok Singh, who manages the equivalent of $1.8 billion of debt funds at Fortis Investment Management Pvt. in Mumbai. "Other underwriters are only interested as long as the bond is not out of their books."
Axis Bank shares climbed 54 percent this year while State Bank of India, the nation's biggest by market value, gained 37 percent and ICICI Bank Ltd., the second largest, advanced 28 percent. Its 5.125 percent dollar notes maturing September 2015 have gained 6.6 percent since they were sold in March, beating returns on 15 of 18 fixed-rate financial bonds in a country index tracked by JPMorgan Chase & Co.
Busiest Year
India's bond market is heading for the busiest year since Bloomberg began tracking the data in 1999, with total sales climbing to 1.366 trillion rupees, approaching 2009's 1.477 trillion rupee annual record, data compiled by Bloomberg show. The figures exclude government bond auctions.
The Reserve Bank of India has raised its reverse repurchase rate, the benchmark lending rate, five times this year to 5 percent from 3.25 percent in March, to help contain inflation.
Indian investors often hold bonds to maturity, meaning lower trading levels on the secondary market. About 27.7 billion rupees of corporate bonds traded on Sept. 20, according to data from the Fixed Income Money Market and Derivatives Association of India. U.S. corporate bond trading volume was $20 billion on Sept. 16, data from Trace show.
Growing Market
"We help investors not just in the primary markets, but also when they need to churn their investments," Varadarajan at Axis said. He said he expects India's corporate bond market to grow 20 percent between now and March 31, and 30 percent in the next financial year.
"Underwriting capacity is of primary importance," Rakesh Garg, Barclays Capital's director of the global finance and investment banking division, said in an e-mailed response to questions. He said the most important aspect was "to place the bonds with high quality investors, i.e. investors who would hold their paper to maturity, and would not look to trade out in a short time."
The yield on Indian local-currency government bonds due in 10 years fell 1.5 basis points to 7.95 percent. The yield compares with 11.82 percent for 10-year securities in Brazil, 7.61 percent in Russia and 3.23 percent in China, according to data compiled by Bloomberg.
Rupee Gains
India's rupee strengthened 0.2 percent to 45.57 per dollar as of 10:40 a.m. local time. The currency has appreciated 3.3 percent this month, making it the second-best performer after a 4 percent advance in South Korea's won.
The difference in yields between India's debt due in a decade and similar-maturity U.S. Treasuries widened to 544 basis points, or 5.4 percentage points, from 522 a week earlier. The measure, which has averaged 317 basis points in the past decade, reached a two-year high of 556 on Aug. 26.
Indian government bonds gained 0.04 percent this month through yesterday, while debt sold by China, Hong Kong, Singapore and Thailand posted losses, according to London-based HSBC Holdings Plc, which tracks 10 Asian local-currency debt markets outside Japan.
The notes returned 3.2 percent this year, the least in the region excluding Japan, as average inflation in the first eight months jumped almost sevenfold to 9.8 percent.
Corporate bonds have gained. The extra yield investors demand to hold India's five-year corporate debt instead of similar-maturity government notes has shrunk by 25 basis points to 82 this year, according to data compiled by Bloomberg. The average was 171 basis points in 2009 and 217 in 2008.
Rural Electrification
Tata BlueScope Steel Ltd., the venture between Mumbai-based Tata Steel Ltd. and BlueScope Steel Ltd. of Melbourne, plans to sell 5 billion rupees of five- and nine-year bonds, two people familiar with the matter said yesterday.
Axis was sole manager when state-owned lender Small Industries Development Bank of India sold 10 billion rupees of three-year bonds in March. Axis also underwrote Reliance Utilities & Power Ltd.'s 10 billion rupees of five-year bonds in April.
"When markets are bad, we have appointed up to 15 arrangers for one issue, but Axis Bank can help sell an entire issue and sell it immediately," said Hari Das Khunteta, finance director at Rural Electrification Corp, India's state-controlled lender to power projects. "They have the relationships and a banking license to underwrite bonds if needed below one roof."
Rural Electrification of New Delhi may sell as much as $500 million of bonds in yen or dollars to exploit lower borrowing costs in those currencies, Khunteta said in a telephone interview Sept. 14.
To contact the reporters on this story: Suprotip Ghosh in Mumbai at sghosh47@bloomberg.net; David Yong in Singapore at dyong@bloomberg.net
To contact the editors responsible for this story: Sandy Hendry at shendry@bloomberg.net; Will McSheehy at wmcsheehy@bloomberg.net.