Wynton Marsalis Shares Stage With N.Y. Philharmonic, Roy Haynes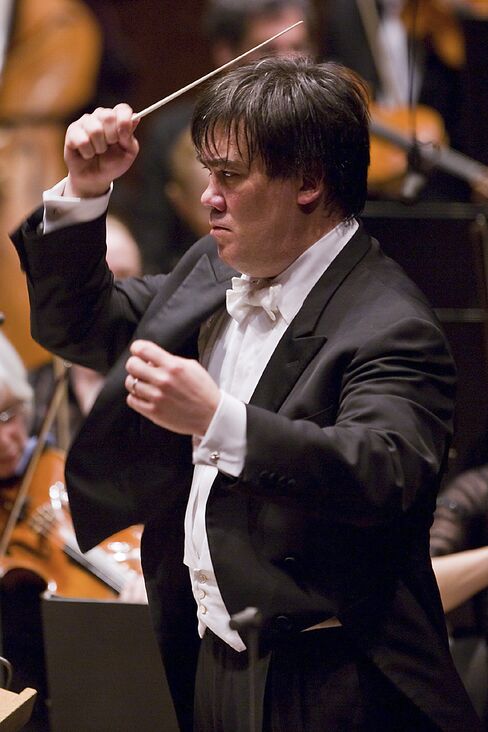 When the Berlin, Los Angeles and New York philharmonic orchestras wanted to commission a symphony with a jazzy mood and feel, it wasn't hard to find the artist with the right credentials.
Wynton Marsalis, the first musician to win both jazz and classical Grammy Awards in a single year, will present the U.S. premiere of his "Swing Symphony" at Manhattan's Avery Fisher Hall tomorrow night. The backing band for Marsalis and his Jazz at Lincoln Center Orchestra will be the New York Philharmonic led by Alan Gilbert.
"I wanted to do something joyous and dramatic," said Marsalis, the jazz center's artistic director, in a telephone interview. "I wanted something we could play together and both ensembles could be challenged." The composition, the New Orleans-born trumpeter's third numbered symphony, had its world debut in Germany in June.
After Marsalis leaves the stage, Gilbert and company will perform Richard Strauss's tone poem for orchestra, "Don Juan," and Paul Hindemith's "Symphonic Metamorphoses on Themes by Carl Maria von Weber." The opening night gala is sponsored by Breguet, the Swiss watchmaker.
For his second gala of the week, on Saturday Marsalis will engage in some spirited improvisation with Roy Haynes, the 85-year-old jazz drumming legend and fashionista, at Jazz at Lincoln Center's season opener.
Best-Dressed List
Haynes, one of the most recorded jazz drummers in history and once on Esquire magazine's list of the best-dressed men in the U.S., will perform with his Fountain of Youth Band. He'll also headline a band of notables such as Panama-born pianist and Wayne Shorter cohort Danilo Perez, saxophonist Kenny Garrett and bass legend Dave Holland in addition to the guest appearance by Marsalis.
"I saw Roy play one time with (jazz pianist) Chick Corea, and I was standing backstage with four other drummers, and their jaws dropped to the floor," Marsalis said. "Roy has brought a clarity and intelligence to drumming. The fact that he can still play with that kind of fire is beyond astounding."
Since co-founding the jazz center in 1987, Marsalis, the first jazz musician to win a Pulitzer Prize for music, has emerged as a standout composer, performer, bandleader and arranger at the center and an ardent pitchman for the art form. He has assisted Bret Silver, the chief external relations officer in charge of fundraising, in attracting a growing list of corporate sponsors and patrons for the world's largest performing-arts center dedicated to jazz.
St. Regis Sponsorship
This month, St. Regis Hotels & Resorts, a unit of Starwood Hotels & Resorts Worldwide Inc., joins a growing list of upscale brands such as Cadillac and Brooks Brothers Inc. that sponsor the jazz center.
The White Plains, New York-based St. Regis commissioned Marsalis to curate and produce a 21-song limited-edition CD, "Timeless Is Modern," to celebrate the 21st addition to its luxury hotel group, the St. Regis Bahia Beach Resort in Rio Grande, Puerto Rico.
Those attending Saturday's "An Evening with Roy Haynes" concert will get a free copy of "Timeless," which includes jazz classics such as "Cherokee" and "St. Louis Blues." Guests at any St. Regis hotel on Oct. 21, the day of the opening of the 21st hotel, also will receive one, said Paul James, global brand leader for St. Regis and its Luxury Collection hotel group.
Subscription Package
To nudge its St. Regis customers in New York to hear music at the center, the hotel is offering an "Aficionado" package this season. It includes transportation to concerts in the hotel's chauffeur-driven Bentley, a one-night stay in a deluxe room at the St. Regis New York and a post-concert meet-and-greet session with Marsalis or other jazz musicians.
A similar package costing $1,545 is being offered to St. Regis guests attending Saturday night's show.
"The soundtrack of the St. Regis hotel is jazz, not classical music," James said. "This is a great opportunity to promote the work that Jazz at Lincoln Center has done and raise the visibility of the coming concert season and tie it back to the hotel."
Before it's here, it's on the Bloomberg Terminal.
LEARN MORE