Cameron, Lula Absence Shows UN Losing Ground to G-20 Summits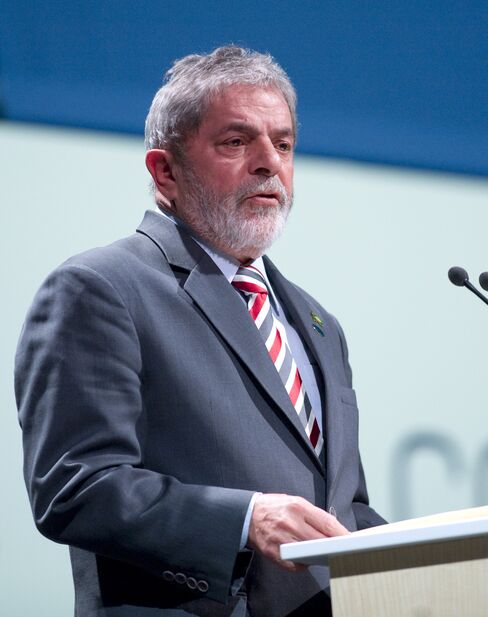 World leaders are cutting back their visits to the United Nations General Assembly session this week as they find the Group of 20 and other smaller gatherings more effective venues to debate international problems.
British Prime Minister David Cameron and Brazilian President Luiz Inacio Lula da Silva, whose countries both sit on the UN Security Council, won't be in New York. Nor will Russian President Dmitry Medvedev and Prime Minister Vladimir Putin. Chinese President Hu Jintao is skipping the UN week, handing off the duty to Premier Wen Jiabao.
"The UN is where you give a speech but there's no group meeting," said Jeffrey Shafer, who organized Group of Eight meetings as President Bill Clinton's "sherpa" or personal representative to the gatherings. "The G-20 will have a more focused agenda than the UN, and it shows the primacy of the economic agenda."
French President Nicolas Sarkozy made a one-day appearance in New York yesterday to speak to a session on fighting developing-nation poverty. Like German Chancellor Angela Merkel, who is staying for two days, Sarkozy will leave before the major speeches start Sept. 23 from the podium of the General Assembly hall.
"It's the 80-20 rule," said Michael Hodin, an adjunct senior fellow at the Council on Foreign Relations in New York. More issues are being decided at smaller groups, including the Group of 20, which holds its next meeting in Seoul in November, Hodin said.
"If you're dealing with something in the G-20, you're already dealing with the 80 percent of world leaders who can make a difference," he said.
Corridors, Hotels
Since the UN was founded in the aftermath of World War II, the annual opening of the General Assembly has been a place for leaders to meet, often informally in the UN's corridors or the conference rooms of Manhattan luxury hotels, away from the media attention and political expectations that accompany state visits and formal encounters.
Last year's G-20 summit in Pittsburgh, held immediately after the main General Assembly session in New York, let leaders get two meetings out of a single trip. And a major issue on the UN agenda got an airing there, too.
In a joint appearance in Pittsburgh, President Barack Obama, Sarkozy and then-U.K. Prime Minister Gordon Brown announced that Iran had been secretly building an underground nuclear fuel plant in violation of international rules.
Doubts About UN
The failure of the UN climate talks in Copenhagen to produce a comprehensive treaty to combat global warming showed many leaders the world body's inability to move swiftly, said Daniel Price, a sherpa to President George W. Bush for G-8 and G-20 summits.
Add to that the crowded slate of summit meetings to attend and it is understandable that high-level participation at the UN meeting is waning, said Price, now a partner at law firm Sidley Austin in Washington.
"There's a measure of leader fatigue setting in," he said. "When it comes to solving specific, identifiable problems, leaders are finding smaller groupings are more effective."
Sarkozy, whose country has the G-20 chairmanship next year, has called the UN anachronistic. "We can't confront the 21st century with the institutions of the 20th century," he said in May.
Domestic Agendas
Domestic priorities also are playing a role this year, say several governments. Merkel will return to Germany from New York to pursue health-care policy at her weekly Cabinet meeting. The day the general debate opens at the UN, she will speak at the opening of a new pharmaceutical research center.
The U.K.'s Cameron, whose wife had a baby in mid-September, is sending his junior coalition partner, deputy Prime Minister and Liberal Democrat leader Nick Clegg.
Brazil's Lula is staying home to campaign on behalf of his handpicked successor, Dilma Rousseff, before Oct. 3 presidential elections. Venezuelan President Hugo Chavez hasn't confirmed whether he will attend and miss the final days of campaigning before Sept. 26 legislative elections.
South African President Jacob Zuma will stay home for a ruling party conference at which he is battling criticism about economic policies. He will participate in the UN gathering via video conference and co-chair a session on climate change.
Obama, who has the shortest travel time of all leaders, will stay for three days, addressing both the UN's Millennium Development Goals summit and the opening of the General Assembly. He will also meet with Southeast Asian leaders and hold a summit on Sudan.
China Talks
Obama will take advantage of his visit to confer with China's Wen on topics including Hu's planned January visit to Washington.
The U.S.-China relationship requires a lot of maintenance, resembling couples therapy for a fraught marriage, and the UN meeting provides an ideal venue for handholding, said Orville Schell, director of the Center for U.S.-China Relations at the Asia Society in New York.
The dearth of world leaders at this year's UN session may not be surprising, said Bruce Jones, a senior fellow with the Washington-based Brookings Institution policy organization.
"They probably made a mistake to schedule the development summit and the general debate back to back, because not a lot of world leaders have six days to spend in New York," he said.
Before it's here, it's on the Bloomberg Terminal.
LEARN MORE