MI6 Spies Wallowed in Edwardian Nudes, Gaffes, Champagne: Books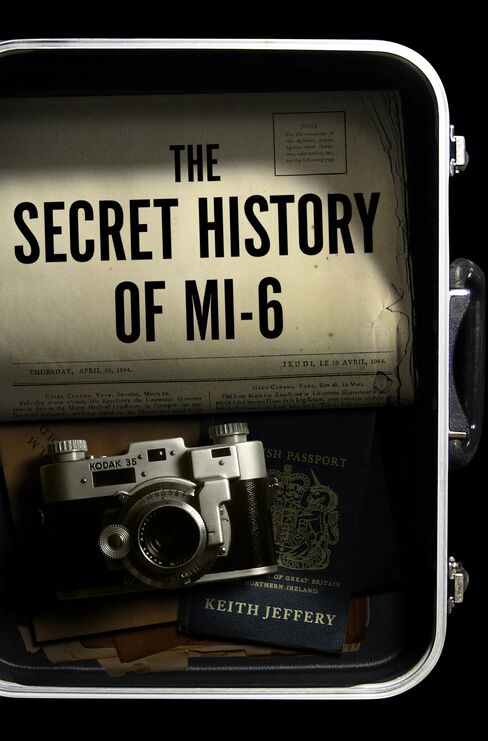 It has taken a century, but Britain's MI6 intelligence service is finally emerging, blinking, into the light of day.
Until the 1980s, MI6 didn't officially exist. In the 1990s, it got a flashy new headquarters fronting the River Thames. And today its early history has been revealed in "The Secret History of MI6, 1909-1949" by Keith Jeffery, a professor of British history at Queen's University Belfast.
The Secret Intelligence Service, as it's formally known, was set up in 1909 to monitor Germany's arms buildup before World War I. It started out as a one-man band.
Its first director, Mansfield Cumming, was a gifted and vigorous naval officer who donned a toupee and false moustache for clandestine meetings and signed his memos "C," a name his successors adopted. He was also a fan of Edwardian pornography, or, as he put it, a student of "the female form divine."
Everything you have ever heard about the perils and pleasures of spying was there from the beginning. Turf wars with diplomats were legion, prompting the British ambassador to Paris, Sir Duff Cooper, to write that "a diplomatist has as much right to consider himself insulted if he is called a spy as a soldier has if he is called a murderer."
The reputation of intelligence men for high living, burnished by Ian Fleming's James Bond, was often deserved. One of Cumming's earliest agents demanded a champagne allowance. Beautiful female spies were deployed from the start to lure enemies into spilling their secrets. And, yes, agents really did conceal messages, jewels or suicide tablets in signet rings and the like.
'Capital Sport'
"Capital sport," was how Cumming once described his profession. That was before two world wars and the Soviet threat helped MI6 expand into a powerful instrument in the struggle against Fascism and Bolshevism. The British Empire made the agency active across the globe, and the "Ultra" intelligence gathered by British code breakers enhanced its reputation.
What grabs our attention, though, is the less familiar story of the Anglo-American intelligence relationship. Cooperation began early, against Moscow's Comintern and all manner of subversives. Yet in the 1930s MI6 was still gathering intelligence on U.S. soil about aircraft development, chemical warfare and Irish nationalists, among other things. Only in 1938 did it stop, on the grounds that it was quicker to ask the FBI or the U.S. military attaché in London.
'Wild Bill' Donovan
Then came the golden era of William "Wild Bill" Donovan, the American military man who headed what became the wartime Office of Strategic Services. In 1940, the U.S. ambassador to London, Joseph P. Kennedy, was telling American industrialists that they should look to Adolf Hitler for their markets because Britain could never hold out. Donovan, an Anglophile, was convinced it would.
Donovan had the ear of both President Franklin Delano Roosevelt and FBI chief J. Edgar Hoover. His championing of close ties with MI6 was at the root of the Anglo-American special relationship in the intelligence field.
This is an official history, though not so official that Jeffery disguises the failures, defections and defeats. One was MI6's clumsy handling of the notorious Zinoviev letter, a forged instruction from Moscow to the British Communist Party that helped topple Ramsay MacDonald's Labour government in 1924.
Then came the Venlo Incident of 1939, when senior British agents were seized in a Nazi trap in the Netherlands. We read, too, of the junior MI6 man who failed to hand the Foreign Office information about the Molotov-Ribbentrop Pact, under which Germany and the Soviet Union carved up Poland. And the shortsighted ban on MI6 operations in Russia that lasted till 1949, a hangover from the wartime alliance with Moscow.
Kim Philby
Another major shortcoming was the tight social circle that enabled senior MI6 man and Soviet spy Kim Philby to betray his country for so long. Moscow recruited one British operative, George Blake, after he was captured in the Korean War.
MI6 successes were nonetheless impressive -- the work with the French Resistance, the warning about Germany's development of V-2 rockets, and the exploits of the MI6 head of station in Berlin, Frank Foley, who used his cover as a passport control officer to rescue Jews.
Jeffery's book is presented without sensationalism, and it's all the more imposing for that. Espionage buffs will eagerly await the next volume, though we shouldn't hold our breath. As the material becomes more sensitive, who knows how long the security clearance will take?
"The Secret History of MI6" is published by Penguin Press in the U.S. and by Bloomsbury in the U.K. under the title "MI6: The History of the Secret Intelligence Service 1909-1949" (810 pages, $39.95, 30 pounds). To buy this book in North America, click here.
(George Walden, a former U.K. diplomat and member of Parliament, is a critic for Muse, the arts and leisure section of Bloomberg News. The opinions expressed are his own.)
Before it's here, it's on the Bloomberg Terminal.
LEARN MORE