Japan Property-Price Declines Slow as Buyers Return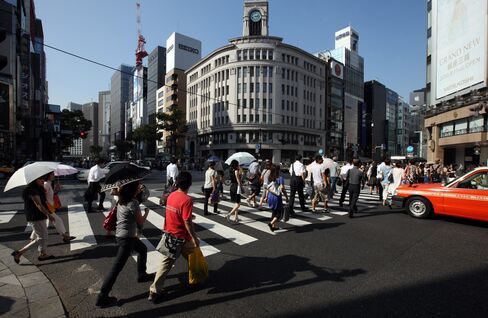 Japanese land-price declines slowed for the first time since 2007 as credit conditions eased and the nation emerged from its deepest postwar recession.
The nationwide average price dropped 3.7 percent in the 12 months ended June, compared with a 4.4 percent decline a year earlier, the Ministry of Land, Infrastructure, Transport and Tourism said in a report released yesterday. Prices have fallen for 19 straight years.
The drop in land values, which are about half of what they were after the peak of Japan's bubble economy in the 1980s, may continue to ease as homebuyers and developers return to the $27 trillion market. Tokyo condominium prices rose to a 20-month high in March, signaling a recovery in the sector, said Yoji Otani, a real estate analyst at Deutsche Bank AG in Tokyo.
"We're starting to see a significant pick-up in land acquisitions, signaling that prices are bottoming out in Tokyo," said Keiji Kimura, chief executive officer at Mitsubishi Estate Co., Japan's biggest developer.
The 44-member Topix Real Estate Index rose 1.4 percent, making it the best performer among the 33 industry groups that make up the benchmark. Mitsubishi Estate Co., Japan's second-largest developer, gained 1.4 percent to 1,339 yen at the 3 p.m. close on the Tokyo Stock Exchange, while Mitsui Fudosan Co., the nation's largest, added 1.7 percent to 1,411 yen.
Direct commercial real estate investment in Japan rose 35 percent to $5.8 billion in the second quarter from same period last year, according to Chicago-based Jones Lang LaSalle Inc.
Property Purchases
Acquisitions by the country's 37 publicly traded real estate investment trusts more than doubled in the six months ended June to 372 billion yen ($4.38 billion) from a year earlier, according to IB Research and Consulting Inc., a Tokyo-based research firm.
"We are already on a recovery trend although the pace is very slow," Deutsche's Otani said. "Japan's market is big so we can't expect a sudden turnaround."
Declines in value in Tokyo, Osaka and Nagoya, the three major metropolitan areas, slowed to 3.2 percent, from a drop of 6.1 percent a year earlier, the Land Ministry report said. Prices in rural districts fell 3.9 percent from the 3.8 percent decline a year earlier.
Tokyo's Chiyoda ward, where the Imperial Palace is located, had the nation's priciest residential land at 2.8 million yen per square meter, the data showed.
The most expensive piece of commercial property remained in Tokyo's Ginza shopping district, where land can cost as much as 20.2 million yen per square meter, the report said.
Luxury Brands
Still, four out of the top ten commercial sites in Japan with the steepest declines were located in Ginza, the report showed. The drops reflected falling rents because of the closure of luxury-brand stores in the district, said Yutaka Iwaki, director of the Land Ministry's price research division.
PPR SA's Gucci outlet in Matsuzakaya department store in Ginza this year was replaced by Forever 21, a less expensive brand that targets younger consumers, J. Front Retailing Co. said in a release.
Nationwide commercial land prices fell 4.6 percent last year and residential land values dropped 3.4 percent, the report showed.
Commercial prices are 60 percent of what they were in 1991 when they peaked, while residential values are at 35 percent.
The average price of a Tokyo condominium rose 6.8 percent to 50.7 million yen in March from a year earlier, the highest since July 2008, according to Real Estate Economic Research Institute Co.
Before it's here, it's on the Bloomberg Terminal.
LEARN MORE